A few years ago, exoskeletons, like the one sported by the fictional superhero Iron Man, could be found only in the pages of Marvel comic books or on the big screen.
But today, fiction has become reality, as a scaled-down version of the mechanical suit of armour is being sported by ordinary masonry workers plying their trade on construction sites in the Montreal area.
The Atwill-Morin Group has acquired several mechanical exoskeletons that are being used by workers who must repeatedly lift heavy loads. The company is the first one in Quebec to own that type of personal armature.
"We like innovation. It flows through our blood," explains company president and CEO Matthew Atwill-Morin. "We're a family-owned business and we're really close to all of our people and we really like to drive any type of innovation. We like to stay on the cutting edge. It's just the way we are, it's part of our core values."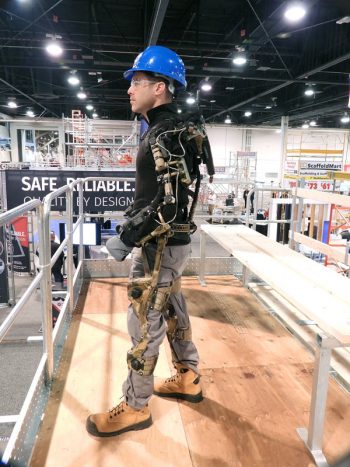 Over the years, the physical work involved in the job can take its toll, resulting in workers having to retire early. The company hopes the devices will enable them to remain on the job longer and attract youth.
"Being a mason or a labourer is a difficult job and it can be tough on your arms and shoulders," says Atwill-Morin. "These tools will help our colleagues reduce the amount of pain that they go through because of the difficulties of the job and it will hopefully even permit them to extend their careers within our organization."
The mechanical exoskeletons require no power source which makes them a favoured option in the field. The idea is to redistribute weight from one area of the body to another, such as taking weight from the arm and shoulder and placing it on the core or waist to reduce strain and fatigue on the worker.
The exoskeletons will help to reduce the strain often put on joints and muscles through repetitive work and prolonged tasks. The exoskeletons make the heavy tools of the job easier to use as it takes a load off.
The exoskeletons used by the Atwill-Morin masons are different from the ones seen in the movies. They were purchased from a California company and feature titanium rods that run down the legs and are attached to a sliding belt which, in turn, is connected to a spine-like articulated structure at the back.
It resembles a metal skeletal system and is worn on the outside of a person's body. The device allows the worker's movements to unfold smoothly, taking about 70 per cent off of the load.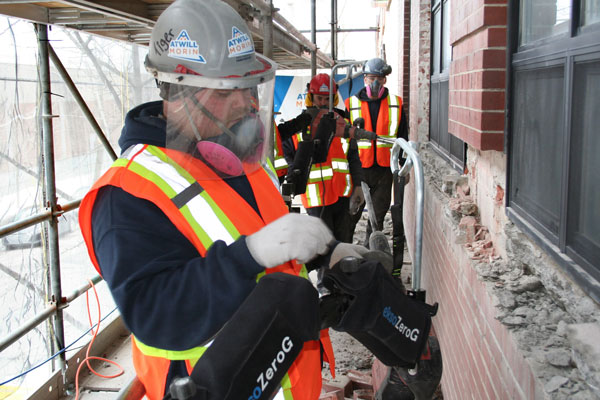 "It's a tool that will supply extra power to the employee," explains Atwill-Morin. "We're doing demolition, we're breaking concrete, we're breaking masonry, and a lot of these tools weigh between 20 and 40 pounds. The exo-arms reduce the weight of the tool itself to zero. If you don't have to carry that weight around all day it makes a difference."
Atwill-Morin got the idea for the exoskeletons while attending trade shows and events in various parts of the world to look for innovative new products and ways of doing things.
"We want to be part of this new generation of companies. We want to be leaders at what we do. We're the largest restoration firm in Canada and we want to make sure that we're doing what's best for our colleagues."
Atwill-Morin hopes exoskeletons will make the trade more attractive to new recruits, especially in times of a pending labour shortage.
"The skilled tradesmen are very hard to come by and even more so with the younger generation. What we're trying to do is also put this forward to interest the younger generation into a trade that is thousands of years old. Putting this out there, we feel, will have an impact on us being able to get more labour."
Learning to use the devices is relatively straightforward and takes just a few minutes to be taught, for example, how to do such things as tie in a tool to the exo-arm, says Atwill-Morin.
The development of exoskeletons was originally prompted by serious injuries that were occurring to NATO soldiers serving in Iraq and Afghanistan while they were carrying heavy loads. ABI Research, which analyzes data to help firms chart their future, predicts the robotic exoskeleton market will reach $1.8 billion by 2025.
Workers at Atwill-Morin used the exoskeletons while doing restoration work on the Parliament buildings in Ottawa and they're now being used on sites across Montreal.
They've been embraced by workers, notes Atwill-Morin.
"Obviously, anything to make their life more enjoyable is a win-win situation for them and us.
"Our trades do a lot of heavy lifting in cold weather, hot weather, rain, you name it, they go through everything. These tools are really the next step in our industry. We are going through some changes with respect to new technologies and work-from-home in management. Everything is changing but this is definitely the future."