The House of Parliament's Centre Block is both a symbol of our democracy and Canada's history and the reno crews shining a light onto its darkest walls aren't looking for political dirt.
It's all part of cleaning systems being employed as part of a $5 billion revitalization and reconstruction of Centre Block which will take until 2030 at least to complete.
The exterior clean up is a gargantuan task: 22,000 square metres of stone surface, equal to about three soccer fields.
It's been a long time coming. The structure was built over nine years, 1916 to 1927 and designed by architect John A. Pearson and his associate J.O. Marchand and the exterior stonework has been impacted by pollution and weather ever since.
That's prompted a high-tech approach to cleaning the pollutants, bacteria, algae and fungi marring the Nepean Sandstone which is now a mélange of black, green and orange.
So, while other crews and contractors strip the interior to the studs, work around 400 historic and 250 stained glass windows, excavate 40,000 truckloads of bedrock to create a new, more protected entranceway for visitors, replace single-pane windows, update HVAC systems and remove 20 million pounds of asbestos, the masonry clean up presses on.
Cue the Star Wars theme here. Cleaning the 22,000-square-metre exterior surface is being done with lasers.
Laser cleaning offers several advantages, from affordability to speed, to inflicting less damage like traditional methods such as micro-abrasives, detergents or chemicals which ultimately erode the surface and make it more vulnerable to future damage.
The application of the laser technology is deceptively simple. Machines are wheeled in that provide the power to handheld laser wands which are then pointed at the surface.
The operator guides the laser, which appears as a small ring of light, and directs it across the stone surface removing the pollutant soot and other contaminants.
It emits high-energy light at specific wavelengths and focuses that light on surface deposits, emitting nano-second bursts of energy while leaving the stone beneath untouched. The process heats the stone by one or two degrees causing the atoms on the surface to become excited and vibrate, releasing their bonds to the surface.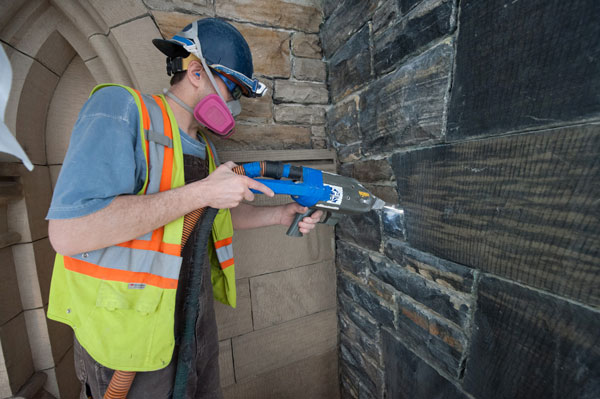 The technology was used first two years ago on the West Block, a first of that scale.
With that success Centre Block underwent cleaning starting in April 2020 with four test patches on the north face with East Block also now getting the same treatment.
The technology at work was designed and built in Canada by Allied Scientific Pro in Gatineau, Que. which offers a range of photon-based equipment for diverse applications.
"They (the government) had tried German-made equipment and came to us because they wanted to source something locally and we said, 'sure, we can do that,' " says Steeve Lavoie, Allied Scientific founder. "Now it's a showcase for the technology since this is the biggest job using it in Canada."
When Public Services Procurement Canada (PSPC) first used laser technology on the West Block, RJW-GEM Campbell Stonemasons used a 500 watt pulsed and 1,000 watt pulsed Clean Lasers which cost about $865,000 and the result gave the green light for laser cleaning of other buildings in the precinct.
Allied designed a 100 watt main unit so it would be small enough to work on the scaffolding which currently encases the buildings.
The light used is invisible to the human eye and guided by another light source so the operator can see where they are aiming.
"Once the laser hits the surface you can see and hear it working because it pulses rather than emits a continuous beam," says Lavoie. "And it acts like a shockwave with a megawatt transfer of energy. As the molecules get excited and move they break free of the bond to the surface and vapourize. Up to 98 per cent of material is vapourized, the rest falls as dust which can be vacuumed up."
It's unlike sandblasting which can be fatal to operators in a mishap, he adds.
"There's a lot of waste product with the old traditional form of cleaning," says Kate Westbury, heritage lead for the Centre Block Program in the Science and Parliamentary Infrastructure Branch. "The lasers are much more environmentally friendly. Still, there is no one allowed in the contained area without full proper PPE during operations."
Specifically, she says, because protective eyewear specially designed for laser work must be worn during laser cleaning and does not safely fit underneath a full-face mask, a half mask is worn with this eyewear.
"When doing other masonry work, half masks with standard safety glasses can be worn in summer months, when mesh is used over the scaffold rather than full tarps and better air exchange occurs on site," she says. "Full masks must be worn in the fall/winter (when solid tarps are used on the scaffolding)."
They started looking at the concept in 2016 and by 2017 had produced a working prototype and have tweaked it since then.
The Atwill-Morin Group is the lead contractor and PSPC has advanced $280,000 to date on the Centre Block contract, which is slated to finish this winter. It's a third generation general contractor and specializes in building envelopes with more than 700 employees across Ontario and Quebec.
Lavoie says their machines are in demand for several applications, including cleaning off lead paint from ships or preparing metal surfaces for welding at Irving Shipyards.
Getting it right isn't just the project managers' jobs, it's also their passion.
"We started looking at it as more of an art form," says Rocque Gameiro, PSPC director general with Program, Project and Client Relationship Management, noting getting the right skills for the overall restoration project was also a challenge.
To that end they set up heritage masonry apprenticeship programs which created a pipeline of graduates taught by traditional masons from Scotland who then fed into the workforce.
"Some 60 per cent of the graduates who came to work on the restoration completed the course and of those 30 per cent were women."
Removing the contamination from the stones is important not just esthetically, but also for the longevity of the stones, says Westbury.
"With the soot and contamination removed it allows them to function as they should, that is they can breathe," says Westbury. "That allows moisture to pass through as it should."
There's no coating or anything else required on the stone after the cleaning, she adds.
More importantly it brings the stones to life so people can see them in their original glory as the original craftsmen and designers intended.
"You'll still see the tool marks on the stones," she says.
And that, more than managing the job through completion, is the driving factor for both Westbury and Gameiro.
"Really, it's taking years, but to be able to work on this project is a privilege," she says. "It is part of our culture. The decisions which shaped our country were made in this building."