It moves effortlessly around treacherous construction sites carrying high-tech cameras or laser scanners that capture and document data, and immediately reports back to its owner on command. Good boy, Spot!
Spot the Robot Dog has actually been around for a few years, but largely as a novelty. Now Spot is learning new tricks and becoming more economical and much more adaptable.
The four-legged robot might appear a little frightening at first. Audiences watching the BBC's recent adaptation of H.G. Wells' War of the Worlds will recognize the numerous Spots as the autonomous assassins programmed to wipe humankind off the planet.
Maybe that potential for the militaristic adaption of Spot explains why all purchasers must be licensed commercial construction operators who have passed security background checks.
The conditions of sale also prohibit using Spot for "any illegal or ultra-hazardous purpose," or for any purpose that might increase "nuclear, chemical, or biological weapons proliferation, or development of missile technology."
Boston Dynamics have invested thousands of hours into Spot's programming, particularly when it comes to its ability to perceive and react to various environments. Spot is designed to be tough and capable of carrying relatively heavy payloads of sensing equipment.
However, Spot comes with a serious pricetag; a base of US$75,000 that includes two batteries, a tablet controller, and yes, free shipping.
However, sensing payloads can cost many thousands more. Trimble and Boston Dynamics formed a strategic alliance in 2020 to combine Spot's mobility with Trimble's catalogue of data collection solutions.
"The relationship gives Trimble exclusivity to sell and support the Spot robot with integrated scanning, total station and GNSS technologies for the construction market," says Trimble.
Given its serious pricetag, what value does Spot bring to the site?
Brian Ringley, construction technology manager at Boston Dynamics, explains Spot allows designers and upstream professionals to gain an immediate onsite presence without having to be onsite themselves.
"This creates the freedom and flexibility for superior co-ordination, and the ability to catch errors, reconcile discrepancies and deal with gaps in documentation."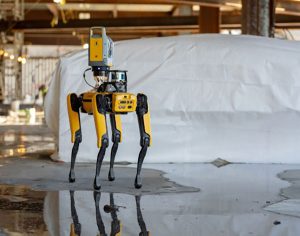 "A construction site is temporary, it's changing every day, it's chaotic," Ringley explained in a blog published by Trimble. "Owners typically don't want to invest in a lot of sensor infrastructure at that stage. Having the mobility of Spot really works well at that phase. After the construction phase, Spot gives contractors valuable data to turn over to the owner, who could continue to use Spot for things like routine maintenance monitoring."
For example, with Trimble's X7 3D scanner mounted (list US$25,000), Spot can be programmed to manoeuvre itself in a pre-determined manner while continuously scanning and validating progress in real time without the delays normally experienced when using third-party services that require information transfer and interpretation.
Programming Spot to run routine routes while equipped with a 3D laser scanner to collect precise information allows designers and builders to remotely measure critical areas of the site. This 3D data can then be used to compare as-built conditions to the project's design intent within BIM, thus revealing any conflicts early on and minimizing rework.
Of course, there are several robotic surveillance and data-collection options available such as drones and various onsite image capturing cameras. However, Spot's ability to routinely gather ground-level data and then relocate quickly from one site to another is appealing.
Another interesting adaptation is to use the data collected by Spot to verify completed work in a manner that is objective, semi-autonomous and low in labour cost. Trimble believes this opens a new realm of business-related purposes for construction robotics, in this case improving the flow of payments to contractors and subcontractors.  
"This incentivizes the subs to bid more competitively, knowing that they'll get that guaranteed quick payment," says Ringley. "It also might incentivize some additional fees from the owner for running a tighter ship and guaranteeing that the books are up to date. This would be a highly differentiating factor in the selection of a GC by an owner."
John Bleasby is a Coldwater, Ont.-based freelance writer. Send comments and Inside Innovation column ideas to editor@dailycommercialnews.com.