Addressing the GHGs and carbons associated with the commercial vehicles and machinery used to transport materials and shape building sites will play a large role in the construction industry's contribution to reducing overall emissions.
A great deal of attention has been paid to the potential of electrical (EV) machines to replace traditional ICE versions. However, challenges of converting trucks and construction equipment from ICEs to electric power include not only the high capital fleet replacement cost but the day-to-day management of the required energy storage batteries.
Hauling or lifting heavy loads over a full working day, often in cold temperatures, requires immense batteries. That adds considerably to the total weight of vehicles and machinery, restricting their overall load capacity. Furthermore, recharging times and access to recharging facilities can be problematic, whether onsite or on the road.
New technology would help. If batteries could be built lighter, recharge faster and last longer, many operational shortcomings might be overcome.
Also mentioned are alternate fuels, like biodiesel and HVO (hydro-treated vegetable oil) derivatives. These can be blended for use in existing diesel power plants in order to reduce emissions and without incurring the heavy financial cost of full fleet replacement.
Perhaps more promising over the longer term, however, are hydrogen fuel cells.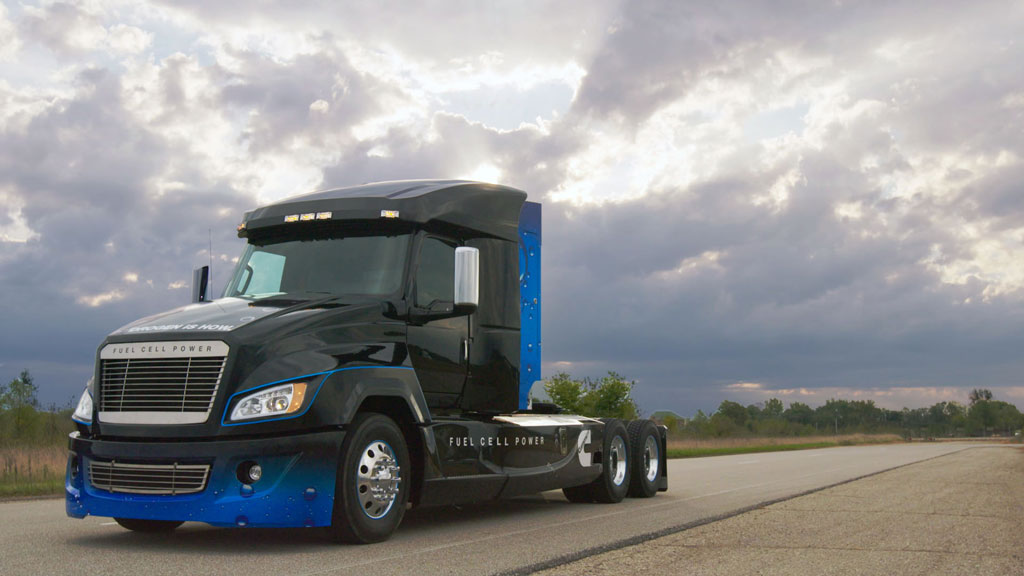 There are a number of ways hydrogen can be used as an engine power source. As described by the U.S. Department of Energy, one is to simply use the fuel cells to produce electricity, just as with an EV only without the batteries. The only tailpipe emissions are water vapour and small amounts of heat.
An alternative are ICEs that burn hydrogen as the fuel. These optimized engines are mechanically similar to natural gas engines, operating on the same cycle and with many of the same components. In fact, hydrogen ICEs share many similar components with diesel engines as well.
As engine manufacturer Cummins explains, this gives hydrogen engines appeal to end users.
"Hydrogen engines look, sound and work like the internal combustion engines that every mechanic in the world is used to. Their reliability and durability are equal to that of diesel engines."
Hydrogen can also be blended with diesel fuel. Caterpillar says its engines have the ability to run on five to 10 per cent hydrogen mixtures, with some customized test projects posting more than 200,000 operating hours on blends up to 60 per cent hydrogen.
When it comes to hydrogen cell power innovations, Canadian companies are at the forefront of many exciting new developments.
Ballard Power Systems now sees itself on the brink of a breakthrough after more than 40 years of patient development. In 2021, the company launched its latest hydrogen power platform for medium-duty trucks and buses in partnership with German automotive part maker MAHLE. They are also in the developmental stage of an even higher output engine for heavy duty and long-haul trucks.
Other Canadian companies have recently made key hydrogen cell announcements as well.
Burnaby, B.C.-based Loop Energy has developed a hydrogen fuel cell system it says resolves the issue of operating cost premiums for hydrogen over diesel.
In fact, the company claims its cells deliver slightly better fuel economy and higher efficiency than the equivalent diesel, plus nearly unlimited storage life in remote locations.
Hybrid possibilities for existing vehicles are also available, thanks to a low-cost retrofit system announced by Hydra Energy of Delta, B.C. in partnership with First Truck Centre, a major western Canadian commercial vehicle dealership. Hydra says its hydrogen-diesel hybrid system is an easy conversion that doesn't compromise warranties or performance and can reduce a commercial vehicle's GHG emissions by 40 per cent.
As part of any transition to hydrogen, many of the challenges mirror those facing electrically powered vehicles and machinery. Hydrogen production and delivery infrastructure presently do not exist at scale. Resolving these and other concerns will ultimately increase hydrogen adoption for both heavy truck fleets and onsite equipment.
John Bleasby is a Coldwater, Ont.-based freelance writer. Send comments and Inside Innovation column ideas to editor@dailycommercialnews.com.