There are two ways to add autonomy to heavy construction equipment: build a brand-new excavating robot from the ground up or build new brains for your existing excavators. San Francisco-based Built Robotics is going the aftermarket route with the Exosystem, a computer brain that integrates with common excavators to provide autonomy for repetitive trenching tasks.
"Designing a robot from scratch only makes sense when there isn't an existing device that already does that job, and experts who build great machinery are already doing that," says Erol Ahmed, director of communications with Built Robotics. "We decided to pursue a path where we can install autonomous controls on any late-model excavator from 15 to 50 tons made by a leading manufacturer."
The Exosystem consists of a liquid-cooled computer housed inside an all-weather brain case, proximity radar, 360º cameras and GPS. Contractors can rent standalone Exosystem upgrades and install them on their earthmovers, or they can lease excavators that have already been upgraded by Built Robotics.
"You can realize savings pretty quickly," Ahmed says. "On a per foot basis it's typically cheaper to operate autonomously than with manual operation. But ideally you're using it for a longer period of time to realize all the productivity benefits of having automation."
Dull, dirty, and dangerous repetitive tasks that require precision are typically where autonomy makes the most sense, he says. And the point is not to replace workers but to address labour shortages and work backlogs by eliminating the type of work that humans really don't enjoy doing.
"Right now, we're concentrating on autonomous trenching but pursuing opportunities in road work, scraping, material handling and demolition," he says.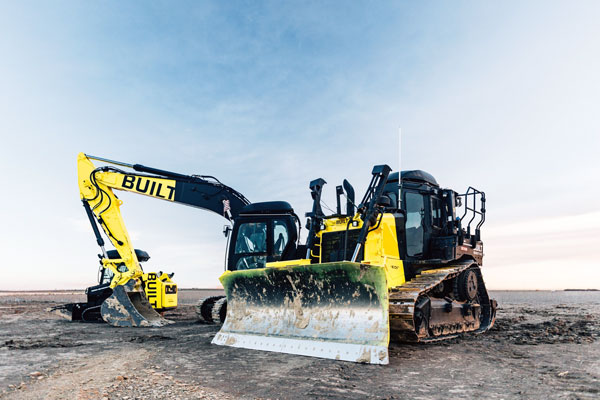 He notes that clients have used the robotic excavators on a wide range of trenching projects from utility infrastructure to data centres and clean energy infrastructure, including solar and wind power. 
Excavators already outfitted with the Exosystem are leased for a minimum of three months, during which contractors can experience what the company calls a "low-risk  and low-cost" exposure to automation.
Contractors who go the do-it-yourself installation route can integrate a leased system with their earth movers in just a few hours, Ahmed says. The main unit is attached to the excavator's tail, while cameras and sensors are attached via magnetic connectors and U-clamps.
"People often think about installing a device that would move a steering wheel or a hydraulic control," he says. "But the truth is that a steering wheel doesn't directly make a vehicle turn. It sends an electronic signal to a computer that makes it happen. The Exosystem provides its own electronic signals through connection to the steering and hydraulics."
All of the manual control options are preserved, so a human operator can still get behind the controls of an autonomous excavator at any time and operate it manually.
Programming the excavator brain for autonomous work begins by using software to set up a geofence that marks the extent of the job.
"The robot won't work out of that zone," Ahmed says. "You then upload the GPS points that delineate a trench path. You'll also instruct it how deep and how wide to dig the trench and where you want it to deposit the spoil piles. Press start and the robot excavator starts digging." 
The Exosystem includes an extensive safety system that begins with a physical barrier to keep people out of the work zone. If the onboard camera senses an obstacle, operation is paused until it's safe to resume work. Contractors can check in with the autonomous excavator at any time and look through its eyes to monitor progress and see what it's seeing. They can also access hard-wired and remote emergency stop systems.
Guardian, a remote monitoring service operated by Built Robotics, monitors all work activity and notifies the contractor of any anomaly or special attention required by the system. To date, the company reports no robot-related safety incidents… and zero instances of excavators demonstrating attitude.
"Our robots are harmless, docile and obedient," Ahmed says.