Construction's mixed relationship with what are termed disruptive technologies has been marked by an inherent resistance to change.
However, some advances such as Artificial Intelligence (AI) are hard to ignore. AI, and its cohort Large Language Models (LLM), are beginning to affect almost every aspect of human life. Construction cannot sit to one side and pretend they don't exist.
In her published essay, Martha Tsigkari, head of the applied R&D group at U.K. architectural firm Foster + Partners, describes disruptive technologies such as AI as "charming underminers of our own certainty, irrevocably pushing us outside our comfort zone and forcing us to rethink all that we have been taking for granted."
She considers construction's options within an Alice in Wonderland context.
"We can choose to ignore them. Or we can go down the rabbit hole."
Alongside the uncertainties, unknowns and possible failure are remarkable possibilities, she writes.
"It is only by pushing our own boundaries that change is possible."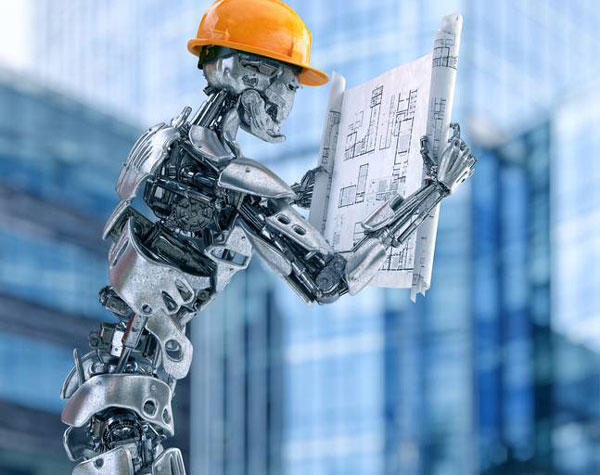 The concern expressed across all industry sectors is whether AI will replace key decision-makers. While some predict the end of humanity as we know it, others see AI as something to be used to significant advantage.
"Creative minds have nothing to fear from the advent of technological revolution," writes Tsigkari. "The truth is that, if we play our cards right, AI is not going to replace us, but rather augment our creativity and problem-solving capabilities."
"If we treat AI as an assistant to the people making decisions, it goes a long way in construction," Hrishi Maha, DPR data analytics leader, told cadalyst.com. As seen in other professions such as law, AI can save many hours of mundane, analytical work by training it to predict outcomes, thus allowing creative minds to focus on creativity.
Tsigkari says rather than asking AI to create a design, designers can ask AI to provide "design-assist suggestions on the look and feel. The best part is that we can train the model on our own data, thereby any suggestions are inspired by our own designs and historical data."
In fact, it's all about data. In terms of construction, several observers agree the industry's successful adoption of AI begins with an understanding regarding the collection, management and processing of data across disciplines cohesively so it can be leveraged.
An AEC practice develops huge amounts of data from a number of sources like drones, scanners and even robotic dogs. In fact, more data is being created from more sources than ever before during the design, construction and operation stages of a project, due to growth of computer power both in-house and in the cloud. However, the information gathered can sit underutilized on computer servers.
Stepping beyond the design phase and onto the jobsite, machine learning like AI acts like a smart assistant that can scrutinize this mountain of data and alert project managers about the critical things that need their attention.
Large construction contractors are learning how to apply AI to improve efficiency through predictive responses based on previous experiences, weather conditions, day-to-day planning and scheduling, and other critical project activities. AI can also help to identify potential safety violations and risky work conditions. Soon, AI will work its way down to smaller subcontractors at all levels.
"A construction site is by nature a very dynamic environment," said Jeff Danley, associate technology and innovation consultant at Burns and McDonnell. "With generative AI, an engineer can more quickly put together iterations of a project site and weigh the pros and cons of one option versus another."
To fulfill its promise in construction, Trimble's Peter Ziegler says AI objectives need better definition before it is widely adopted.
"We are trying to identify the opportunities and ethics," he said. "We don't want to just throw it out there. This is a high stakes business."
John Bleasby is a Coldwater, Ont.-based freelance writer. Send comments and Inside Innovation column ideas to editor@dailycommercialnews.com.