As the world heads to 2050, sustainability will be only one step of many to adapt to a changing climate.
Several architectural thought leaders came together at the Buildings Show in Toronto on Nov. 30 for a roundtable session titled, Designing for a Lower Carbon City and Society, including VMA principal architect Veronica Madonna, Kjellander Sjoberg director and founding partner Stefan Sjoberg and Larch Lab RA. director Michael Eliason, who attended the event remotely from Seattle. Globe and Mail architecture critic Alex Bozikovic moderated the panel.
Madonna said, "We have moved well beyond the safe operating system of our planet" and that efforts to deal with climate change should shift from sustainability, which emphasizes maintenance, to a regenerative model that focuses on creating positive impacts.
"We need to start looking at buildings and infrastructure and urban planning in a different way that looks beyond sustainability and thinks of the positive impacts we can make through our infrastructure and that really is where regenerative lands," Madonna said. "How can we use circular buildings, circular cities so that the outputs of one become the inputs of another?
"We can continue that cycle to form not only a regenerative environment but also society in general."
Eliason pointed to the possibility of climate-adaptive districts as a form of carbon sink and added recent climate events like the 2021 heat dome and seasonal forest fires show "we aren't set up for dealing with this at a city-wide or region-wide scale."
Planning, policy and building codes have kept the United States from adapting in ways similar to European mixed-use developments, he added.
"Building codes (in Seattle) are geared to make big buildings look smaller and smaller as they did 100 or 200 years ago which affects embodied carbon. We need climate adaptive development, a good economic and social mix of units with integrated parks and slow streets so kids don't interact with cars and traffic," Eliason said.
"America believes our energy is cheap and we can just provide cooling, and when it's 40 Celsius and the power goes out, you have no options. There isn't an active solar protection industry in the U.S."
Sjoberg said developments must work "within planetary boundaries and the change will be drastic. We'll have to rethink everything we do."
He also opted for a circular regenerative economy, transforming, reusing and recycling materials as well as a general philosophy of "doing close to nothing, or don't build at all. A building is a huge carbon investment."
Sjoberg pointed to work he has done with the six-billion-pound revitalization of the Meridian Water — Enfield area of London in the U.K. as emblematic of a new approach that includes density, a green loop and "micro-neighbourhoods" that encourage diversification based on their individual character.
"(You have) many different homes for many different types of people, and green things are what keep this place together, bringing a desired density of people and events to the public realm," he said.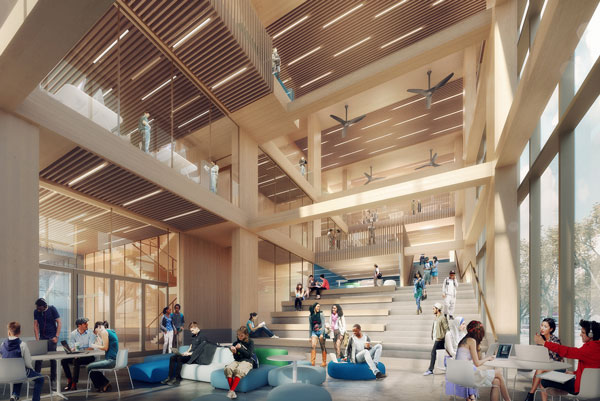 He also stressed the importance of using existing buildings whenever possible.
"Use something that's there, that's low-carbon and that's usable," Sjoberg said.
Madonna concurred with Sjoberg's assessment.
"Don't think of buildings as precious artifacts but as resources for sustainability," she said.
Madonna also cited Limberlost Place, a 10-storey mass timber net-zero project she worked on while with Moriyama & Teshima Architects as an example of regenerative practice including a design that maximizes natural air and light, renewable energy on its roof and two solar chimneys.
"The building itself will become a learning tool for the students inhabiting the building once it's complete, but it's also a learning tool for the City of Toronto (regarding) opportunities for regenerative cities and buildings. It's designed to connect to local communities and positively impact local ecological systems," she said.
Similar approaches could revitalize Canada's main streets.
"A lot of our main streets are three and four-storey buildings. With mass timber we could create more density, more housing and start to think about livable communities," she said.
Follow the author on Twitter @JOCFrey