Protective wire fencing, heavy equipment and orange traffic cones are common features these days amidst century-old buildings at the expansive University of Florida (UF) campus in Gainesville.
Roughly $1 billion in building and renovation projects are currently underway across the property along SW 13th Street between Florida State Road 24 and West University Avenue.
Shovels are in the ground on 17 projects that include everything from an undergraduate dorm and new building for faculty to upgrades to existing buildings. The latest construction project to kick off is a $32-million addition to the prestigious School of Design, Construction and Planning (DCP).
The new building, named the Bruno E. and Maritza F. Ramos Collaboratory Building, after the couple who made a significant donation to the project, will add almost 50,000 square feet to the existing DCP building. As part of the project, the current structure built in 1979 will also undergo renovations.
"This innovative facility is critical to the future of DCP and will strengthen collaborative working across all the built environment disciplines in the college," says DCP dean Chimay Anumba. "It will position the college well for its next phase following our centennial in 2025. We are most grateful for the tremendous financial and in-kind support of our alumni and friends, which has made this possible."
The DCP offers several degree programs at the undergraduate and graduate level, including architecture, interior design, construction management and landscape architecture and planning.
The project consists of two semi-circular wings that will connect to the existing building. The roof will be outfitted with photovoltaic panels and skylights that let in natural light. A stormwater conveyance system will filter water and serve a pollinator garden. Work will be completed in 2025.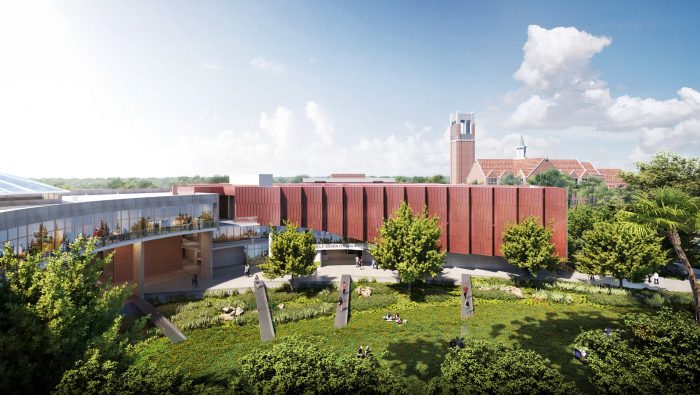 A 3D video of the new addition shows curved, sleek-looking structures with plenty of windows that extend from floor to ceiling, massive round concrete supports in the interior, and wide hallways and ample study areas. Outside, there are gathering spaces and an expansive courtyard. The upper section of the building cantilevers over the ground-floor to shade sidewalks.
Renovation of the existing DCP will include building a canopy over the atrium. It was in the original design but omitted during construction in 1977. The building has had water problems since its completion in 1981. The canopy will help to protect the atrium from weather and other elements.
The interior of the new addition will feature a reconfigurable, multi-functional space known as Creative Collisions Commons, where students, faculty and staff will be able to collaborate on a formal or informal basis as well as a new research hub where faculty and graduate students can work collaboratively.
The addition will also have space where students can work together on digital modelling, simulations and 3D-printing projects, and learn enhanced computational design and artificial intelligence and building information modelling. There will be facilities for geospatial modelling and simulation and a multi-purpose lecture hall that can hold up to 200 people, along with instructional rooms with technological capabilities to support design-based learning and teaching.
Additionally, the existing building's water system will be overhauled to prevent future hazards. A stormwater conveyance system onsite will filter water and a nearby pond will be restored to filter pollutants.
The project was designed by Brooks + Scarpa Architects, a firm led by DCP graduates Angela Brooks, Larry Scarpa and Jeffrey Huber that has offices in Florida and Los Angeles. The firm recently received the 2022 American Institute of Architects Gold Medal Award. DCP graduates Eric Kleinsteuber of KMF Architects, Laurie Hall of CHW and Cat Lindsay of Lindsay Newman Architecture and Design are also working on integrating the design of the building with the present campus.
"The DCP Collaboratory is an exciting project for our studio," says Scarpa. "We have several alumni staff from both our Los Angeles and Fort Lauderdale offices working on the project and are proud to give back to a place that has had a tremendous impact on all of us during our most formative years as students."
Construction manger on the project is Stellar, a design, engineering and construction firm based in Jacksonville.
In 2021, the university embarked on a $1.6-billion blueprint for the next 10 to 15 years that includes dozens of projects aimed at upgrading infrastructure and renovating and building new facilities.