A tractor-loader-backhoe, bulldozer and skid steer are parked next to a large sign that has been erected on a sprawling, dusty, brown parcel of property just north of Panama City Beach, Fla., along State 79 near Philip Griffitts Sr. Parkway.
On the sign is the colorful rendering of a new health care campus.
Nearby, in preparation for an official groundbreaking ceremony, six shovels with wood handles and shiny metal blades have been stuck into the ground, resembling a line of soldiers standing at attention.
Soon, crews will be moving in to begin construction of a new medical office building and hospital at the 87-acre site.
The project is a partnership between The St. Joe Company, a real estate development, asset management and operating company, Florida State University (FSU) and Tallahassee Memorial HealthCare (TMH).
The new center, to be named the FSU Health-Tallahassee Memorial HealthCare Medical Campus, will bring together clinicians, researchers and students to meet the rapidly increasing need for medical care in the Florida Panhandle and also provide residency programs and clinical rotations for medical students at the university as well as opportunities for FSU researchers focused on aging and digital health.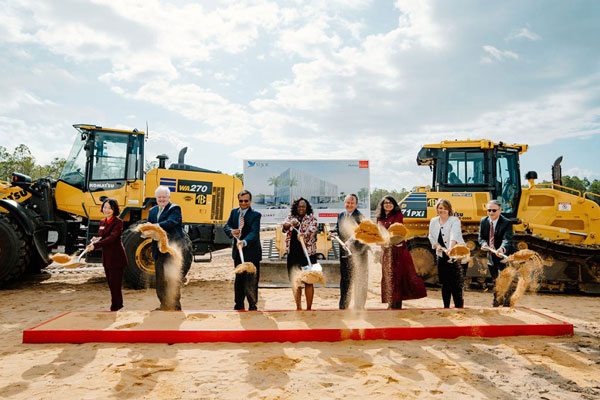 The medical office building will be an 80,000-square-foot structure scheduled to be completed in 2024. It will ultimately house TMH physician partners in primary care, a Tallahassee Memorial Urgent Care Center, an ambulatory surgery center, as well as cardiology and orthopedic services.
The hospital will be a 100-bed facility with an emergency center and other inpatient services, including surgery, cardiology procedures and imaging. The facility will be completed by the end of 2027.
Meanwhile, the university also plans to break ground on an FSU Health Tallahassee Center on the TMH campus later this year with the support of a $125 million appropriation from the Florida Legislature.
Prep work for the campus began at the site in August.
"It really commemorates the beginning of a vision, a vision that we all have collectively, which is to create a medical health care campus that takes advantage of the natural synergies between research, teaching and clinical delivery," Jorge Gonzalez, president and CEO of The St. Joe Company, explained at the groundbreaking.
"It's a very unique partnership. I think it's going to produce a product that is so unique and will drive so much of the quality of life of this community."
The campus will be easily accessible from State 79, a main north-south thoroughfare in the region, and is just minutes from the 55-plus Latitude Margaritaville Watersound community, another St. Joe project.
Gonzalez said the project is a crucial element for supporting the health and wellbeing of residents and visitors in every stage of life.
"It also has the potential to create synergistic opportunities between research, education, and clinical delivery, to enhance the quality of life throughout the region and beyond."
The project is attracting plenty of interest in the Panhandle and throughout the state. Estimates show Florida will have a shortfall of 4,700 primary care doctors by 2030 and 60,000 nurses by 2035. At the same time, Florida was the fastest growing state in the U.S. last year, with population growth of 1.9 per cent.
Over the past few years, FSU has been growing its health research portfolio and pursuing partnerships with major health care systems such as TMH and others.
FSU president Richard McCullough said the project is transformational for the university.
"We're looking forward to expanding our presence and continuing to serve the residents here through this health care initiative.
"This area is experiencing an incredible boom in population and the possibilities — and needs — have never been greater. There are tremendous opportunities for collaboration on research, education and clinical health care across the region and I'm excited that it begins right here with this medical campus."