In the far northwest corner of metropolitan Detroit, in the suburb of Farmington Hills bordering the voluminous Walter P. Reuther Freeway, a small tranquil campus of industrial buildings is nearing completion.
Japan Solderless Terminals (JST), which manufactures connectors, terminals and splices, is creating one of the more unique business sites in North America, a complex of buildings solidly integrated into nature and eschewing conventional building materials.
Gone are materials like drywall, structural steel, catch basins, storm pipes, paints and carpets.
Instead, the project makes full use of its forestry setting, with lots of natural wood, stone, soil and drainage. The campus will be the "most holistically sustainable" project in Michigan, general contractor Cunningham-Limp, a local firm, says.
Ten years have gone into the business park's making, including studies analyzing the setting going back 300 years, studying rare plants and the forest ecosystem and discovering one-time native American settlements, incorporating that heritage. The six buildings are designed and configured in a way that won't interfere with natural habitats and migration patterns.
Ninety trees were removed but in a highly surgical cut and the hardwoods repurposed in construction or furniture. Meanwhile nuts and seeds were gathered, grown as saplings and replanted onsite.
For project manager Jacob Gardner, it's the first time his quarter-century-old firm has embarked on such an unconventional build. A veteran of regional complexes like municipal buildings, midsize manufacturing and hotels, often in business park settings, he hopes it's a harbinger of things to come.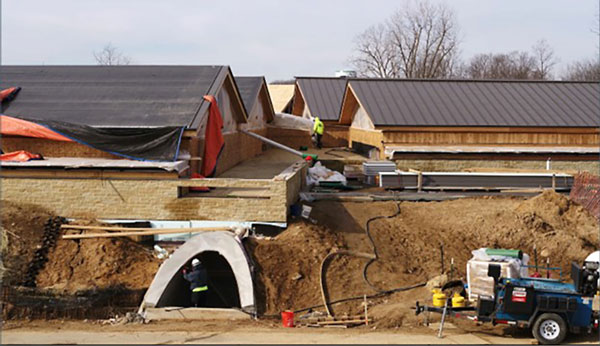 "We hope so in the future," he said. "We do take on more particular projects just because we think we bring a sense of value to them."
He said the company's also indebted to a good design team and subcontractors, who proved quick to adapt.
And, yes, there was also travel to Japan.
"It was an experience," Gardner said. "In Japan everything is centuries old, they have a lot of historic culture and a lot of different construction materials. That was the basis of the trip, understanding the design concept and how the design team came up with this magnificent campus."
They learned about traditional materials like thatch roofing, soil plaster and doma flooring that mixes soil and native stone.
"It really provides the finished flooring," he said.
While almost a decade in planning, hard construction has really been underway for the past three years. Buildings include test labs, engineering and sales offices interconnected by a loop road and lots of natural vegetation in between.
Materials like drywall, for example, were jettisoned.
"There is none," Gardner said. "We have a series of buildings that are comprised of heavy timber, wood siding and decking, and then the soil plaster will be the final artistic touch at the end."
Insulation?
"You've got to really look at each individual building separately," he said. "The test labs are essentially buried with soil around the perimeter."
FITS panels for the roof provide insulation.
"So that envelope is solid."
The engineering building is made of more conventional timber and wood framing with tongue and groove siding inside and out. And there are wood ceilings and floors.
Instead of storm pipes per se, there is edge drainage and gravity flows into swales and stone ditches.
Not everything is fully natural, such as bonderized metal for roof elements like flashing and terminations.
"I wouldn't say we're using everything that's unconventional but nothing's really standard. Everything about this project is unique in some way, shape or form," he said.
This campus in the woods undoubtedly will be a serene enclave in an otherwise frenetic corner of metro Detroit.
"I don't think there's anything that compares to it in southeast Michigan and perhaps in the United States, absolutely," Gardner said.
The design team was RAA, Arcari+lovino and Atwell. Engineers are MPP Engineers, LLC and Princeton Engineering Group, LLC. LAGO Co. Ltd. of Japan was ecological design consultant and timber was fabricated by Rocky Mountain Joinery Center of Colorado.