Climbing office vacancies combined with housing shortages in many U.S. cities is stirring development interest in wholescale office-to-residential building makeovers.
But complex design and engineering challenges plus the economic unknowns of conversions can leave developers uncertain about proceeding.  
"Sometimes they are challenging to make and pencil out," especially on large buildings, says Robert Fuller, principal and studio director at Gensler, an architectural firm experienced in office conversions.
The New York-based architect says site context, building form, floor plate size, building envelope and building services such as parking are key factors Gensler evaluates for prospective office-to-residential conversions. 
While "big, deep office floor plates with centre-core elevators don't lay out well for residences because they become long-narrow units," there can be design solutions.
For the conversion of the 24-storey Franklin Tower, a 1970s office building in downtown Philadelphia, Gensler worked with developer PMC Property Group to replace core office washrooms with a "vertical spine of amenities" that includes entertainment, kitchens and storage.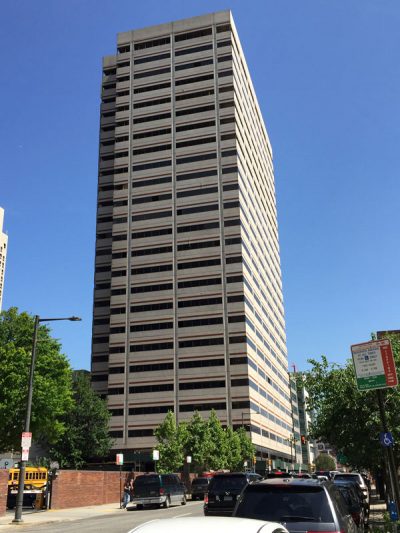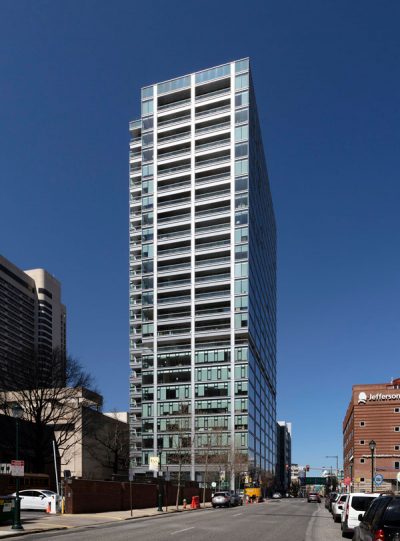 That reallocated space allowed the developer to convert the floor originally planned for amenities into about 20 more residential units, he says
"We have been touring a lot of our other clients through this building because they are struggling with what to do with the leftover space in similar type centre-core office buildings."
Another design innovation was the replacement of the Philadelphia tower's uninsulated precast façade that featured narrow strip windows.
Working with exterior façade contractor, the designer saw the tower reclad in glass and aluminum. At the two ends of the building the façade was "pulled back" into the building to reduce residential unit depth and to allow for balconies, says Fuller.
While the Franklin Tower couldn't be made larger, the design team took the additional floor space saved at the balcony ends and created an amenity pavilion in a double height volume at the top of the building as a replacement for the old cooling towers. 
Fuller says another design consideration on conversions is the building's structural composition. The Franklin Tower is a structural steel building which restricted unit layouts because unlike concrete slab buildings mechanical and plumbing penetrations aren't possible through steel beams or columns.  
"If it was all concrete you could drill a hole right where you needed it for servicing."
Fuller says class C or B office buildings often make better residential conversions than class A ones because of smaller floor plates and lower floor-to-floor heights.
The architect points out there are rarely any shortcuts around mechanical, electrical and plumbing system makeovers because the centralized air handlers typically on office building roofs are not viable for residential. 
While he says it is difficult to forecast just how big the office-to-residential movement in the U.S. will become, as more B and C-class office buildings show less tenant demand their prices will come down, making them more viable for conversion.
Zoning changes, however, are integral to the movement's growth, Fuller says, adding a conversion can also depend on a location that has other residential and related amenities.
Gensler has been retained by other cities in a design consultant capacity on office-to-residential conversions. Calgary is one of them and that city implemented an incentive program in 2019 to spur developers to make conversions possible. 
"The things that a lot of cities are dealing with, Calgary was dealing with before the pandemic because of their high office vacancy rate" relating to the downturn in the oil and gas industry.
For Calgary, Gensler created "a scorecard" in which it evaluated dozens of the Alberta city's downtown office buildings for conversion.  
"After that study, Calgary published their incentive program and I think they have approved at least 10 projects moving forward."
The city offers up to $75 a square foot for qualifying recipients.
"We're now working with many other municipalities in North America as they wrestle with the issue."