The New York City Economic Development Corporation (NYCEDC) has launched a technical assistance initiative to support mass timber projects in the early phases of planning and design with the goal of spurring development of the novel medium in the concrete and steel city.
Called the New York City Mass Timber Studio, it will be operated by the NYCEDC and the Mayor's Office for Climate and Environmental Justice in collaboration with other partners.
Nine design teams will be selected for the nine-month initiative starting next year.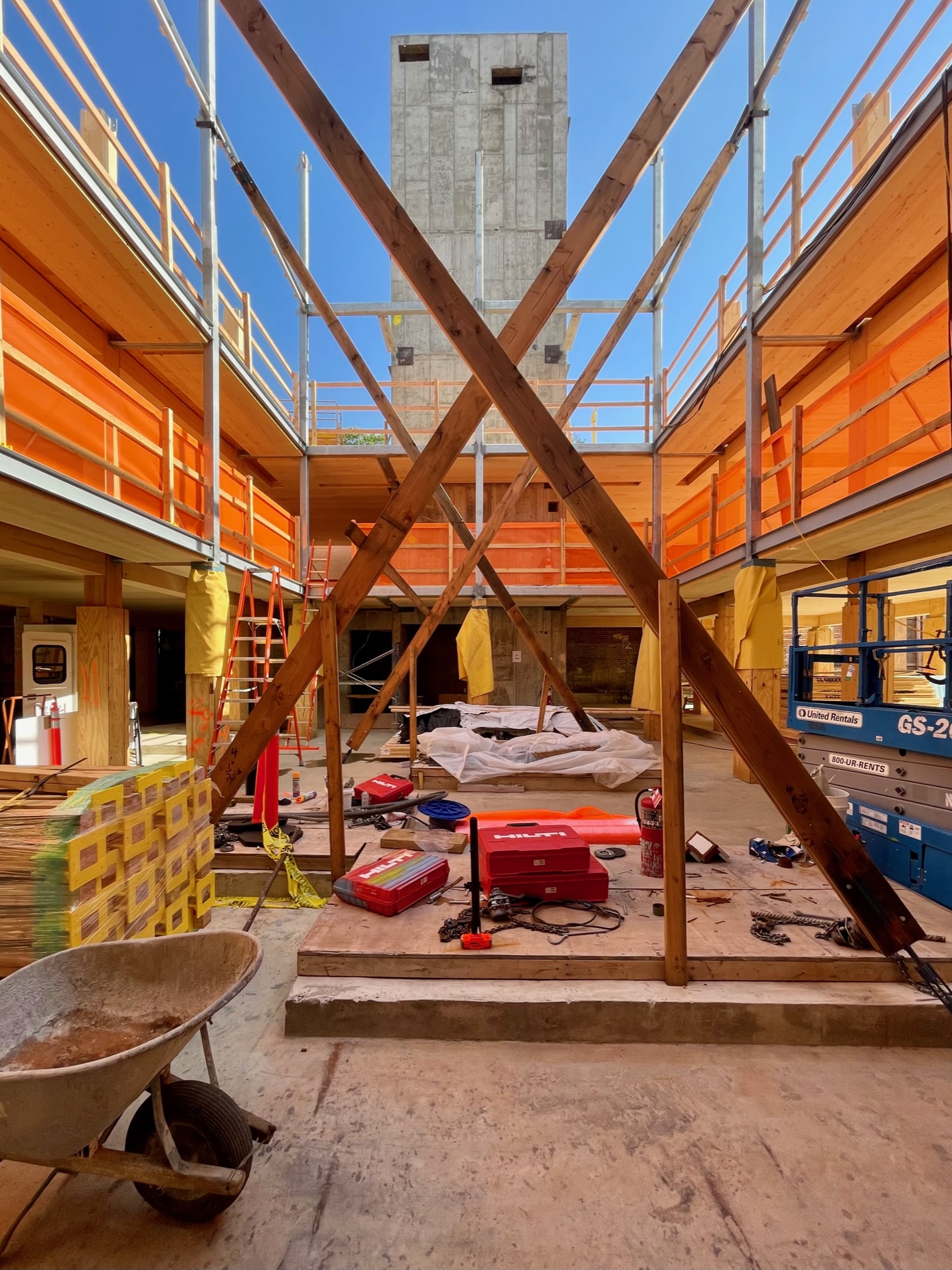 The studio will offer technical assistance largely through the WoodWorks Wood Products Council and provide feedback on proposals from the Department of Buildings (DOB), a spokesperson for the NYCEDC says.
"Our thing is getting the tools in the toolbox to everyone sitting around the table, so designers know how to design it, contractors know how to build it and developers know what the pro forma is going to be," points out Bill Parsons, COO of WoodWorks.
Each team will receive a grant of $25,000 for design, technical and economic feasibility assessment of their projects.
The timing of the launch fits with New York City's shift to green construction.
New York is targeting a 50 per cent embodied carbon reduction in new construction by 2030 and the economic development commission sees materials such as mass timber helping the city reach that goal.
The city's DOB updated its building code to include cross laminated timber (CLT) as a structural material last year.  As the code allows buildings only up to 85 feet tall, the city's economic development commission expects most demand will be in the outer boroughs, not the higher density neighborhoods of Manhattan.
Mass timber is "a very neighborhood friendly alternative to concrete and steel construction," a commission spokesperson says.
Through off-site prefabrication, construction timelines can be reduced by 25 per cent over conventional construction and mass timber also mitigates noise and pollution. 
Prefabrication also means fewer site workers are needed, says Parsons, adding that because wood weighs about 20 per cent of concrete and steel fewer transport trucks are required for materials delivery.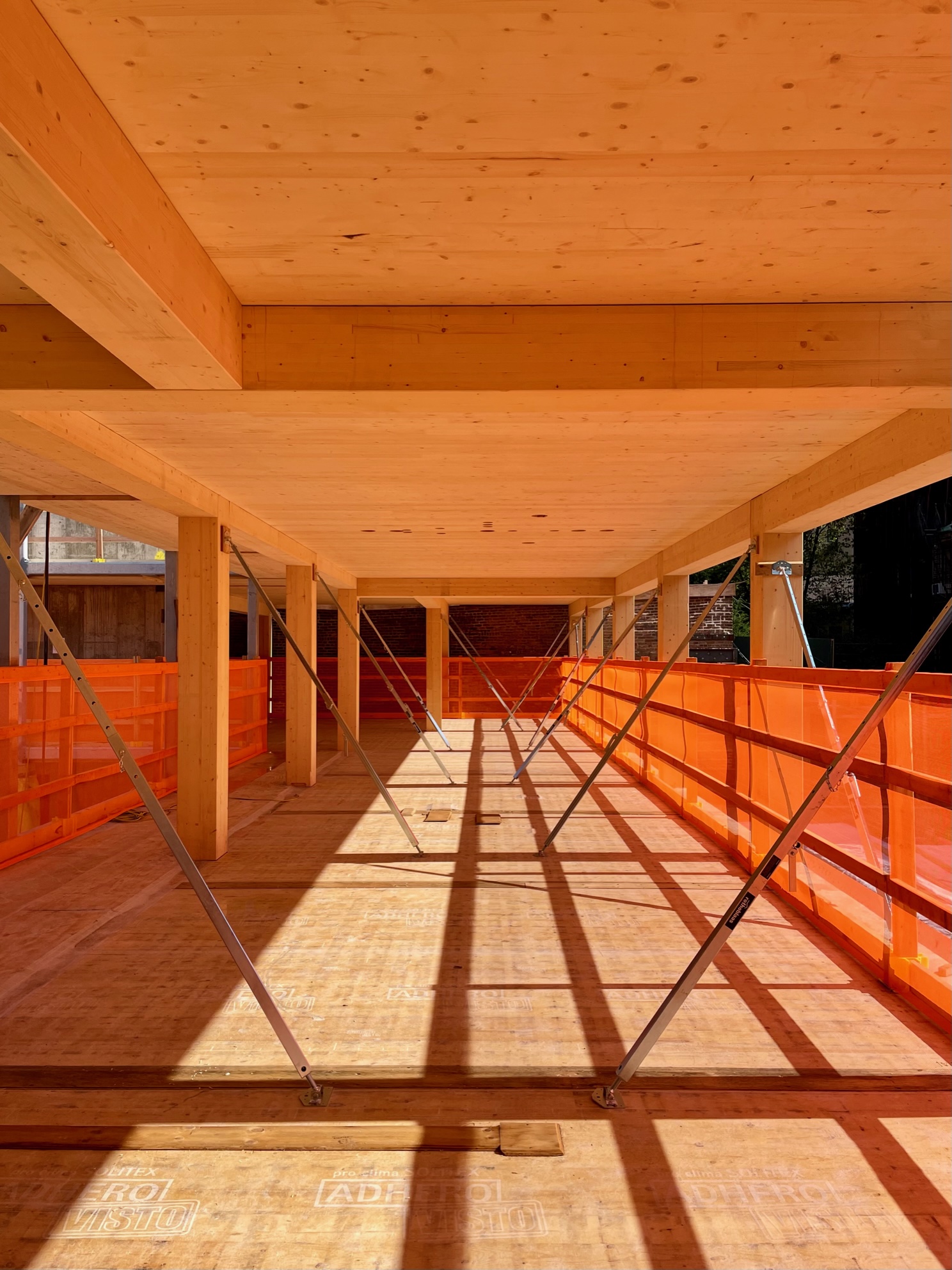 The WoodWorks COO sees the studio as similar to an "accelerator model" conducted in Boston where projects of different scales including a tall wood building came to fruition. 
"It gets people talking about what mass timber can do for climate change and gives them an awareness of WoodWorks and what we offer in free project support," he says.              
Mass timber fits with the city's decarbonization goals, including its Clean Construction Executive Order launched this year that mandates all new city projects to consider sustainable building alternatives.
The shift to alternatives is partly "in light of concrete being eight per cent of global greenhouse gas emissions," according to a NYCEDC spokesperson.
While mass timber is a relatively new medium in New York, last year Park Slope, a glue-laminated timber condominium, the largest mass timber project in the city was completed in Brooklyn last year. Another high profile project was a mass timber pedestrian bridge completed this year as part of the Moynihan Connector on the city's elevated High Line walkway.
Parsons says as contractors gain experience with timber pricing projects will come down.
He points out that WoodWorks has an installer program and construction management training to help contractors understand the building process and how to mitigate risks.
Union building training centres have designed and built mass timber mock-ups for worker training purposes, Parsons adds. 
About 800 mass timber projects have been built in the U.S. and roughly 900 more are under design, since code adoption in 2015.
"Now you are going to see it start to increase in New York City," says Parsons.
The studio is being operated with collaboration from the USDA Forest Service and the Softwood Lumber Board along with advisory support from the American Institute of Architects New York.