Fire halls, police stations, health care facilities, schools, and other essentially service buildings must meet rigorous seismic requirements and be able to withstand the impacts of a natural disaster. At the same time, governments are looking for sustainable building technologies to help mitigate climate change and meet emission targets. To meet these two goals, an increasing number of communities are looking to mass timber as a solution that can cut carbon while delivering safe, resilient structures able to resist seismic forces 1.3 to 1.5 times those for a regular building.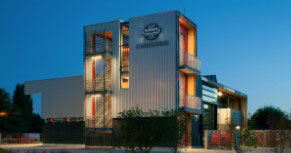 Timber is light-weight and resilient
"One of the things that makes timber more resilient, by far, is its lighter weight. You might think this is a minor point, but it's actually a big advantage," explained Cristiano Loss, Assistant Professor in Timber Engineering Associate Chair in Wood Building Design and Construction at The University of British Columbia. Involved in experimental testing of timber assemblies, Loss points out the inherent benefits of such systems. "Wood is five times lighter than concrete, reducing seismic forces on a building considerably."
Wood has proven to be a durable and resilient material over the ages. Ancient wood buildings continue to stand including 8th-century Japanese temples, 11th-century Norwegian stave churches, and the many medieval post-and-beam structures of England and Europe. Today, tradition meets technology as an increasing number of building professionals are turning to advanced mass timber hybrid systems, which Loss describes, as a safe and resilient alternative for public buildings.
In British Columbia (BC), that means a growing number of fire halls, schools, utility buildings and public infrastructure projects are using wood, in some shape or form. In many cases, these facilities act as post-disaster hubs. After an earthquake or other natural disaster, the building will, in an ideal scenario, be able to be safely re-entered and used to deliver emergency services.
Timber-built fire halls take the heat
A recent example is the newly completed Prince George Fire Hall No. 1. Its hybrid steel, concrete, and wood structure accommodate five truck bays and the latest in modern firefighting equipment. Its resolute contemporary form, clad with a carbon-black coloured siding, features a graceful swoop to its roofline.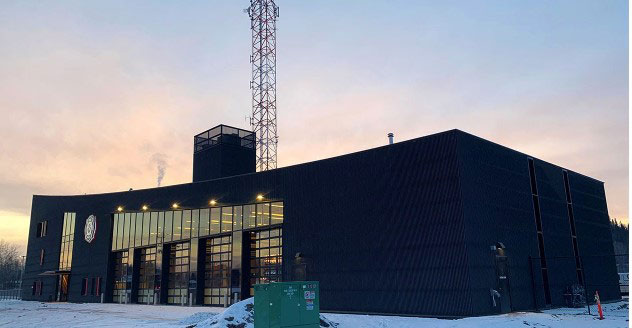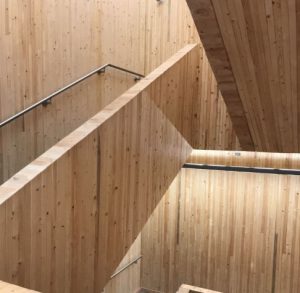 "We created a very simple clean form that, as you drive by, you recognize it, very powerfully as the region's fire hall," said Stuart Rothnie, of hcma and principal-in-charge of the project.
 "Most people don't even think about the fire service until they need it, but we felt it was important for the building to have a strong civic identity. It's reassuring to the community that the facility is there for their safety and protection—something I think the design of the Prince George Fire Hall achieves," adds Rothnie.
Wood is showcased in the fire hall's design. The front-entrance feature stairwell makes a bold impression, its nail-laminated timber construction (NLT) literally wraps occupants' floor to ceiling with the warmth of wood. Crews used more than 100,000 fasteners and over 3,000 pieces of lumber to construct this component of the facility. The large expansive truck bays are constructed using a laminated veneer lumber (LVL) roof. Mass timber products, such as NLT and LVL, are fire-safe—if exposed to flame the materials chars, forming a protective layer.
More than 800 km south, near the province's capital, the District of Saanich is in the design phase of a similar facility, that will feature a hybrid mass timber structure and meet the post-disaster requirements set out by BC's building code.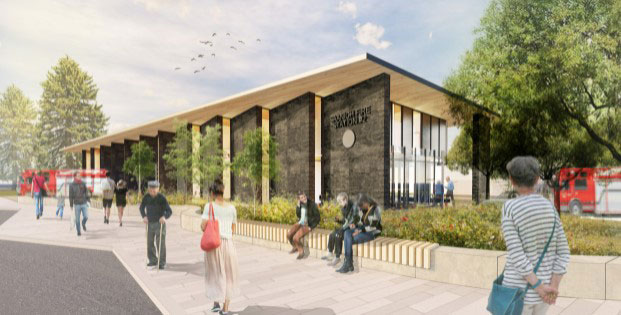 It is one of the first mass timber buildings in Canada to target a zero-carbon building standard while being fully equipped for post-disaster response. The choice to use mass timber demonstrates the Saanich Fire Department's confidence in the material's safety and performance.
"In my experience a lot of the mass timber buildings I've responded to after significant fire incidents usually remain standing. Most of the timber or the heavy timber portions are simply just charred, and a good portion of the structural integrity of the building remained," said Dan Wood the Deputy Fire Chief for the Saanich Fire Department.
School of hard knocks: education facilities built for resilience
Along with fire halls, BC has invested in making the province's schools seismically sound and in certain cases able to serve as critical post-disaster hubs for the communities they serve. And two new schools in Vancouver, BC are showcasing what is possible with resilient mass timber construction.
"Sir Mathew Begbie Elementary School and Bayview Elementary School serve as great examples of the potential that can be realized with mass timber construction. In addition to meeting the demands of the seismic mitigation program, the timber framing systems used in these buildings provide warm, inviting spaces for the school community as well as help the school board meet their sustainability objectives," said Nick Bevilacqua, principal at Fast + Epp, a structural engineering firm specializing in mass timber designs.
Bayview Elementary School's mass timber structure makes for an efficient floor plan on a compact site—the exterior and structural walls, floors, and roof use cross-laminated timber (CLT) complemented by glulam columns and beams. Left exposed, the wood adds warmth and character to interior spaces. The CLT system serves double duty as both gravity and shear walls, to resist the high seismic forces of the region. For the gymnasium and multipurpose room, a composite double-T design combines CLT with glulam beams to form 16-metre-long spanning panels.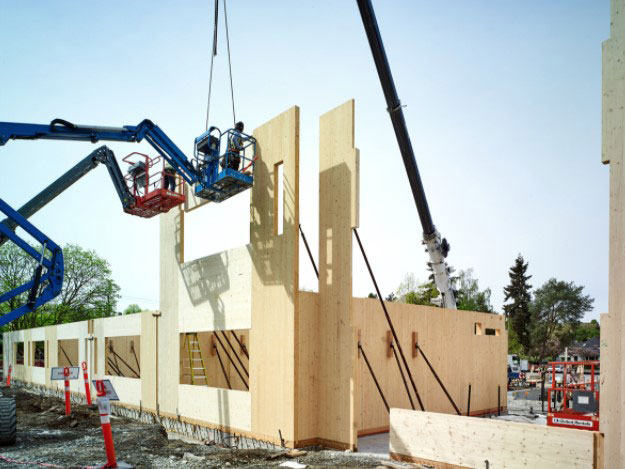 Not far from Bayview Elementary is Sir Mathew Begbie Elementary School. The new school, which replaces an original structure on the site built in 1922, is part of the BC government's initiative to accelerate seismic safety in schools by means of upgrades and replacements of facilities. Again, CLT serves as both gravity and shear walls, to resist the high seismic forces of the region.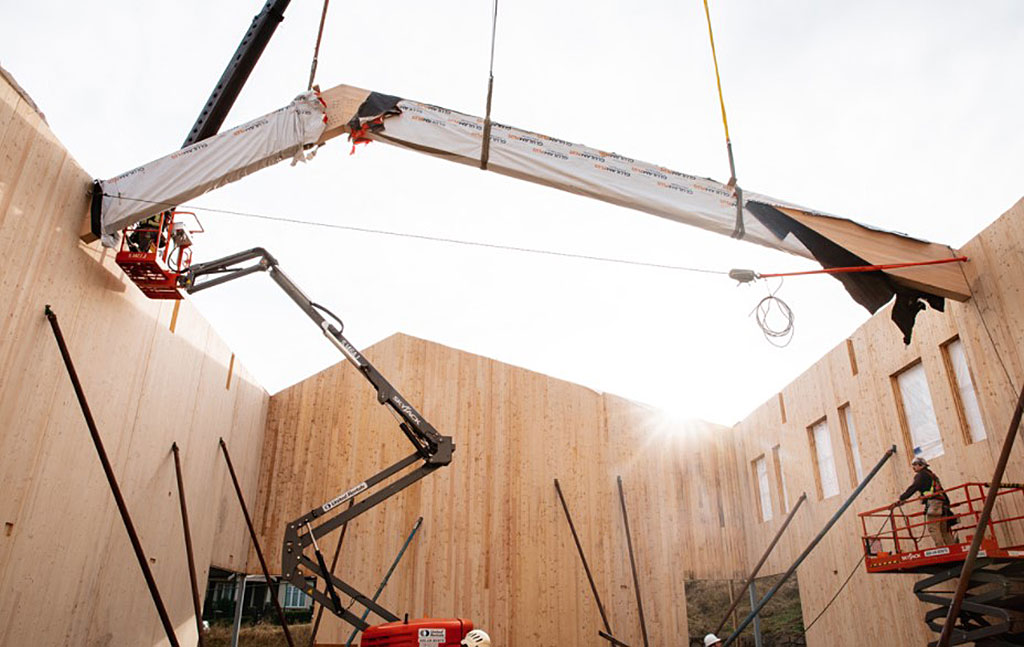 "One of the nice things that mass timber construction has going for it is that we tend to try to expose as much of the structure as we can. This makes the post-disaster inspection of these structures a lot more straightforward," Bevilacqua explained.
Wood's bright and resilient future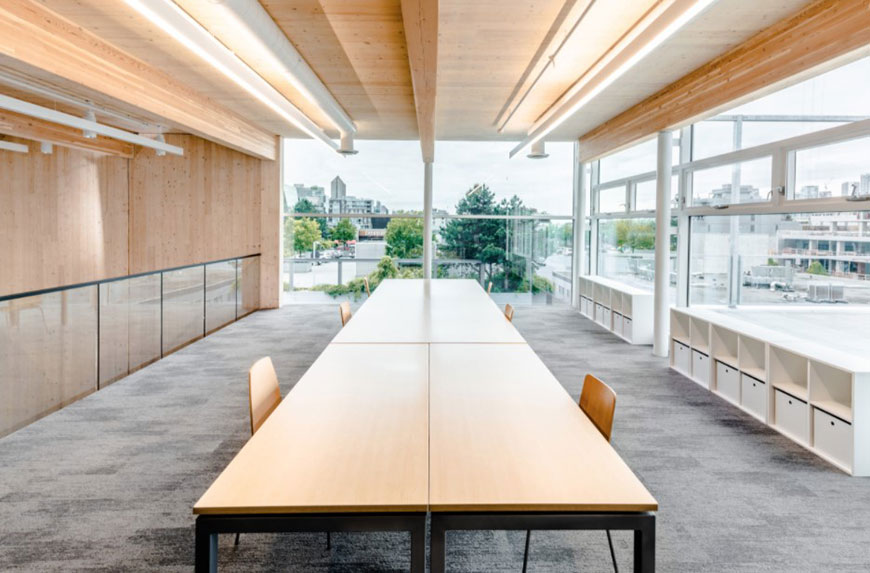 As advanced hybrid-timber building systems continue to grow in popularity—and in height—structural engineers, such as Tobias Fast of Fast + Epp, foresee a future of no-damage resilient mass timber buildings that not only save lives during an earthquake but can remain safe to occupy afterwards. And that future may not be too far off.
Fast's firm incorporated such a system into their newly completed head office, a four-story hybrid mass timber structure located in the heart of Vancouver's Cambie-City Hall neighbourhood.
 The device self-centres following a seismic event, allowing a structure to withstand an earthquake and any following aftershocks.
Fast + Epp's use of the technology extends to a tall wood project, 2150 Keith Drive, that uses a timber braced frame and CLT shearwall systems.
And Fast's firm isn't alone in its use of this technology with mass timber. Merely blocks from Fast + Epp's office, Robert Malczyk, principal at Timber Engineering Inc. is also making use of Tectonus in their mass timber commercial office building oN5.
When it comes to resilience and seismic design, Fast explains concrete is subject to degradation and corrosion. "There's absolutely a need for concrete in most structures but certainly mass timber can replace a significant portion. And when combined with technologies like these specially-designed shock-absorbing connectors these sustainable renewable building systems can be made resilient, saving lives and virtually eliminating damage to allow for re-entry after an earthquake."
Along with industry, the Province sees an opportunity for BC to lead when it comes to mass timber and resilient design.
"I'm quite curious about the possibility of a hybrid approach where there are elements of mass timber and elements of other forms of biomass, more sustainable concrete with CO2 absorption and steel. I think that is where the great innovation will happen in the coming years as we shift towards more renewable, eco-friendly resilient building design," said Andrew Pape-Salmon, former executive director of the Province's Building and Safety Standards Branch and Adjunct Professor at UVic Civil Engineering.
"Mass timber innovation in British Columbia holds the promise of positioning our design professionals, product manufacturers and developers to be global leaders and to implement these applications worldwide," adds Pape-Salmon.
This is an Industry Special by naturally:wood in collaboration with ConstructConnect® Media.  To learn more about naturally:wood, visit www.naturallywood.com.