The accompanying table records the 10 largest construction project starts in Canada in June 2023. Also included is the latest trend graph on starts. This looks at 12-month moving totals of the civil and non-residential building categories in Canada.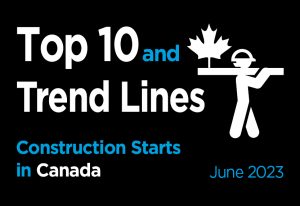 There are several reasons for highlighting upcoming large projects. Such jobs have often received a fair amount of media coverage. Therefore, people in the industry are on the lookout for when job-site work actually gets underway. And, as showcase projects, they highlight geographically where major construction projects are proceeding.
Also, total construction activity is comprised of many small and medium-sized projects and a limited number of large developments. But the largest projects, simply by their nature, can dramatically affect total dollar and square footage volumes. In other words, the timing and size of these projects have an exaggerated influence on market forecasts.
Top 10 construction projects of the month – June 2023
REGION
(East to
West)
TYPE OF
CONSTRUCTION
DESCRIPTION

Sq. Ft.
000s

Dollars
000,000s

Quebec
 
 
Montreal
Civil/Engineering
Projet Intégré SRB Pie-IX – Section Notre-Dame
*
$200
 
 
(3 structures) Multiple Locations
 
 
 
 
Ville de Montréal
 
 
 
 
 
 
 
Montreal
Residential
CITIZIA Rental Apartment Building Construction
300
$125
 
 
(2 structures; 10 storeys; 350 units) 2600, boul Cavendish
 
 
 
 
Fiera Immobilier inc/Groupe HD Immobilier
 
 
 
 
 
 
 
Candiac
Institutional
Rosefellow Industrial Building Construction in Candiac
475 
$110
 
 
(3 structures; 2 storeys) 131, boul Montcalm N
 
 
 
 
Rosefellow Developments
 
 
 
 
 
 
 
Ontario
 
 
 
 
Toronto
Residential
The Grainger and The Sanderson Rental Residential Development
741 
$140
 
 
(3 structures; 43 storeys; 791 units) 254 King St E
 
 
 
 
Fitzrovia Real Estate Inc
 
 
 
 
 
 
 
Toronto
Residential
The Dawes Condominiums
513 
$101
 
 
(4 structures; 33 storeys; 616 units) 10 Dawes Rd
 
 
 
 
Marlin Spring Developments/Osminton Inc
 
 
 
 
 
 
 
Manitoba
 
 
 
 
Portage La Prairie
Institutional
New Portage la Prairie District Hospital
259 
$221
 
 
(2 structure; 2 storeys; 114 units) 524 5 St SE
 
 
 
 
Southern Health-Santé Sud
 
 
 
 
 
 
 
Saskatchewan
 
 
 
 
Kenosee Lake
Civil/Engineering
Bekevar Wind Energy
* 
$271
 
 
(1 structure) Kenosee Lake
 
 
 
 
Cowessess First Nation No 73
 
 
 
 
 
 
 
Alberta
 
 
 
 
Cochrane
Civil/Engineering
Grading, Granular Base Course, Asphalt Concrete Pavement and Other Work
*
$271
 
 
(2 structures) Multiple Locations
 
 
 
 
Alberta Transportation
 
 
 
 
 
 
 
British Columbia
 
 
 
 
Vancouver
Residential
The Cascades Residential Towers
440 
$100
 
 
(4 structures; 32 storeys; 574 units) 622 SW Marine Dr
 
 
 
 
Chard Development
 
 
 
 
 
 
 
Northwest Territories
 
 
 
 
Yellowknife
Civil/Engineering
Giant Mine Remediation – Water Treatment Plant Project
*
$100
 
 
(2 structures) Multiple Locations
 
 
 
 
Indigenous and Northern Affairs Canada
 
 
 
 
 
 
 
TOTALS:
 
 
2,728
$1,475
*A square footage measure does not apply for alteration and engineering work.
Data source and table: ConstructConnect – CanaData.
Trend lines of construction starts in Canada – June 2023
Moving totals of the latest 12 months*
(ConstructConnect Insight Forecast Figures)

*For example, the June 2023 figure is the sum of the monthly numbers for July 2022 through June 2023.
Data source and chart: ConstructConnect Insight – CanaData.
---
Interactive Visual
---
View this video to see how to use the filters in the Interactive Visual.
---
Please click on the following links to download the PDF versions of this month's Top 10 and Trend Lines:
Top 10 largest construction project starts in Canada – June 2023 – PDF
Construction Project Starts Trend Graph – Canada – June 2023 – PDF
---