In 2022, Canada welcomed 1,007,557 international immigrants, more than twice the previous record high of 496,060 reached in 2019. The majority, 607,782, of these newcomers were non-permanent residents (students and temporary workers), while 435,856 were permanent residents.
To put some perspective on these numbers, over the past ten years, excluding COVID-depressed 2020, the number of temporary non-permanent residents arriving in Canada averaged 76,600 per year, while the net inflow of permanent residents averaged 224,000.
Record rise in net permanent and temporary immigration
Stefane Marion, Chief Economist at the National Bank of Canada, highlighted the impact of the unprecedented mismatch between the recent immigration-fueled surge in the working-age population relative to the growth of the housing stock. While recent attention has focused on the large increase in net temporary immigrants, specifically students and temporary workers, the increase in the net inflow of permanent residents relative to the increase in the housing stock promises to exacerbate an already critical shortage of both ownership and rental accommodation.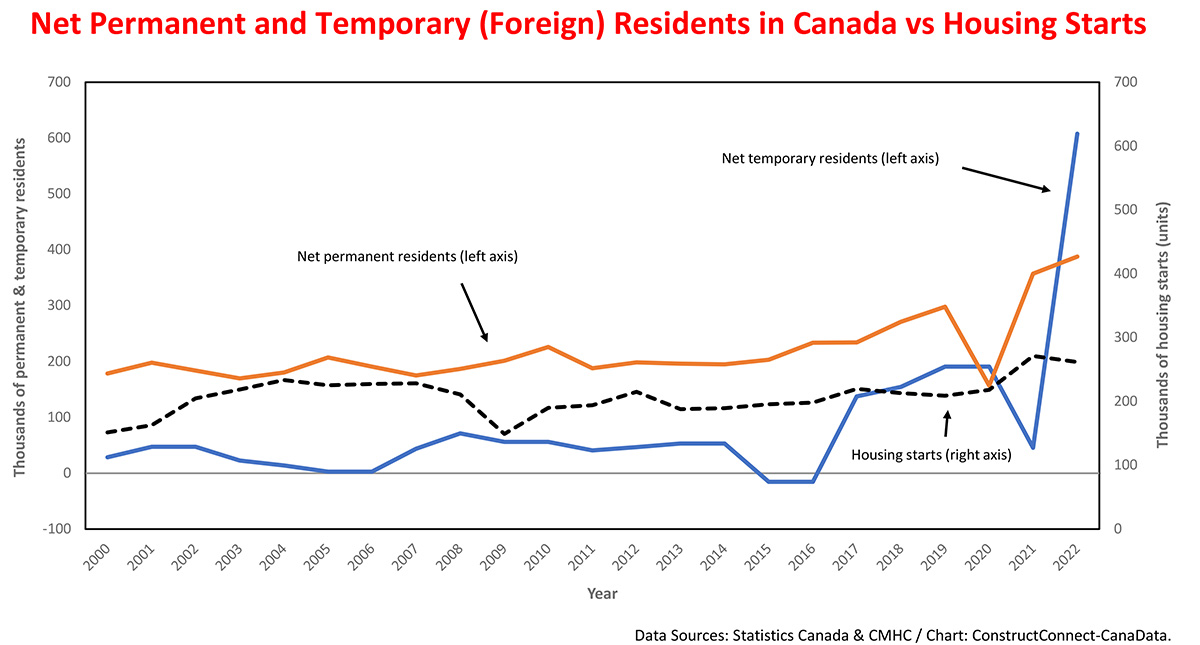 International migrants are moving to all parts of the country
Over the past eight years, the rate of increase in the net inflow of permanent residents has outpaced housing starts in 21 of the country's 33 census metro areas, led by Regina, Toronto, Winnipeg, Saskatoon, Saint John, and Thunder Bay. The large disparity between permanent resident admissions and housing starts virtually guarantees that housing affordability will continue to deteriorate.
This prospect is reinforced by recent announcements by Sean Fraser, Minister of Immigration to: 1) accelerate temporary resident visa processing times for spousal applicants; 2) create a new open work permit for spousal and family applicants; and 3) allow open work permit extensions for open work permit holders expiring between August 1 and the end of 2023. These measures are likely to give a further boost to the inflow of permanent residents, pushing the numbers beyond the government's current plan to admit 465,000 permanent residents this year; 485,000 in 2024; and 500,000 in 2025.
Provinces reject proposal to cap inflow of foreign students
Resisting the growing movement to lower the targets for the admission of permanent residents, the housing minister, announced that the federal government is considering putting a cap on admissions of international students. They jumped from 527,000 in 2020 to 807,000 last year and are projected to reach 900,000 this year. This suggestion has been rejected out of hand by Quebec, Nova Scotia, and Saskatchewan, who have jurisdiction over education, and believe that a cap would exacerbate current labour shortages.
CMHC housing targets appear unachievable
Canada Mortgage and Housing Corporation (CMHC) has projected that, at current rates, Canada will have added 2.3 million dwelling units by 2030, well short of the 5.8 million units necessary to restore housing affordability, especially for recently arrived permanent residents. Given that Canada has never built more than 2.1 million units in ten years, it will be virtually impossible for the country to add the extra millions of units needed by the time 2030 rolls around.
Capacity constraints and an aging workforce will dampen new construction
Regarding the supply of new accommodation, a number of factors are likely to impede new residential construction going forward. These include the fact that Canada's construction industry is already operating at 90% of capacity, close to maximum.
Also, the job vacancy rate in the construction industry, at 5.6%, is high and second only to the accommodation and food services industry. According to the Canadian Federation of Independent Business, shortages of both skilled and unskilled labour are the most serious impediments to small business profitability. Going forward, although new registrations and certifications in the construction trades have picked up following a pandemic-induced collapse in 2020, they remain well below the levels they reached in 2012.
Over the next 15 years the steady aging of its workforce and a rising rate of retirements are projected to cause construction's workforce to shrink by 25%. Included among trades that will experience the worst supply shortages are plumbers, carpenters, refrigeration specialists, and electricians.
Undercounting of immigrants means housing shortfall is underestimated
Unfortunately, the lingering nature of the factors depressing the pace of new residential construction combined with the federal government's unwillingness to limit the inflow of international migrants, plus the recent disclosure by Statistics Canada that it has been  undercounting non-permanent residents, make it highly unlikely that housing affordability will materially improve in the near term.
---
John Clinkard has over 35 years' experience as an economist in international, national and regional research and analysis with leading financial institutions and media outlets in Canada.