Twenty-four-year-old Hydro One powerline technician Mackenzie Gillan has considerable experience climbing to the top of hydro poles and at the 38th International Lineman's Rodeo in Overland Park Kansas last October she also climbed the podium.
Gillan achieved fourth place overall in the apprentice category out of a total of 384 apprentices and was the first woman apprentice to take the podium at the games, an international event where powerline technicians from across North America, and some from overseas, compete in events based on traditional powerline technician tasks.
She also placed fourth in a written test, something all apprentices were required to complete before competing in the physical competitions and also achieved first place in the Apprentice REA category.
"I was fortunate enough to take home three awards," she says.
The competitions included a speed climb, which requires contestants to scramble up a pole with a raw egg in their mouth — without cracking it — and then dropping a bag within close proximity to the pole.
Another competition was the "Hurt Man's Rescue" which, as the title suggests, involves rescuing an injured co-worker who is on the pole.
There were also two "mystery events," the nature of which wasn't revealed to the contestants until the day before, she says.
The Muskoka, Ont. resident was a member of a team that had been selected to represent Hydro One based on their showing at the utility's internal Grid Games at its training centre in Kleinburg the month before.
Despite her strong performance, Gillan says she will still have to qualify in this year's Grid Games before being considered for the 39th International Lineman's Rodeo.
Winning those awards completes a circle which began a few years ago when her family moved from Barrie to Bracebridge when she was still in high school.
As Gillan describes it, teachers in that community were more open to promoting skilled trades as a viable career option than those at the Barrie high school.
"I also started doing my own research," says Gillan about how she learned about various youth training programs.
Those Internet searches also led to the webpage of Women of Powerline Technicians, a national not-for-profit organization with a mission to promote women as equal participants in trade and technical roles in the electricity sector.
In September 2018 Gillan enrolled in Conestoga College's powerline technician program, but not without some initial misgivings from her father.
"I think he was more concerned about my safety."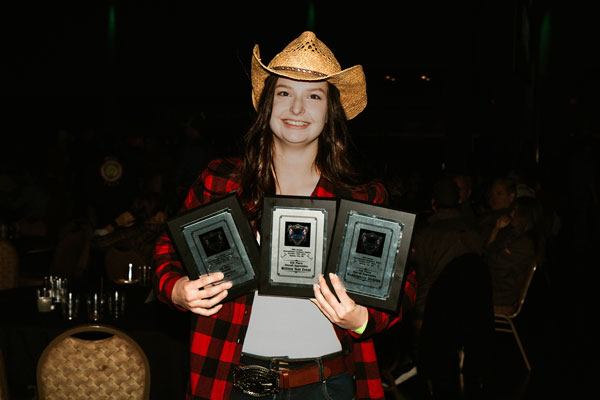 Through that program she completed two co-op terms, one of which was painting transmission towers across Nova Scotia and New Brunswick. The second one was working in Toronto Hydro's training centre.
She didn't complete the college program, choosing, instead, to accept a 434A powerline technician apprenticeship with Hydro One in 2020. Some of the required courses include working at heights, snowmobile, chainsaw, forklift and off-road track machine training.
"I will be finished the apprenticeship in the fall of 2024."
During the past three years she has been with Hydro One, Gillan has had a number of experiences including riding in snowmobiles across frozen lakes to repair hydro lines.
"The terrain is different," she says, explaining the challenges of maintaining hydro service in rural and northern communities is certainly more complex than in suburban areas.
Then there was last May's high-impact wind and rain storm which cut a wide swath in the Quebec City to Windsor corridor and forced Hydro One and other utilities to repair and reinstall downed lines.
"I didn't get home for two weeks and worked all across the province."
For the most part, though, Hydro One makes an effort to keep their employees close to home, says Gillan, who maintains two apartments. One is in Newmarket where she is based and the other is in the Muskoka area.
Being a powerline technician can be a challenging job, both physically and mentally, and a question posed to Gillan was what sort of skills are required to meet those challenges.
"It does take a certain mindset. You have to be physically fit, have a love of the outdoors, and get along with your co-workers. And you know, I'd rather work outside on a bad day, than work inside on a good day."
As for her father, who initially opposed her career choice, "he's now my biggest supporter."