For Mymoon Bhuiyan, joining EngiQueers when he started university made him feel like he was part of something.
"In high school I felt that there wasn't much for me there," Bhuiyan, the vice-president of EngiQueers Canada told the Daily Commercial News.
"I didn't feel like I knew other people like me…Now that I'm older and this is my last year of university I look back at these things and these formative experiences to learn and talk to people and finally be yourself around people who understand what that means. It's not enough just to be yourself. It's important to feel validated, to feel that you are a part of something, that there are other people like you."
EngiQueers started in June 2013 when five engineering students from McMaster University, including founders Vanessa Raponi and Alexander Dow, attended Toronto Pride.
They decided to start a student club focused on social events.
"She felt that a great way to really show queer engineering and to show that engineers can be gay too and that we're out here, was to march in Toronto Pride wearing coveralls, hardhats, carrying our school's logo," Bhuiyan said. "She went ahead and did that with a group of friends and that evolved into McMaster EngiQueers.
"That was a precursor to EngiQueers Canada."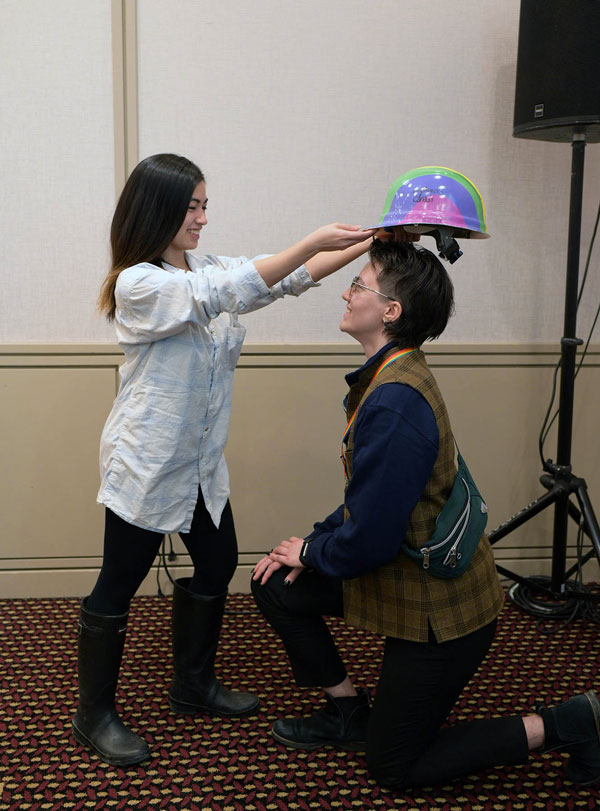 Today, EngiQueers Canada is a national, non-profit organization that represents over 30 member groups at engineering schools across the country that celebrate, promote and advocate for diversity and inclusivity in engineering. There are chapters in Western Canada, Ontario, Quebec, and Atlantic Canada, each with a regional director.
Bhuiyan started at McMaster in 2019 as an engineering student. In 2020, the COVID-19 pandemic struck.
"In second and third year I got more involved with EngiQueers and I started being active in the community," Bhuiyan said, adding in third year he became an executive member and in fourth year became president. "The most important thing for me was the sense of community. We're all engineers, we're also queer, we're all working to make a difference inside of our community."
The organization was started because there wasn't a central queer in engineering or STEM organization in Canada like there was in the United States. There were queer groups or chapters at various universities across Canada but they weren't united until EngiQueers was formed and brought them all together.
"It's grown," Bhuiyan said. "We saw with COVID-19 the strength of queer engineering to persist through hardship.
"We couldn't do in person events anymore but still all these different EngiQueers chapters found out ways to keep their community alive."
EngiQueers Canada was able to host its first conference in January of this year in Toronto.
"Now we're in a new chapter of our organizational history," Bhuiyan explained. "We want to show our students that we're here to support them so, we're doing things like we're marching in Capital Pride in Ottawa and Montreal Pride but we're also hosting the next EngiQueers conference which was just announced in Ottawa in January 2024.
"A great collaboration that I saw last year was that Waterloo and McMaster marched in Toronto Pride together," said Bhuiyan. "This year Waterloo and Guelph are marching in Toronto Pride together. EngiQueers Chapters can really collaborate and work together in order to pool their resources and push for big events."
EngiQueers Canada also works in partnership with Engineers Canada.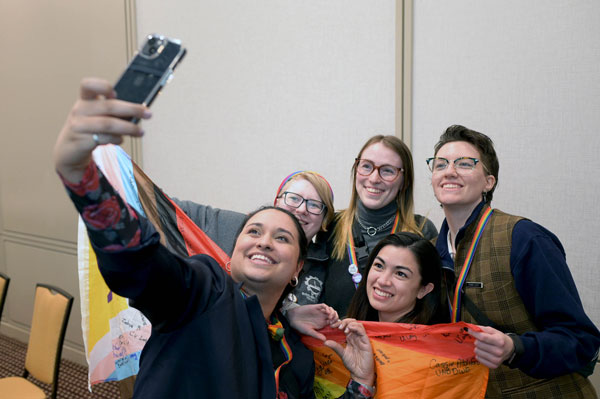 When Bhuiyan graduates he will likely remain on the board of directors for a year.
"I think the best thing I can do after leaving EngiQueers is support the organization through talking to whatever company I end up with to support them and come to events, to speak on my experience as someone who has been involved with this organization for such a long time. Personally, where I want to end up is in consulting work. I believe there is boundless opportunities for me to continue to be EngiQueer without being in the organization.
"I might not be an executive of EngiQueers after this year, but I do believe that there are still ways that EngiQueers make a difference."
When it comes to challenges in the workplace, Bhuiyan said one of the best things to do is to talk about it.
"As a queer person you are keenly aware that you are queer and that a lot of folks around you are not," he said. "I think the best way to handle those challenges is by being open, by being able to talk about these things."
EngiQueers also has the Canadian Advisory Network of Engineers who identify as queer and/or trans (CANEQT), a web platform that connects LGBTQ2+ engineering students with engineering professionals and queer-friendly companies.