When a friend needed a backyard renovation to help her deal with a debilitating illness, Vancouver Island artist and author Paul Latour took matters into his own hands.
On a whim
"I thought that I could probably get 20 friends together and help her," explained Latour.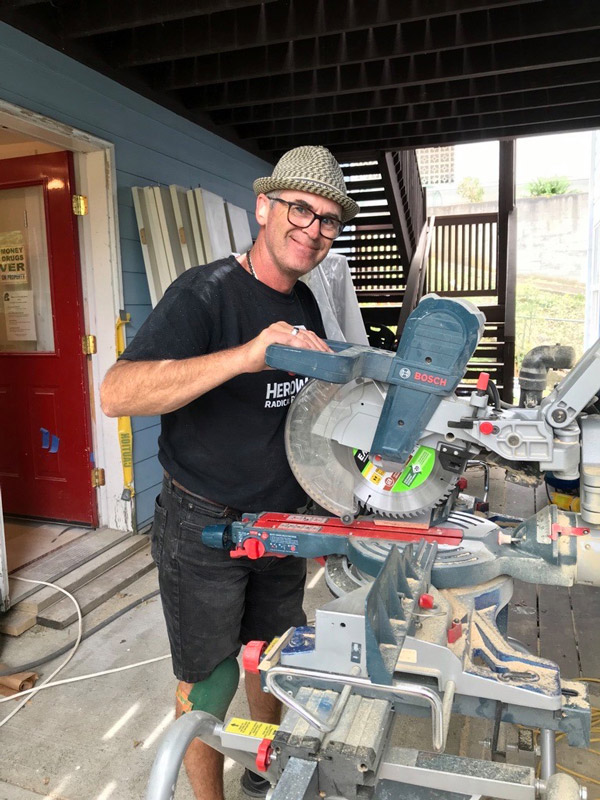 With almost no experience in the construction industry, Latour began to form a vision of a mini extreme makeover that organized volunteers, companies and skilled tradespeople around a community event.
"Seven weeks later, we had 27 companies, 65 volunteers, 10 rotating musical acts and did a $25,000 renovation in a single day with only $380," said Latour.  "That changed my life, sent me down a new trajectory and over time became HeroWork."
HeroWork is a charity that renovates other charities by organizing "radical renovations."
Latour described it as a modern-day barn raising. It isn't just a construction site, it's an event. There is music, food, cameras and energy.
As time went on, Latour found the renovations weren't just impactful for charities, they were benefiting volunteers as well.
"Every single build, every single time we come together we get that sense of gratitude coming from them to us. "Our organization is all about people and relationships. To have that kind of feedback is profoundly meaningful."
Through the charity Latour has also found himself immersed in the world of construction and the trades, which he said are a key part of the projects.
"The people in the construction industry build our homes and our buildings and the type of buy-in, community spirit and caring they have shown through our projects has blown me away year after year," said Latour. "The impact that they have is astounding."
Cooking up something good
For the Rainbow Kitchen, a food charity in Esquimalt, B.C., renovation work had an impact that went far beyond wood and paint. The group got in touch with HeroWork when the aging Esquimalt United Church building was struggling to keep up with the hundreds of hungry guests.
"It was a struggle and the place needed some TLC. We got a lot more than just TLC when HeroWork did the renovation," said Deborah Hunt, one of the Rainbow Kitchen's founders.
The roof was leaking, doors were having issues, everyone had to share one bathroom and the kitchen was not equipped for the volume of hot meals it needed to produce. The charity used a fleet of donated freezers and fridges in the basement to store food. Not only was this a dangerous downstairs trek for many of the senior volunteers to do, but occasionally the appliances would fail, resulting in spoiled food.
"It was very much feeling its age," said Hunt.
HeroWork co-ordinated with 120 companies, 170 trades and hundreds of other volunteers to perform more than $500,000 of renovation work in a handful of weekends.
"For the volunteers, they got a vastly improved space in which to do their work: the preparing of the meals, the serving of the meals, the cleaning up after the meals, the accepting of donations of food, all of that type of thing," said Hunt. "But most especially, it was for our guests. For them it was this sense of 'I must be worth something. I must be valuable because this community came together to help me.' There was this sense of being worthy."
Getting more than you give
Vance Smith, a CAD and BIM project technologist for Read Jones Christoffersen Ltd., got involved with HeroWork after searching for a way to use his construction industry skills to help his community.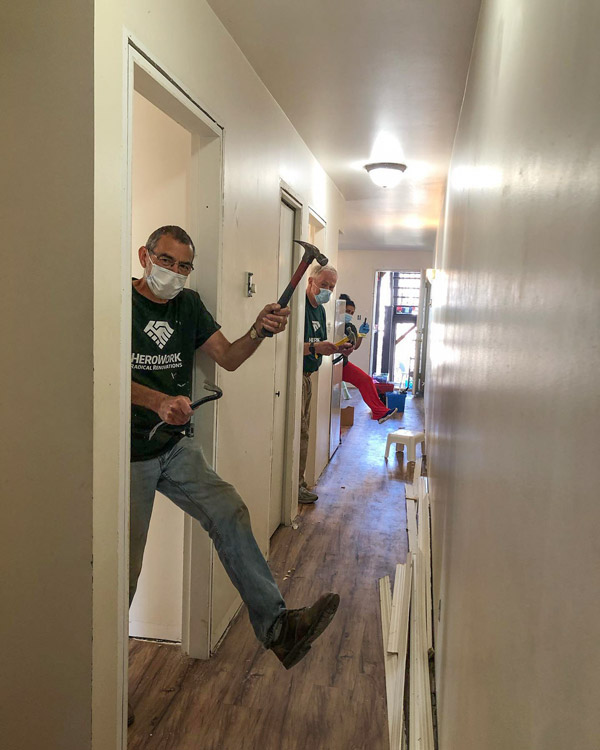 He assists HeroWork in getting its project drawings so city permits can be obtained and also uses his skills on the tools at the jobsite. Smith often drives by past HeroWork projects he has worked on and is able to see the massive impact the improved facilities are having on the community.
"I am a draftsman," said Vance. "I am not a social worker. I'm not a counsellor. I don't know how to help these people who maybe lost a job, are borderline homeless, have food insecurities or have all these needs. There is no way I can do that kind of stuff. But I can do what I do in my trade to help the people who can. I can lift up those counsellors, those front-line workers and give them a facility that enables them to do their job better. That's powerful."
Smith encouraged others in the construction industry to volunteer on a HeroWork project for an experience unlike a normal workday.
"It's hard to describe the feeling because you don't normally get in on a jobsite," said Smith. "You get off a jobsite and you are tired. You put in a hard day, but you feel great because you made a difference. It's a remarkable feeling and if a tradesman has never had that, I highly recommend it."
HeroWork has done well over $4 million worth of renovations and its schedule is already booked up well into 2021. Latour explained their data on non-profit facilities on Vancouver Island shows an immense need that he believes exists all across Canada. HeroWork is currently working on creating a "franchise" model with the goal to have HeroWork chapters all over the country.
"Our goal is to have 10 chapters in the next 10 years," said Latour.
To hear more from Latour, Hunt and Smith about HeroWork, listen to their interviews on this week's special edition of The Construction Record Podcast.
Follow the author on Twitter @RussellReports.