Located on 5th Avenue S.W. in the core of downtown Calgary, PBA Land and Development is building a massive hotel development with an estimated construction value of $100 million.
The development will feature a 180-room Marriott Courtyard and a 120-room Autograph by Marriott.
The dual-branded hotel will be called the Dorian.
"Combining distinctive architecture, a centre-ice location and an award-winning team, this hotel will be a flagship property in the PBA portfolio," says the company in a statement.
Designed by Gibbs Gage Architects, at 200,000 square feet, the general architectural concept of this 27-storey tower is based on an idea of strong and legible massing, explains project architect Brian Massey.
The building consists of three distinct masses assembled in a manner reflective of the high density of the surrounding area.
"A weathering steel-clad podium folds and bends to articulate various entrances and uses, while a strong, dark zinc mass intersects this and articulates verticality with added feature LED panels on the facade," writes Massey in an email to the Journal of Commerce. "A visually lighter glass element wraps around this to form a strong contrast."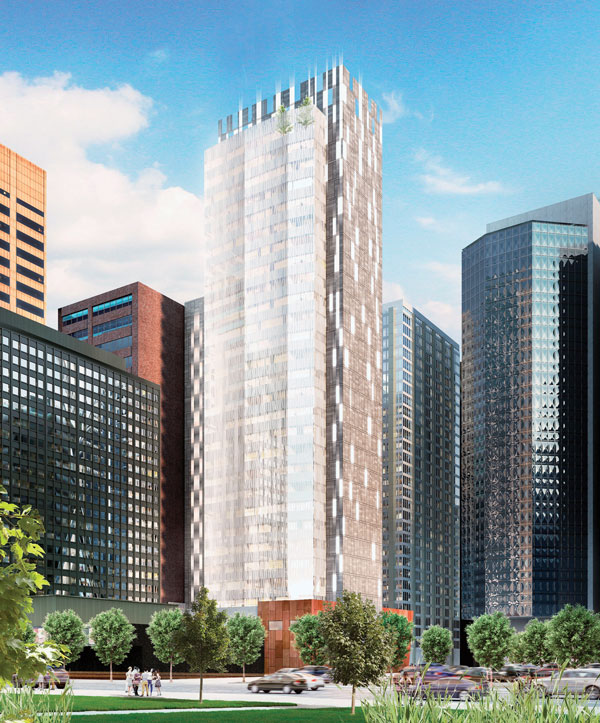 While the Courtyard lobby area is mostly open and transparent, the Autograph Collection lobby has a more boutique feel to it, says Massey.
The building is expected to have two restaurants with one located in the east portion of the podium.
The hotel will feature a second level bistro, a fitness facility and 27th-floor resto-lounge with a south-facing outdoor patio, says the developer's website. This is in addition to rooftop deck amenities and 8,000-square-feet of conference/meeting space.
The building is designed to be sustainable and uses state-of-the-art controls and systems to manage the interior environment, Massey explains.
"While not intended to be LEED certified, the building does follow industry best-practices in relation to 'green' or sustainable initiatives," he adds.
"Marriott has their own industry-leading sustainability standards which have been adhered to and adapted for the unique Calgary climate. In addition, the building fully complies with the NECB 2011 standards, which involved constructing an 'energy model' to understand the impact of design decisions and inform direction."
Consulting engineers on the project include Kellam Berg Engineering (civil); Entuitive (structural); Remedy (mechanical); SMP (electrical); Gradient Wind Engineering; Gunn (elevator); and Bunt (transportation).
EllisDon began preliminary construction work in July of this year. The hotel is expected to open by mid-2020.