What used to be Calgarians' window into the cosmos will soon offer a window into creativity and humanity.
After an international search, Contemporary Calgary has announced that local firm Gibbs Gage Architects and KPMB Architects of Toronto will spearhead work to transition the structure into a world class gallery for modern and contemporary art
The Centennial Planetarium was designed by Calgary architectural firm McMillan Long and Associates and opened in 1967 for the Canadian Centennial. It is a piece of art in its own right. Its angular, raw concrete design is one of the city's best examples of Brutalist architecture and won architect Jack Long's firm the 1967 National Design Council Concrete Award.
It was the home of the Calgary Science Centre for 27 years until the centre moved out in 2011, leaving it vacant. But last summer, city officials and Contemporary Calgary announced their partnership to create a gallery for modern and contemporary art.
"I think, obviously, it was not designed to be a gallery, but I find when you go through the space, it's almost hard to see it as anything other than that," said Contemporary Calgary CEO David Leinster. "It's this amazing Brutalist structure, with a staircase in the centre that is entirely concrete and a large atrium. It has a lot of character which is a lot of opportunity."
The design will be led by Bruce Kuwabara, a KPMB Partner. Kuwabara and the team at KPMB have experience designing award-winning galleries and museums including the Remai Modern in Saskatoon, the Gardiner Museum in Toronto, the Ottawa Art Gallery and the Canadian Museum of Nature in Ottawa.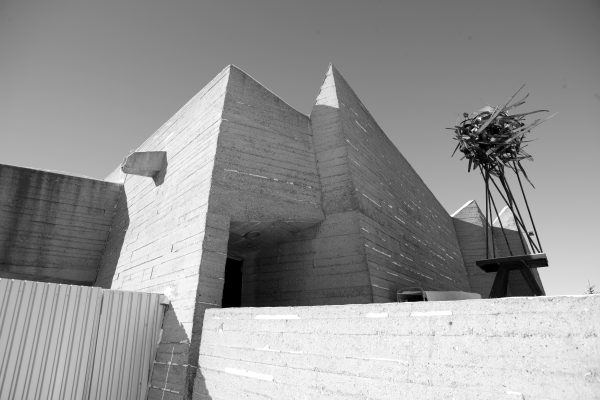 "Contemporary art has the power to be a leading force in how we perceive and think about society and the world," said Kuwabara in a press release. "The re-imagination of the Centennial Planetarium — an icon of optimism — into a dynamic, game-changing cultural hub, is an ideal project of architecture in our time."
Calgary-based Gibbs Gage Architects stated it was proud and honoured to be involved in the project.
"It's an exciting time for our city and putting art into the forefront will have a significant positive impact to the cultural make-up of our city and region," said Chito Pabustan, partner and managing director of design at Gibbs Gage Architects. "We see Contemporary Calgary as a transformational project for Calgary. We are looking forward to collaborating with Contemporary Calgary in designing a destination that serves the arts as well as the community."
Leinster noted many of the 12 RFP responses were from teams that had a local and national partnership, something he feels will be key to the design process. He explained the project involves far more than just converting the planetarium into an art gallery. While the design process is in the early stages, Leinster said one of the goals is to ensure the building serves the public.
"We want it to be welcoming, opening to people, whether or not they are an art lover," Leinster said. "I think we want this building to invite people to come in and participate and feel supported. We want this to be a place that Calgarians love and are proud to bring their friends to. We want to give this building back to the city."
The project will take three phases, the first of which is a $24.5-million renovation by the city to upgrade the building and bring it up to code. This phase is expected to wrap up in the coming weeks.
The second will be to transform the building into a modern art gallery and the third phase will be constructing an addition that will serve as a more traditional gallery that has strict environmental controls that allows the team to bring in certain international programming.
Leinster is already thinking of the possibilities the planetarium holds.
"It has this amazing geodesic dome that has operated as a planetarium and an Imax theatre," he said.
The building also houses a large auditorium as well as thousands of square feet of wall space for more traditional art. Leinster envisions a place for sculpture, projection, festivals and more. He and the team also intend for it to include retail, restaurants and community space.
"We hope this could become a living room in downtown Calgary," said Leinster. "There are not a lot of places where people can congregate."
The design process is expected to take a year to get to construction drawings.
"We would see kicking off construction at the end of this year or early 2020, and being completed by that year," he said. "But while we are designing and constructing there are parts of the planetarium that we will program, and sort of open the doors in the meantime."