Students at the University of British Columbia (UBC) have used the oldest material available and the newest in robotics to create a temporary art installation in the centre of the campus.
The Wander Wood Pavilion, a wooden curved rounded shell that forms into a bench, was a collaborative effort between several different sets of participants and took place in November as part of Robot Made: Large-Scale Robotic Timber Fabrication in Architecture, a workshop involving 15 architecture students along with external partners.
UBC's School of Architecture and Landscape Architecture (SALA) had a leading role in the project, spearheaded in part by professor AnnaLisa Meyboom, along with David Correa of the University of Waterloo and Oliver David Krieg of Lang Wilson Practice in Architecture Culture, a Vancouver-based architecture firm.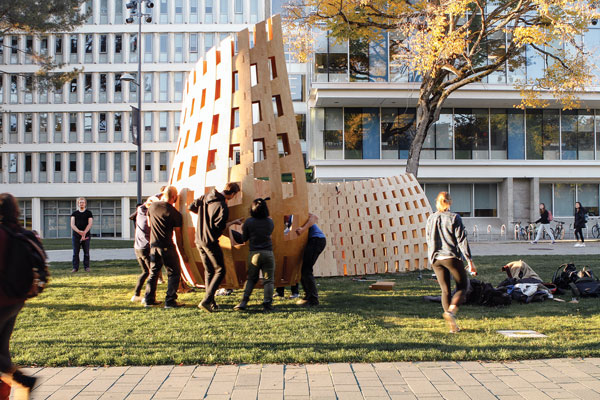 "We (myself and the Centre of Advanced Wood Processing (CAWP) here at UBC) obtained a grant from Forest Innovation Investment to run the workshop. We brought in collaborating experts from Germany and University of Waterloo. The participants are the students from a course I teach as well as people from industry who sign up. We advertise in various media," Meyboom said in an email to the Journal of Commerce.
The project team also collaborated with Dean Gregory and David Gill from Campus and Community Planning to arrange permits to put the installation on campus, she said.
The Wander Wood project, Meyboom said, ties directly into her area of study.
"I'm interested in how new technologies will change how we design with wood. The technologies I'm speaking of are parametric design and robotic fabrication," she said.
"As the digital technologies are integrated into the software architects use to design, the way we design changes. These projects investigate what happens when you push the limits of the technology and the material together."
The installation, consisting of wooden slats of increasing height forming a curved structure, was fabricated and assembled over three days, and an eight-axis industrial robot located at the CAWP was employed to build the segments of the structure.
"It's a standard industrial robot, but it was then set up with an integrator specifically to work on wood," Meyboom said. "I was the UBC faculty lead and one of the designers. I did coding and oversaw robot operation and some instruction at the workshop."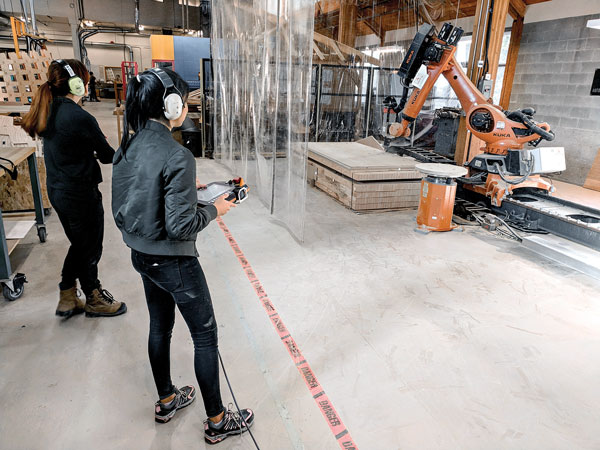 Cutting-edge wood fabrication technology was also used to create the installation.
"We used a CNC machine as well for the fins between the two exterior skins. We used the facilities at the Centre of Advanced Wood Processing and the very knowledgeable staff there are very supportive of the project. We couldn't do it without them," she added.
On her UBC blog, Meyboom said parametric design and robotic fabrication are "disruptive new technologies in architecture that allow us to build high performance structures of unprecedented formal complexity," and that wood is well suited to those tools because it can be easily milled and shaped using robotic tools.
Meyboom said she also recently taught a studio about prefabricated wood housing using robotic fabrication.
"I'm interested in extending this knowledge to full scale architectural projects, and I hope to do this in my practice," she said.