The look and quality of modular housing has made great strides in the last few years and combined with the advantage of quicker build times, the market is expanding beyond work camps.
But a few minor kinks need to be hammered out, as evidenced at a four-storey, 75-unit affordable housing project getting some final touches in Sooke, B.C.
"The biggest challenge is the shift in schedule and the capacity to do construction administration while still in the design-development stage," said Alex McCumber, architect AIBC, with Victoria's dHKarchitects. "Modular design is very front-loaded. A typical project lives on paper a long time until approval."
The normal job flow of design/engineering, followed by the acquisition of permits and approvals, then site development, and finally construction, contains pauses where details can be finessed.
With the Sooke project, the modules were being manufactured before all of the permits were confirmed.
Site work started in February 2021. In April of that same year, module construction began.
"There certainly is risk involved starting work without all of the approvals," McCumber said.
One priority is that municipalities need to provide quicker response times when it comes to approvals. The lag time is notable in B.C., where an affordable housing crisis continues to play out.
Brock Elliott is Next Revolution in Building (NRB) Modular Solutions' director of projects for Western Canada.
The modules were built at NRB's 75,000-square-foot factory in Kamloops.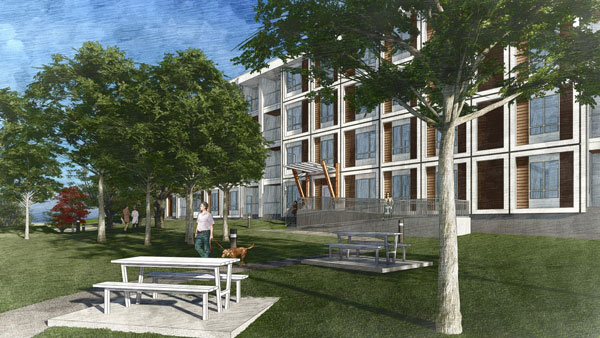 "Typically, you wouldn't be able to start framing a floor until the foundation is dry. In our case, it was before the foundation was complete," Elliott said.
The many benefits of modular construction seemingly outweigh the risks. The same materials as conventional construction are used, timelines can be cut by 30 to 50 per cent, cost certainty is greater, components are built in a controlled environment and not exposed to the elements, worker safety is boosted and there is less onsite disruption, Elliott said.
As well, waste is cut by about 50 per cent. Three-D modelling and automation allows for the correct amount of wire to be cut every time and off-cuts are greatly minimized.
The Kamloops factory, with 176 employees, operates seven days per week, with one 10-hour shift. Every 18 days, two modules were finished.
Modular construction is also built for the long-term.
"I'd put it up there with the quality of any wood construction," McCumber said.
In fact, the $25-million project in Sooke was built to Step 3 of the BC Energy Step Code, indicating 50 per cent higher energy efficiency (electric heat) compared to BC Building Code standards, Elliott said.
The apartment features bachelor, one-, two- and three-bedroom units. Eight will be fully accessible (lower counter heights, larger doorways), 15 are for those on assistance, 23 are considered affordable and 37 will be at near-market rental rates. Two elevators, 80 parking stalls, an amenity room and an onsite office are other features.
Modular buildings have been branded as square boxes, but for the Sooke project, planners didn't want "stacked houses," McCumber said.
NRB's project manager for the Sooke building said the rapid evolution in modular building means that most projects are designed with a high degree of flair.
"Architectural features are regular now," said Adam Gordon. "They're baked into it."
The Sooke project features insets, detailing and building articulation. And the interiors are more robust than usual. All of the interior cabinetry, kitchen and bathroom fixtures were installed at the Kamloops factory.
The project was expected to be done by December, but it appears occupancy will be in March, McCumber said. Modules are designed to allow for transport on roads. In this case, they were 10 to 11 feet wide, 60 to 65 feet long and just under 11 feet in height, Gordon said.
After being trucked from Kamloops to Vancouver, they were loaded on a barge and shipped to Ogden Point in Victoria.
"The maritime aspect was the most challenging," Gordon said.
The modules needed to be consolidated in a single space; the Port of Victoria provided valuable assistance.
While waiting to be transported to Sooke, a 45 kilometre road trip, the white shrink-wrapped boxes became objects of speculation regarding what they were and their final destination.
From Oct. 13 to 29, the pieces were craned into place, Gordon said. Since then, all the systems are being connected and installed. As well, the roofing, cladding and exterior work is being done, McCumber said.
NRB-built modulars are gaining traction in urban settings across North America, Elliott noted. Part of the Dexterra Group, NRB also has manufacturing facilities in Grimsby and Cambridge, Ont. and Calgary.
NRB got its start by building mobile living units for the oil patch.
The Sooke project is a partnership between the federal and provincial governments, the Capital Regional District and M'akola Housing Society, which will occupy the onsite office.