The new administrative complex of Burnaby School District #41 recently won a Heritage BC award for the Schou Street School restoration and addition.
Built in 1914, the school has been refurbished and made part of a new 28,481-square-foot school district headquarters.
The new and old structures are connected by a nearly 17,000-square-foot glass atrium with an elevator and feature stairs.
The new building was designed to complement the heritage building by following its colour, roof and orientation.
The front entry porch and stairs of the original Arts and Crafts-style school building, despite being decommissioned as the main entrance, have been restored.
The windows were brought back to their original appearance, but now they hold insulating double panes of glass, to dampen noise and to make the building more energy-efficient.
Inside, a large main staircase extends from the original entry way to a large open landing. It had been removed to make room for more classrooms, but it has now been reinstated.
Like other heritage preservation teams, the companies working on the project needed to square the circle between the sometimes-contradictory goals of period authenticity, materials availability and present-day code requirements.
"When working on a significant heritage building which has to be brought up to contemporary energy-performance standards, there are always conflicts between being faithful to the original building and substituting something that looks close to the original fabric of the building, but performs better," said Kevin Hanvey, vice-president, architecture of Vancouver-based Omicron Architecture Engineering Construction Ltd., which provided design and construction administration services on the project.
"For example, we left the original window frames in place, but replaced the old, single-glazed panes of glass with custom-made insulated, glass units," said Hanvey. "And we used higher-performance insulation in the walls."
For seismic upgrading purposes, a new layer of plywood on top of the roof joists had to be added.
The original roof shingles were replaced with new asphalt shingles.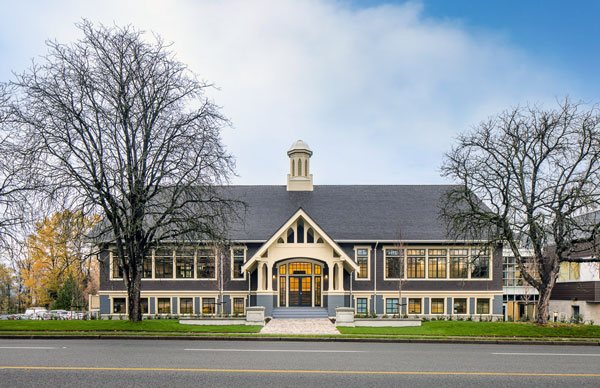 "They were inauthentic, because the original roof would have been cedar shakes or shingles," said Hanvey. "This was a cost-related decision that was supported by the whole team. Each decision we made was evaluated against cost, architectural authenticity and performance parameters."
Hanvey says heritage preservation projects aren't necessarily more difficult than constructing a new building from the ground up.
"But the project team has to be prepared for the process to take a little longer, due to the investigative phases of the work," he said. "We don't have a lot of heritage architecture in our corner of the world compared to other places, so we need to treat what we have with respect and affection."
Hanvey says Omicron worked closely with Vancouver heritage consultant Donald Luxton & Associates Inc. to restore period finishes and windows to the building shell and to provide a contemporary interior to the building.
"Except, of course, for first-growth lumber, we can find most of the materials we need," said Donald Luxton, who is senior cultural heritage advisor in the company. "But much of the work that is required in heritage conservation is specialized and custom, such as rehabilitation of the windows. In the Burnaby project, the school's original cupola was missing and had to be restored, but we were able to reconstruct it out of wood."
The company also acted as heritage consultant on two projects in West Vancouver that each involved restoring a heritage house and adding three in-fill units that were inspired by the respective heritage houses.
"It was a challenge to carry out conservation that respects the architectural character of the original and, at the same time, that meets current building and fire codes," said Vancouver developer Michael Geller. "A development might require replacing wood shingles with modern, fire-resistant shingles. Fortunately, it's difficult for even the experienced eye to tell the two apart."
Because the building and fire codes change from time to time, and because the ways in which those codes are interpreted also change from time to time, heritage preservation projects nearly always require a code consultant, says Geller.
"They understand what the fire marshal and the other municipal officials want, and they can recommend alternate ways to satisfy the codes," he said. 
Winnipeg architect Wins Bridgman says heritage projects in western Canada have a distinctive quality.
"We value authenticity," said Bridgman. "We don't want any new materials that are showy or that wouldn't weather in the way the original materials would. You've got to be very careful when using non-original materials when making repairs. We always need to ask ourselves, 'How will it look 100 years from now?'"