Dr. Tony Yang, a professor of civil and mechanical engineering at the University of British Columbia (UBC), is working on a government-funded project to develop new materials, technology and guidelines that will make mass timber construction buildings of up to 20 storeys economically and technically feasible by 2028.
The goal is very ambitious, because, at the moment, Canada's national building code allows mass timber construction up to only 12 storeys.
"The next generation of mass timber construction will mark a turning point in how we build in this country, and potentially in the world," said Yang. "We're confident that with these new tools and materials under our belt, we will help Canada meet, if not surpass, its 2030 carbon emissions goals."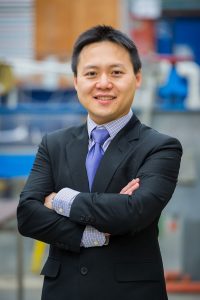 Yang is one of the participants in The Next Generation Wood Construction project (Next-Gen), a collaboration between the Canadian wood industry, universities, government agencies and the construction sector.
The goal of the initiative is to reset national building standards for mass timber construction and overcome the technical and non-technical obstacles to expanding construction using wood.
Some of examples of these obstacles, says Yang, are gaps in design methodologies, performance data and environmental impact assessment, and a shortage of skilled professionals equipped to meet the demands of increased wood usage.
Next-Gen has four themes: structural and serviceability performance; fire safety; building envelope and energy performance; and sustainable construction technologies and practices.
"The research consists of advanced simulation, experimental testing and code development," said Yang.
The Next-Gen team consists of 31 faculty members from 14 Canadian universities as well as 20 scientists and professionals from 12 government and industry organizations.
The team of academics and scientists will supervise a group of some 50 qualified trainees "who will actively contribute to our research endeavours."
Yang and his collaborators at UBC have been working on developing new forms of modular construction for mass timber buildings in high seismic regions that can withstand earthquakes, and, at the same time, reduce the carbon footprint of such construction.
Still a relatively new building technology, modular construction has not been used in regions that are prone to earthquakes and other forms of seismic activity.
Yang and his collaborators have already developed a prototype for a high-performance mass timber modular building.
"To dissipate earthquake energy, the building will be equipped with higher performance dampers," said Yang.
Dampers protect a building from movement due to pedestrian loading, wind and seismic action. Motion control from dampers increases structural integrity as well as the comfort and safety of a building's occupants.
"The structural components, energy dissipation devices and connections have been tested," said Yang.
The next step is to finish the modelling of the entire building.
"Everything we are doing in this project is going to fundamentally change how we do things in the construction industry," said Yang. "In five years' time, we will be able to deploy the next generation of technology to make infrastructure safer, more carbon-neutral and efficient. We will be able to protect people's lives from the kind of disastrous aftermath you see from severe earthquakes."
Research on seismic testing of mass timber buildings is also taking place in the U.S.
For example, testing is underway at the University of California San Diego (UCSD) on what the university says is the tallest building ever to be seismically tested.
The building, a 10-storey mass timber structure that is made up largely of donated mass timber, was constructed for testing as part of the Natural Hazards Engineering Research Infrastructure TallWood Project.
The project is an industry-wide initiative to prove the seismic resilience of mass timber and its strength as a low-carbon structural building material.
The principal investigators in the TallWood Project are researchers from the Colorado School of Mines, the University of Washington, the University of Nevada (Reno), Colorado State University, Washington State University and Lehigh University.
UCSD's shake table, where the testing is taking place, is the largest outdoor shake table in the world.
It recently underwent an upgrade that increased the number of axes of shake, in order to better simulate actual seismic events.
Climate and Construction: Designers question the 'childish' pursuit of ever-taller MTC buildings