A fleet of drones carrying digital imaging equipment to provide data on erosion patterns along Prince Edward Island's shoreline will help engineers create designs to protect the island from climate change storms threatening many properties, beaches and roads.
That fleet of 29 unmanned aerial vehicles flies out of a drone port at the recently completed Canadian Centre for Climate Change and Adaptation at the University of P.E.I.
Among those drones is the Phoenix Terrahawk CW-30. With a wingspan of four metres and a maximum speed of 144 kilometres per hour, the Terrahawk can be equipped with LiDAR (laser measuring technology) to provide "very precise information," helping to connect the dots between historical and current erosion patterns, says Adam Fenech, director of the Climate Lab and associate dean at the university's School of Climate Change and Adaptation.
The province's sand and sandstone shoreline is "particularly vulnerable" to erosion from increasing storm surges, he points out, noting that research shows that more than 1,000 residences and 17 lighthouses are vulnerable and some coastal roads will have to be moved inland.
Fenech says with the aid of data provided by the centre's research, an engineering consultant was able to design successful storm surge protection for a man-made causeway. Installing sandstone islands acting as a breakwater slowed tidal action and increased sediment to build up a beach over a three-year span, providing "a natural barrier to coastal storm surges."
In a previous attempt to protect the causeway the provincial government put up a seawall "against our recommendations" which was undermined by the sea in two years, he points out.
One of the climate centre's tools is  a "geo-visual" software called Coastal Impacts Visualization Environment (CLIVE) that provides virtual 3D views from historical spatial data (including archival aerial views of coastline erosion back to 1968) that it can compare to recent LiDAR surveys of topography, says Fenech.
"It is really helpful in getting people to understand what the impacts are right now (and in the future) from climate change on vulnerable areas and what the best way is to build resilience."
Convincing government of the merits of drones in the fight against climate change has always been easy. Even environmental research teams have been dismissive of the technology in the beginning, Fenech says. For decades imagery of coastline attrition came from satellites but those images didn't provide the high-resolution, close-in details that drones can, says Fenech, pointing out that the use of drones "has required a real change of thinking."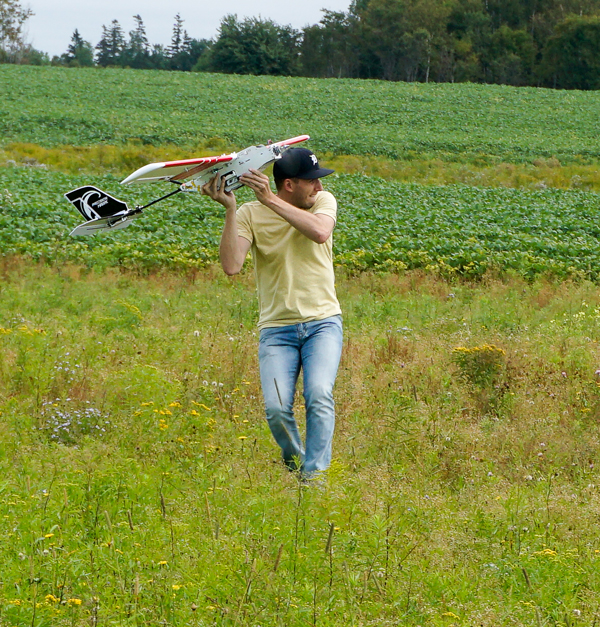 Derek Ellis, director of the sustainability division, for the P.E.I.'s Department of Environment, Energy and Climate Action, sees the merits of the School's drone fleet for purposes other than determining soil erosion patterns.
He says equipped with thermal sensors drones can identify heat loss in poorly insulated buildings – a major source of greenhouse gas emissions in Canada's smallest province.
While thermal imaging can serve as an information-sharing tool, comparing, for instance, neighborhoods to neighborhoods or buildings to buildings, Ellis also sees it as a marketing tool for property owners to access government energy-savings insulation rebate programs.
Those programs can be a "cost-effective means" of energy savings, but they are often not popular, he says, suggesting that drones could "increase their uptick" in residential and possibly commercial/industrial sectors.
Drones don't offer the details of an on-site energy audit but they "can provide a lot of (building) data across a large densely populated geographical space fairly quickly…," Ellis says, adding it could determine the solar PV potential on rooftops. Thermal sensors can also provide temperature data on farmers' fields to identify irrigation needs.
"I really think drones are promising technology for all sorts of uses in the environmental field," says Ellis.
Fenech say that the centre's drones also carry multi-spectral sensors that identify the "greenness of plants," helping determine the health of plants – a potentially valuable tool in the calculation of crop yields for the province's farmers.
"Most of the time farmers know their fields well but the drones allow them to look at things very quickly," he says, noting that the Climate Centre has been training farmers in drone usage for farm management.