As Western Europe and the U.S. bake in extreme heat, air conditioning is in the hot seat.
In Italy, the government has mandated air conditioning systems be set no lower than 25 Celsius due to a much-reduced fuel supply. Germany is asking its citizens to avoid using AC. Texas has warned of rolling blackouts due to record-high AC demand.
Buildings eat up one-third of global energy production and create one quarter of Co2 emissions, according to a November 2022 ScienceDirect Energy Report. In the buildings themselves, HVAC systems account of 38 per cent of energy consumption.
As Canada faces hotter days, the demand for energy-sucking air conditioning has been rising as fast as the mercury.
In fact, in May, the City of Vancouver approved a report that recommended new buildings must have built-in air conditioning. It would take effect in January 2025 but only for residential units in structures taller than three storeys or that exceed 6,458 square feet.
According to a B.C. Institute of Technology instructor, if Toronto was to install air conditioning in its more than 350 social housing apartment buildings in the city, another two or three gas-powered plants would be needed.
But Joshua Vanwyck says there are alternatives that work well, but they must be implemented right at the design state for new builds.
"The first step is to reduce demand," says Vanwyck, also president of JMV Consulting.
He relays the story of how Vancouver has become a city that requires AC, not because it's getting hotter, but because so many of the new builds have floor to ceiling windows that face west to get the ocean view. The answer isn't to reduce the window area, but to be smart about controlling it, he says.
What he means is solar gains can be diminished in the summer by using fixed overhangs that reduce the amount of light entering the building.
Yet, the building's orientation is important, says Andrew Pape-Salmon, an adjunct civil engineering professor at the University of Victoria.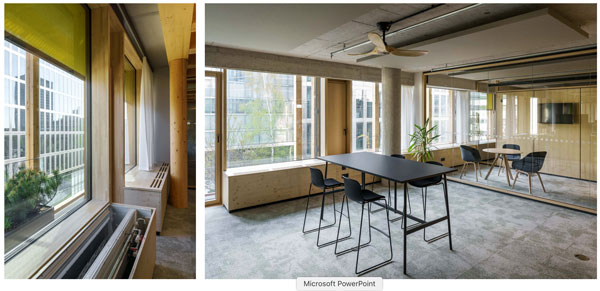 Minimizing south-facing windows and considering how much sun exposure is needed in the winter versus the summer need to acknowledged, he says. The balance between winter heat loss and summer heat gain has to be calculated.
In Canada, the focus with windows has been to reduce heat loss in the winter.
But building codes haven't fully addressed solar heat gains.
"A multi-faceted approach is necessary so as not to rely on mechanical systems," Pape-Salmon says.
He stresses the building envelope is the priority.
"If you have a really crappy building envelope, air conditioning has to work harder to keep the building cool," he says.
Again, it's a balancing act. Trapping moisture leads to rot and air leakage isn't desirable in colder months.
As well, thermal mass in the building envelope's cladding and roofing play a role. Reflective roofs cool a structure while certain insulations and other building techniques store energy. A plywood wall, for example, causes heat gain.
In Vernon, where summers can be scorching, Tekmar Control Systems floods the roof of its premises and evaporation of the water throughout the day keeps the building cool, Pape-Salmon explains.
Vanwyck touts Winnipeg's 18-storey Manitoba Hydro Place, one of the most energy efficient buildings in North America, a feat for a city with a temperature range of -35C in the winter up to 35C in summer. It consumes 60 per cent less power than a similar-sized building.
Some of the features include optimizing building orientation to use passive solar gains for interior space; high ceilings to increase natural daylighting; and envelope buffer zones.
Highly efficient heat recovery pre-heats intake air. Operable windows and a solar chimney allow natural ventilation. Thermo-active slab heating and cooling is supported by geothermal heat exchangers.
Air conditioning is absent.
Vanwyck is also a fan of ceiling fans. One company, Big Ass Fans, manufactures two to three-metre-wide fans that are silent.
Used in factories, offices and industrial settings, they extend the thermal comfort range.
This is part of the concept of adaptive comfort, which means people get accustomed to certain temperatures. It can mean higher temperatures are tolerated because subjects can alter their environment by opening windows, turning on ceiling fans and lowering blinds.
"You provide a range of options so people control their own space," Vanwyck says. "When we disconnect people from their environment, we have to air condition more to make people comfortable."
Other important factors include the colour of the building and how much shading (vegetation) exists.
As well, equipment that generates a lot of heat should be segregated and the heat from the equipment captured for alternative uses, such as heating water.
Of late, heat pumps have become the poster child for cooling and heating. The province is proposing heat pumps be more affordable for business. But Pape-Salmon notes their installation should require standards and certification.
While the B.C. Building Code is a very powerful tool, a qualified design team can buttress the code. Building envelope engineers and a mechanical team that consider the size and placement of HVAC systems would be valuable, he says.
B.C.'s Ministry of Attorney General, responsible for housing, is considering additional requirements in the B.C. Building Code that would fully address extreme heat or overheating. Both active and passive cooling measures are being considered for new construction and alterations to existing buildings, according to a ministry spokesperson.