A first-of-its-kind course in Canada is providing University of Alberta post graduate engineering students with a preview of the new world of construction.
The 16 students are exploring, testing and working with and on four robotic arms in an introductory course intended to highlight the potential of robotics in construction.
Just launched this past September, the CIVE 709 course is part of the university's construction engineering program and focuses on utilizing digitized technologies to mimic robot movements and measure their performance before being placed on the market, says course professor Anas Itani.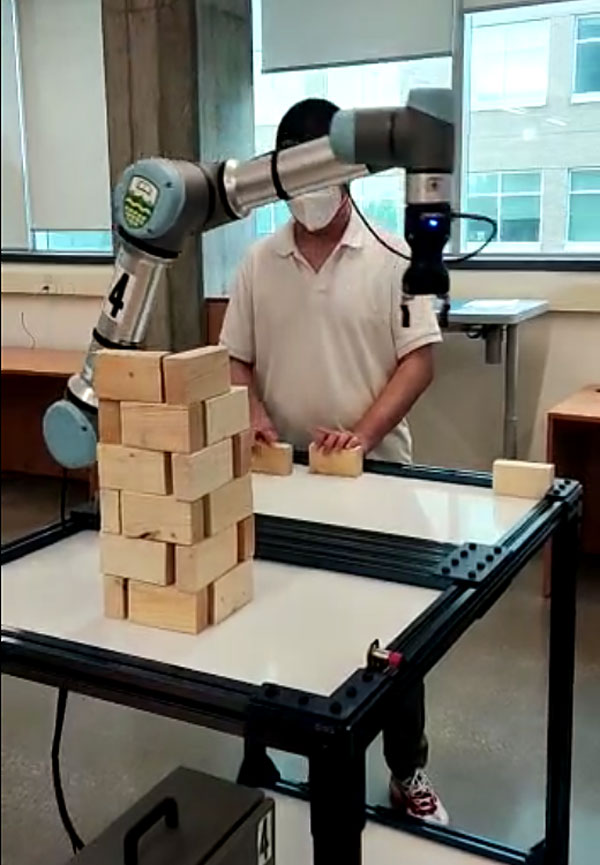 "We're demonstrating the real-life challenges in construction," says Itani, in highlighting the purpose and content of the course.
"Each arm is programmed to simulate and execute construction processes for different construction disciplines," says Itani, citing civil, mechanical and electrical engineering as examples.
Although their purpose is for construction manufacturing, such as the preassembling of wall panels, "they are not manufacturing robotics."
Unlike fixed single-purpose robots in more traditional factories, they can complete a variety of multiple tasks, he explains.
As for the students, they are civil engineering post graduates. However, the course could easily be adapted to suit the requirements and needs of students in other disciplines in the future. No perquisites were required, says Itani, a member of the civil and environmental department at the university's Hole School of Construction.
The three-hour-a-week full semester course alternates between in-class lectures one week, on topics such as introduction to robotics and 3D printed concrete construction applications, and practical laboratory work following week. It's a format that enables the students to apply the practical theoretical lessons in a simulated construction setting, he says.
By the end of the semester the students will have completed five different laboratory challenges. They will have learned how to plan and program the robots to erect a wall, assemble both brick and wood wall assemblies, install concrete pad footings and complete precast concrete wall formwork.
As there are four robots and 16 students, the students work in teams of four per-each robot.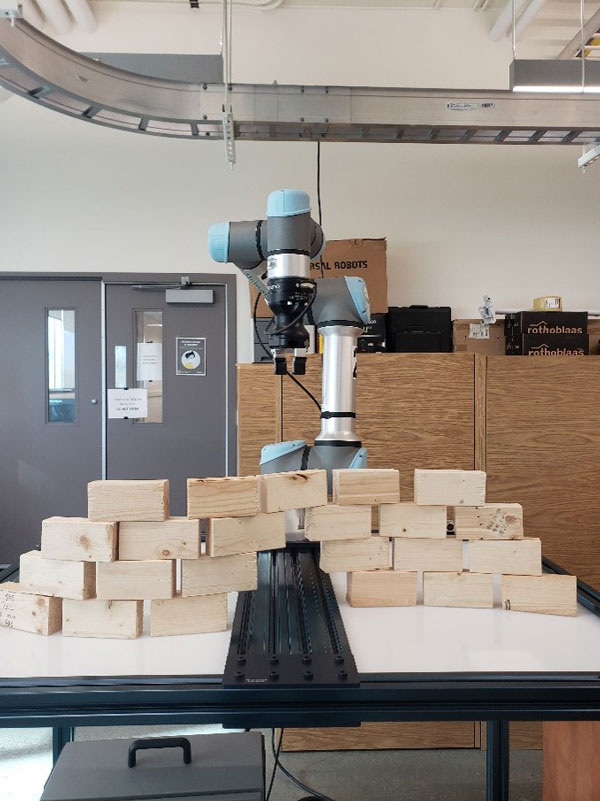 Students are required to write a report at the end of each lab. Then, at end of the course, come up with a project idea and apply the knowledge they have learned to complete the project.
"I want them to show me how they're going to do it (the project)," says the professor.
If need be, the university will provide the project concept, but the preference is that the students come up with their own ideas, says Itani.
A final report paper will also have to be written.
An emphasis on safety is a key component of the course. Students received laboratory-specific lab safety training and the user-friendly or collaborative robots are safe to use.
"If I touch one, it will stop."
Created by senior professors with the support of the university's department of civil and environmental engineering, the course is the first of its kind in Canada oriented on the application and integration of robotics in the construction industry, he says.
However, it does have its roots in an earlier program the university offered in 2020, but was ultimately judged to be placing too much emphasis on theory, says Itani
At the end of this semester, the university will be conducting a review to determine if changes can and should be made to next year's program, such as offering it to undergraduates, he says.
A master of science in construction engineering and management graduate from the university where he now teaches at, Itani does not believe construction robots are going to eliminate jobs.
Citing a Statistic Canada study that concluded the construction industry is slow in adopting new technologies, he says robots can be harnessed to reduce the drudgery that comes with dangerous and repetitive work.