A modular home factory under construction in Arviat, Nunavut, will produce up to 40 homes at peak production annually to communities in the Far North.
Slated to start production in the first quarter of 2025, the facility will include a 42,000-square-foot factory and a 40,000-square-foot warehouse for materials storage.
It may be the first modular home factory in Nunavut but the developer sees it as much more than just a factory to build single- and multi-family houses.
"The main goal is to provide training for employees and create a workforce," says Guillaume Guida, vice-president of business development for the developer Sakku Investments Corporation, the development arm of the Kivalliq Inuit Association (KIA).
The factory will employ about 40 full-time staff including journeyperson carpenters, plumbers and electricians. Up to 30 per cent of the workforce will be apprentices trained to acquire skillsets for construction jobs with contractors in northern communities, says Guida.
"Our goal is not to keep workers here forever," he says.
"If we need at first to have experts in manufacturing from the south we will do it to train the trainer and guarantee a smooth transition in the know-how."
Too often, he says, traditional stick-frame houses are built primarily with materials, equipment and labour from southern Canada but one of the factory project's keys to success is that it will mostly employ locals.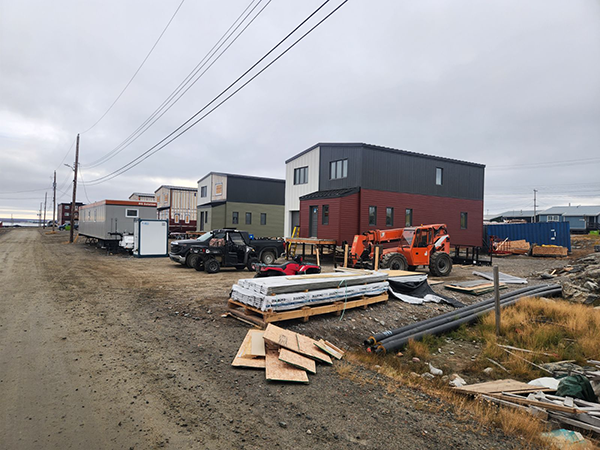 Sakku is working with Nunavut Arctic College and the Nunavut government to "tailor our training program so it works with the apprenticeship program in Nunavut," he says. 
Leading up to the factory project, Sakku conducted two pilot housing projects, one for two five-plex complexes.
The buildings were assembled in a Quebec factory in Saint-Romain by Sakku's partner RG Solution, a Quebec-based modular builder. It took about two months to complete 22 modules for the homes that were then shipped through sealift to Arviat where they were completed in about eight months.
Guida says close to 90 per cent of the work crew was from in and around Arviat. 
One of the key advantages to the factory-built homes is they can be built in less than 10 months, slashing eight to 14 months off timelines of traditional builds.
Sakku has collected data on the hours of production for each component of the housing.
"It confirms any of the assumptions that were established in our business plan for the Arviat facility."
A second pilot project underway is four four-bedroom detached homes. The 16 modules for these houses were also produced in Saint-Romain and shipped to Rankin Inlet for final assembly, says Guida.
Time is critical in the North where the housing crisis is dire and the average building season is short, he points out, adding the Nunavut government has set a target of seeing 3,000 new mainly public housing units built by 2030.
"Our goal is to create a portfolio of products designed to withstand the Nunavut weather and be adapted to the Inuit culture."
He says while some construction runs from March to November, civil work usually starts in June, with buildings needing to be up and weathertight by the fall.
"If you are building in a factory you don't have to be in a rush because you don't have weather pressures," he explains.
Sakku's factory foundation won't consist of traditional steel pilings. A thermosyphon system which maintains a constant temperature below grade will ensure the ground stays frozen year-round, preventing the building's slab from movement, he says.
"It's cost-effective compared to jacking the building up on stilts (pilings)."
Guida says the hard costs of the project are about $50 million. Sakku is receiving some support from the Government of Nunavut and funding from the federal government through the Canadian Northern Economic Development Agency.
The developer came up with the idea to build the modular factory more than five years ago.
"We didn't want to see labour imported from other provinces for house construction. That is money that leaves the territory."