Tomlinson Group of Companies picked up two major awards and a made-for-Ontario pile-driving excavator designed by Berminghammer Foundation Equipment earned a prestigious Transportation Infrastructure Award as the Ontario Road Builders' Association (ORBA) held its awards breakfast during a recent convention in Toronto.
Tomlinson won both the Community Leadership Award and the Green Leadership and Sustainability Award. Russ Perry, vice-president of heavy civil at Tomlinson, took the stage to accept the honours.
Outgoing ORBA president Marlene Yakabuski, who would later be given the Director of the Year Award, praised Tomlinson's efforts to "go above and beyond in embracing the principles and practical application of an adaptive management approach to environment impact controls and in achieving a zero-incident outcome" on the Ministry of Transportation contract for Highway 62 as she handed Perry the green leadership award.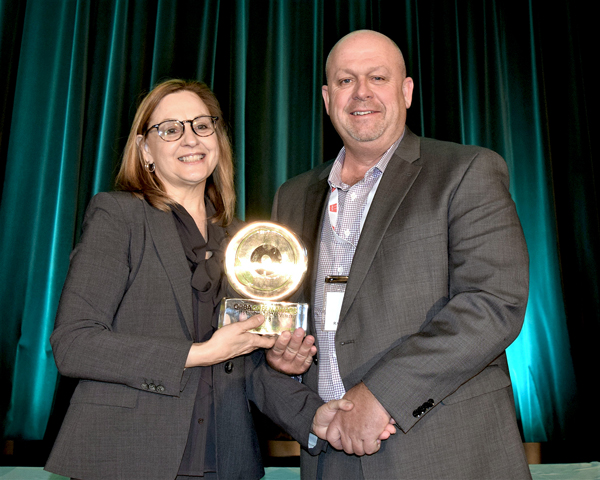 Berminghammer won for its in-house development of the Excavator Mounted Lead (EML), an excavator adapted with the attachment of a pile-driving lead system. It's used in remote or tight locations to drive piles or install shoring systems when a pile-driving crane is not practical or its transportation to a jobsite is too expensive.
The awards citation stated, "Dan Campanelli of BOT Construction has called the EML 'magnificent…It has proven to be a useful tool that it is hard to do without. It will make your project go smoother and it is a great innovation.' "
Berminghammer sales representative David Zanchetta accepted the award and afterwards praised the joint efforts of several departments of the firm in coming up with the innovative adapted excavator. Mechanical, metallurgical and civil engineers all worked on product development using programs such as Finite Element Analysis, 3D modelling and AutoCAD. Zanchetta said in an interview that Andrew Weltz, vice-president of project delivery, and Tyler Hilsden, a Berminghammer design engineer, took lead roles and deserved credit for the success.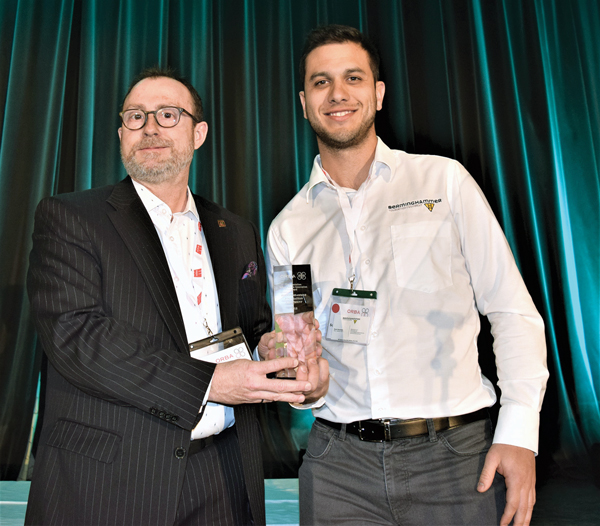 "What this system does is for smaller jobs, you can bring in just one excavator that you are probably going to bring in anyway to do an excavation, and install the piles that you would otherwise have to bring a crane in to do," Zanchetta said.
The EML can be shipped directly to a jobsite on one trailer and rigged up and ready to drive piles the same day, minimizing mobilization charges and giving clients greater scheduling flexibility, explained Zanchetta's colleague Milan Brestovacki.
"We saw a need on both our contracting side and our equipment side," said Zanchetta. "On the contracting side, they noticed they weren't getting jobs in northern Ontario because it was so expensive to move in cranes. And so we thought, OK, why can't we get something on that excavator that we can move with significantly less cost, that's the genesis."
Other award winners were:
ORBA Distinguished Service Award — Martin Gran, Pioneer Construction
ORBA Hall of Fame — Art Van Camp
Routly Safety Awards — Upper Canada Road Services, Miller Paving, Rankin Construction
Ontario Asphalt Pavement Council Awards — Honourary Life Membership Award, Mark Rivett; Earl Kee Volunteer of the Year Award, Mike McLean, McAsphalt Industries; Joe Bunting Mentorship Award, Gary Brown, Oxford Sand and Gravel
ORBA scholarships — Joe Bunting Scholarship, Perry Gagne, Fanshawe College; J.D. Chick Scholarship, Daniel Currie, McMaster University; Civil Engineering Technology Scholarship, Alyssa Ritchie, Durham College; Civil Engineering Scholarship, Benjamin Busca, University of Waterloo.