Against the rather sombre outlook for the global economy in general, and for Canada in particular, highlighted in the most recent Economic Snapshot, "Mid-year economic outlook — clouded by uncertainty", the near-term outlook for Quebec is refreshingly bright.
This more upbeat view is based on the fact that all four major drivers of Quebec's economy have been exhibiting sustained momentum approaching the mid-point of 2019 and, barring a major shock to business confidence, this momentum should extend into 2020.
Despite the drag caused by U.S. tariffs on aluminum and steel introduced in early 2018, Quebec's total exports are up by 9% year to date compared to the same period a year earlier. Increased sales of electronic products and parts, turbo jets, petroleum products and copper wire contributed to this strength.
Looking forward, the stronger than expected performance of the U.S. economy (the market for 71% of Quebec's exports), the recent lifting of the aforementioned tariffs on steel and aluminum, and few signs that U.S. growth will suddenly slow, suggest that exports will continue to make a significant positive contribution to the province's growth well into 2020.
Fuelled in part by the positive outlook for the United States, noted above, total employment in the province has risen by 56,300 year to date, due in part to increased hiring by employers in wholesale and retail trade, transportation services, professional services and public administration.
Despite a near record inflow of 82,000 international migrants over the past year, that was partially offset by a modest outflow of 6,200 individuals to other provinces, Quebec's unemployment rate has dropped from 5.5% in December of last year to an unprecedented (since 1976) low of 4.9% in April.
With this very low unemployment rate and, according to the Canadian Federation of Independent Business, the highest job vacancy rate in the country, it is clear that the province's labour market is drum tight.
Strong employment growth, near record net immigration and persisting low interest rates have contributed to a strong 10.8% year-to-date increase in sales of existing homes in Quebec.
This is the second largest percentage gain in the country. Average house prices are up by 5% y/y compared to a 2.3% decline for the country as a whole. Despite this evidence of strong demand, starts of single, semi-detached and row dwelling units are down by 12% since January and the inventory of completed and unoccupied dwellings is off by 13%. Given the very strong inflow of foreign migrants over the past eight quarters, it is not surprising that the apartment vacancy rate in the province fell to a ten-year low of 2.3% in 2018.
The above noted strength in sales of existing homes and the accompanying decline in the starts of single, semi and row dwellings suggest that upward pressure on house prices in the province will intensify over the near term. However, given the weak beginning to the year, we expect housing starts to total in the range of 46,000 to 46,500 units this year and 44,500 to 45,000 in 2020 compared to 46,800 in 2018.
Given the very heathy job growth over the past two years, persisting relatively low interest rates and a surge in the Conference Board of Canada's Index of Consumer Confidence in April, the outlook for consumer spending in Quebec appears quite positive. This prospect is reinforced by the relatively low level of debt and higher savings rate in Quebec relative to other provinces.
Following gains of 8.2% in 2017 and 4.2% in 2018, private and public organizations in Quebec surveyed by Statistics Canada reported that they planned to increase their spending on non-residential construction and machinery and equipment by 5.7% in 2019.
Furthermore, the results of this survey are in line with the 8.8% year-to-date increase in non-residential construction approvals, driven by gains in spending on industrial and institutional projects. Major capex projects currently underway in Quebec include the Montreal Light Rail Train System and the National Bank Head Office, both in Montreal.
In addition, Premier Francois Legault's recent announcement of his government's plan to "electrify" Quebec and cut oil consumption in the province by 40% by 2030, could potentially give a boost to projects such as the extension of the Montreal Blue Line and the Gatineau Light Rail System.
After posting a GDP gain of 2.2% in 2018 we expect the Quebec economy to grow in the range of 1.5% to 2% this year and again in 2020.
John Clinkard has over 35 years' experience as an economist in international, national and regional research and analysis with leading financial institutions and media outlets in Canada.
Real* Gross Domestic Product (GDP) Growth — Quebec vs Canada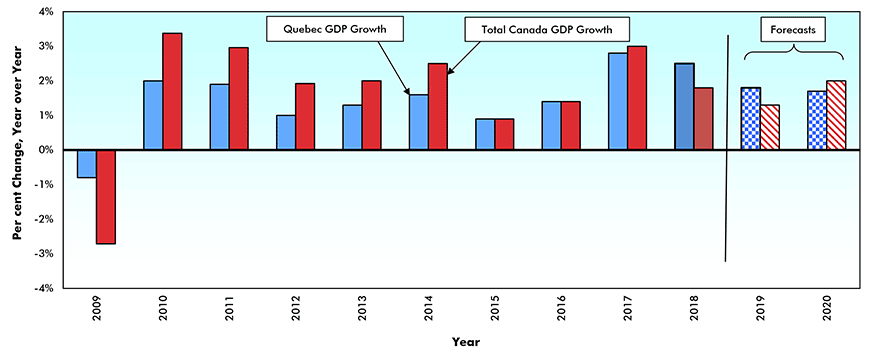 * "Real" is after adjustment for inflation.
Data Sources: Actuals — Statistics Canada; Forecasts — CanaData.
Chart: ConstructConnect — CanaData.