Development executives recruited for a recent Buildings Canada webinar expressed confidence that Canadian institutions like cities would remain good places to invest once the pandemic recedes but were less bullish about the nearer-term prospects for expansion in the sector.
The Oct. 27 webinar explored the theme State of the Design and Construction Industry Update: Where Are We Now? Where Are We Going?
Moderator Brian Watkinson, a construction consultant and principal of Strategies 4 Impact!, discussed the varied concerns his clients have as the sector enters a second wave of COVID-19.
"It has clearly created some new and serious operational challenges for our design and construction sector," said Watkinson. "I know some businesses have basically abandoned business plans they had pre-COVID and they have done a refresh and a rethink in the context of the first wave of COVID and now potentially going into a second wave.
"I have talked to others who have tried to maintain the status quo in hopes of getting back to normal. Or maybe defining a new normal. Meantime I have talked to businesses who are frankly really worried about their survival."
The four panellists were Melissa Aveiro, construction and tax lawyer with MNP LLP; Derek Goring, executive vice-president of development for Northcrest Developments; Terry Olynyk, president of Multiplex in Canada; and Russ Wlad, Stantec executive vice-president.
Goring's firm is involved in planning a massive redevelopment of the Downsview precinct near Toronto's Pearson airport that will take many years to carry out. So while COVID presents numerous short-term challenges, the focus is on the future, he said.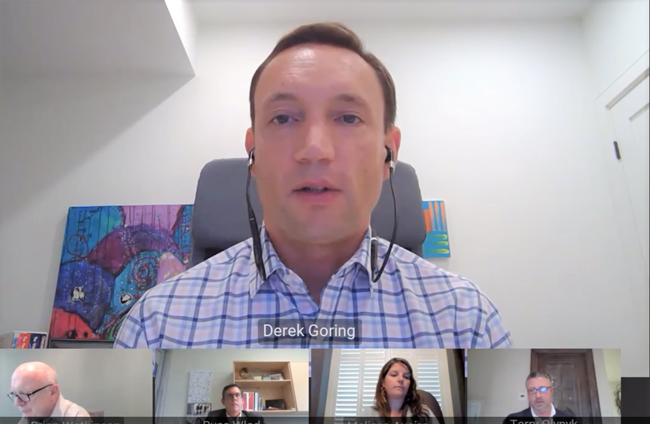 "We have a very long-term view," said Goring.
"We remain confident in the future of the city and its ongoing growth and we think that the city will rebound and continue to be a place that attracts people supported by strong immigration once the pandemic passes."
Wlad noted that Stantec is a global company active throughout the construction sector and that the pandemic has been challenging with 22,000 employees initially transferred to working from home.
Stantec has been focused on helping its clients move projects forward with notable interest in government clean-energy incentives.
"We are focused on helping our clients understand this whole energy transition and how we can bridge the gap between funding and technology," he said.  
"The energy and the attitude of our clients and the industry and our colleagues is one of progress, not to sit back to and wait for things occur," he said. "I am pleasantly surprised to see the amount of activity that is going on in the industry across all sectors as well the government's participation to identify stimulus packages."
Lenders, however, are being cautious, Aveiro said. She reported on uneven prospects across the sector with, for example, rents remaining stable but subleases and commercial vacancies on the rise. Cash flow is a significant issue.
"Financing and banking relationships have become more integral during COVID," Aveiro commented. "We are really witnessing banks tightening up on existing lending and potentially not approving new financing at all. We have been helping clients report on their financial results in a more timely manner as lenders are requiring more financing information than before.
"We are seeing lenders take much longer to make decisions, so the process can be drawn out. Unfortunately this is when cash is needed the most."
Aveiro also noted that cyber security was becoming more of an issue with hackers taking advantage of security gaps caused by the move to home offices.
 "It is matter of when, not if, it will affect your system," she said.
Olynyk reported positivity at his firm.
"When we shut down we took the time to review the plan to how we would approach construction," he said, and he was struck by how resilient the firm is.
Now, facing phase two, Multiplex has a solid plan including effective health and safety protocols and "the fear is gone."
Construction is an essential service, his firm is busier than ever, and Multiplex sees a very strong construction market going forward for the next two to three years, Olynyk said.
Later, Olynyk joined his fellow panellists in suggesting that even with COVID a continuing threat, the next few years represented an important opportunity for designers and constructors to take a big leap forward into a digital future.
The future of design was in 5G, 4D not 2D, mining rich data from buildings and modelling embodied carbon, he said.
"Five years from now, when a lot of these projects are getting built out, what kind of digital strategy did they set out with and what are they going to be left with?" Olynyk asked. "Are they going to be digital-twin-ready buildings? Are they going to be ready for the IoT environment?"
Follow the author on Twitter @DonWall_DCN.