National construction spending is exceptionally strong so far in 2021 with housing starts continuing their multi-year rise and industrial "the belle of the ball," Altus Group cost analyst David Schoonjans told delegates attending day one of ConstructConnect's virtual CanaData conference.
But cost escalations remain a significant concern with high prices for copper, aluminum and other commodities impacting project pricing, even as lumber costs have returned to manageable levels, the senior director for cost and project management with Altus Group said.
The firm's 2020 Development Trends Report found 75.4 per cent of respondents to a global construction survey listed project cost escalation as their top concern.
"Cost escalation is universally a concern," Schoonjans said.
But, he added, "It's important to understand the factors that are driving it."
Not all building types are affected the same, Schoonjans explained, presenting a chart with 2021 data that compared the costs of formwork, structural steel and other trades in highrise residential and industrial.
In highrise residential, just the increased annual cost of formwork alone led to an increase of 4.3 per cent in the overall project cost, given that formwork represents 17 per cent of the project cost and that work jumped 25 per cent in cost in one year.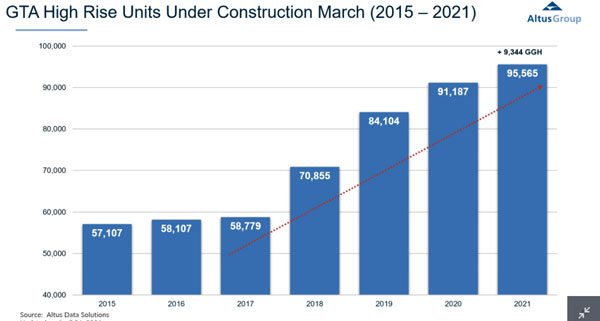 But in industrial, where formwork is two per cent of the project cost, the annual increase of 15 per cent raised the total project cost by only 0.3 per cent.
Other trades' costs were 77 per cent of highrise residential costs and there was only an increase of four per cent in that category.
"So it does no good to try and lump all buildings of all different types into the same category," Schoonjans said.
And there are significant regional differences in prices, he pointed out.
"Toronto, by far, has seen the biggest increases since 2016. It's been up over 40 per cent in just five years."
Schoonjans advised it's best to look at long-term trends in attempting to determine whether recent supply price hikes are permanent or not. Lumber prices had one major spike while copper has seen hikes similar to the recent ones in past years.
"Lumber was in truly uncharted territory, just astronomically higher than it had ever been. And I think everybody knew that it had to come down."
Lumber costs are still fairly high relative to historical levels, he said.
Constructors need to consider the "known knowns" and "unknown knowns," Schoonjans said, quoting Donald Rumsfeld, in creating budgets amidst the current volatility.
"You need to do some risk management with your budgets, run scenario analysis of what if my costs go up? What if my revenues go down? What can I do to mitigate the impact of those things?" he said.
The news was better looking at current economic growth in the sector, Schoonjans said. This year looks to be much better on the investment side than 2020.
"Investment activity has been picking up pace," he said. "In nearly every market across the country, in the first half of 2021 investment activity is up and in some cases up quite significantly versus 2020."
Construction spending in the first half of 2021 was $31 billion, whereas in all of 2020 it was $41 billion. That's an increase of 59 per cent year over year, Schoonjans noted.
The office sector is the soft spot for commercial activity, with leasing in the first half of the year down compared to the first half of 2020. Leasing will likely exceed last year by the end of the year but, Schoonjans said, "That's still nothing to celebrate."
The office availability rate for the second quarter was 14.8 per cent in Toronto compared with 9.4 per cent in Q2 of 2020.
At the other end of the spectrum is industrial leasing activity.
"Industrial is definitely the belle of the ball," said Schoonjans. "These days, everybody loves industrial. The demand is very high, and it's a very, very good asset class to have, significantly above 2020."
As for housing, Schoonjans said the recent election campaign highlighted what was well known to everyone, sales have been up, inventory has been low and falling and prices are up significantly.
Looking at condo apartments, comparing July 2021 to July 2020, sales were up 67 per cent, inventory was down nine per cent and the benchmark price was up 10 per cent.
Over the past six years, every single year there have been more condominium units or multifamily units started in the GTA than finished. That means, Schoonjans said, every single year there has been progressively more units under construction.
"If you look at what that means, today we're at the better part of 96,000 units under construction in the GTA, if you add in the Greater Horseshoe Area, you're well over 100,000. That's just a staggering amount of multifamily residential units under construction at any one time," he said.
Statistically, looking at highrise units under construction in the GTA each March, there were 59,000 in 2017, 71,000 in 2018, 84,000 in 2019, 91,000 in 2020 and 96,000 for 2021.
Follow the author on Twitter @DonWall_DCN.