Extreme weather events related to droughts, floods and storms could result in a total loss of $139 billion to Canadian gross domestic product (GDP) over the next 30 years.
That was the main finding from a new research report released recently by engineering and architecture services firm GHD entitled Aquanomics: The economics of water risk and future resilience.
The study utilized a three-phased methodology combining insurance data and econometric modelling to estimate the direct losses, sector losses and GDP losses that will be attributed to water risk — droughts, floods and storms — between 2022 and 2050, states a release.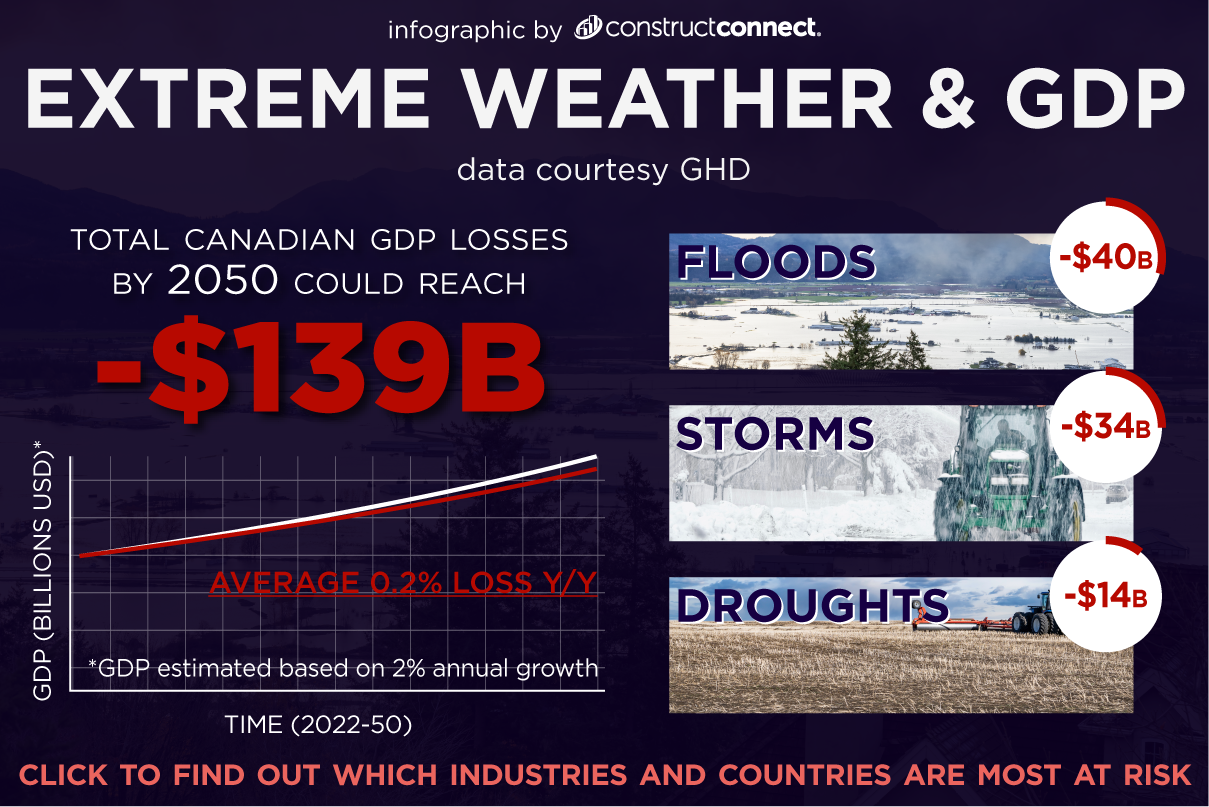 Don Holland, Canada water market leader at GHD, said the study represents the first time the economic impact of water risk has been calculated at a GDP and sector level. Storms and floods can cause damage to buildings such as factories, machinery, infrastructure, power supplies and more.
"The reason we came up with this study is we wanted to make sure that we captured those costs and impacts to the economy," said Holland.
"When everyone thinks of water impacts, they think more of droughts but there are storms and floods.
"The one thing that came to mind is how much of an impact it has on infrastructure. You lose roads, you lose factories and infrastructure. I think what the report does is it daylights how vulnerable we are when it comes to our hard infrastructure."
According to the report, flooding is expected to cost the Canadian economy over $40 billion in the years leading up to 2050, with storms estimated to cost $34 billion and drought causing $14 billion in losses.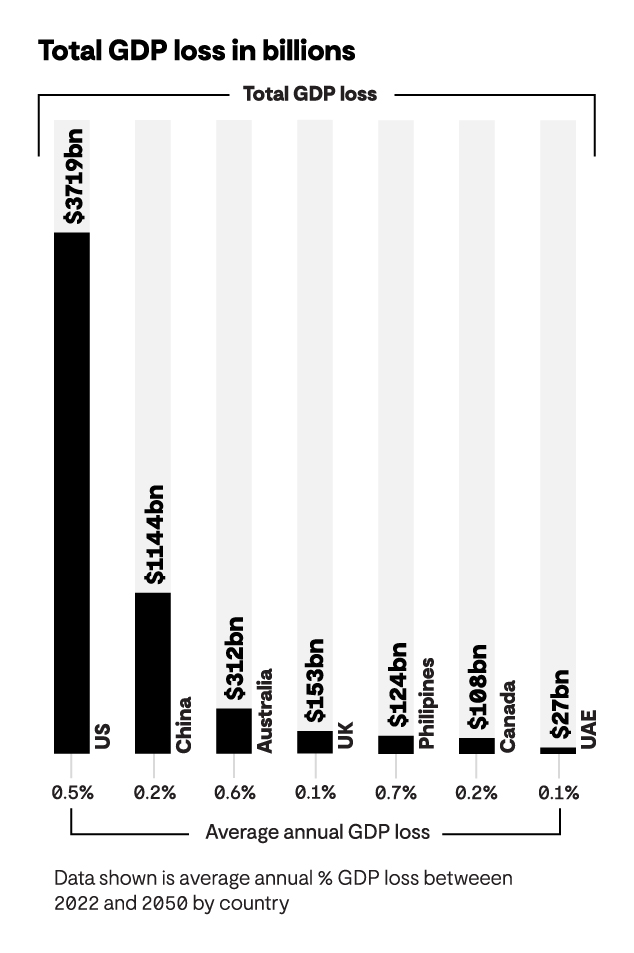 He used the flooding that occurred in Vancouver last year as an example.
"A very close and relevant example is what happened last fall in Vancouver," said Holland. "They had a flood event and really there are only two main ports for goods into the country: Vancouver and Halifax. So you can imagine the impacts that not being able to access Metro Van and the ports had."
Holland hopes the research starts a conversation around water risk and economic consequences.
"I think everyone realizes that water is essential for every community to exist and thrive. We need it, but it can also be the most destructive force that can be experienced as well, especially with floods and hurricanes," he said.
"We have to do something. When we create our infrastructure, when we build things, create new things and work with what's existing. We really need to try to make it resilient."
The research focuses on seven key countries that represent GHD's footprint: Australia, Canada, China, the Philippines, the UAE, the U.K. and the U.S. It also breaks up the U.S. into three regions: northeast, southeast and southwestern. 
"Canada may not be a water-stressed country, but it is a country of extremes and these extremes are getting more pronounced," said Holland.
"A growing number of municipalities have declared climate emergencies and are implementing policies to boost resiliency.
"It is up to the water industry to help clients implement a risk-based management approach to provide the resiliency communities require to grow and thrive during these uncertain times."
The study also presents the potential impact on five critical economic sectors: agriculture; banking and insurance; energy and utilities; fast-moving consumer goods and retail; and manufacturing and distribution.
It found Canada's manufacturing and distribution sector could be the worst hit, with total losses of $64 billion by 2050, Holland noted, while the agriculture sector, which is the most water-intensive industry, faces projected losses of $4 billion by 2050.  
It's not possible to prevent floods and storm events from happening, but the report points to the importance of making communities better equipped to handle such emergencies.
"Our goal — engineers, contractors, builders and society in general — is let's build it in a way that when it does happen we can bounce back quicker," Holland explained. "Instead of putting a community down on the mat for weeks, it's maybe a couple of days."
All levels of government also have a role to play.
"We need a lot of collaboration across all the different jurisdictions," Holland said.
"It needs to be a co-ordinated effort, because water doesn't care about municipal boundaries. We can't do things in isolation. We need to work together."
Follow the author on Twitter @DCN_Angela.