McGill architectural history and philosophy professor Alberto Perez-Gomez has spent a lifetime preaching that the essence of responsible architecture is love.
Through intense three-hour seminar sessions with his students, numerous articles published in top journals and a set of influential books on architectural philosophy, the Mexican-born professor has argued passionately that architecture must enhance human values and capacity.
For those contributions to the profession and his influence on hundreds of practising Canadian architects, the 35-year McGill professor has been appointed an officer of the Order of Canada. The announcement came June 28.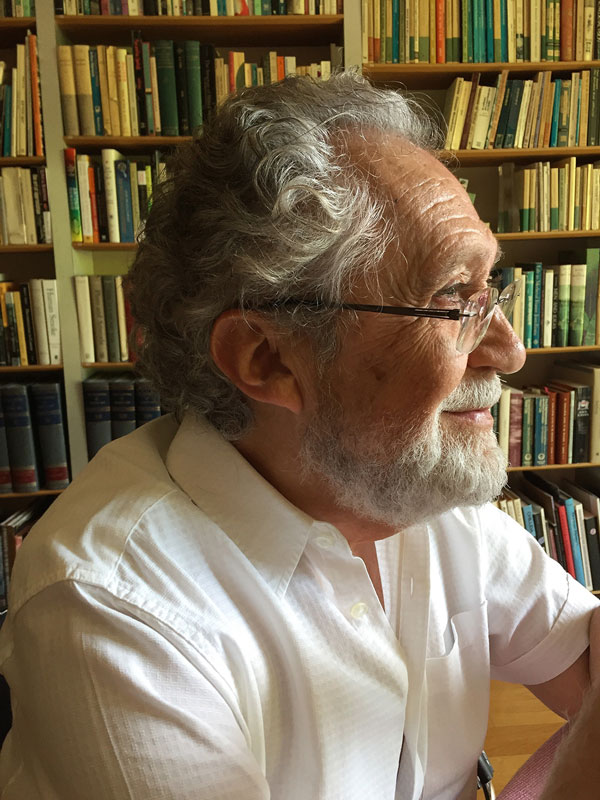 "I'm very humbled," said Perez- Gomez, professor emeritus at McGill's Peter Guo-hua Fu School of Architecture who in 1987 was appointed the Saidye Rosner Bronfman professor of the history of architecture at McGill. "It's very surprising. They don't usually give that type of award to people in my field."
One of his students from the 1980s at both Carleton University and McGill was Gregory Henriquez, principal at Vancouver-based Henriquez Partners. He recalled how he was an alienated second-year architecture student at Carleton in 1982 who was looking for order and clarity, and Perez-Gomez "rocked our world."
"He really created an environment where each one of us was encouraged to learn from the past and trust our own embodied experience of the world, to explore our own stories and find authentic expression beyond certain conventional archetypes."
Later, with both at McGill, his professor imparted "an even deeper understanding of the real sort of philosophical crisis our societies were in, the relationship to the way we make cities and the way we do architecture.
"He influences and shapes everything I do."
Perez-Gomez was encouraged to come to McGill by renowned Montreal architect and philanthropist Phyllis Lambert, and though only in his 30s McGill gave him free rein to develop his own curriculum. He taught practising architects in postgrad courses and also architectural undergrads.
His courses, he said, have contained "an emphasis both on the historical perspective on architecture but also on the philosophical content, so my interest was always to bring together the possibility of beauty and justice and the poetic and ethical over the years."
He told students that architecture should have a strong ethical dimension to it, Henriquez said, "in terms of such issues as understanding of Indigenous cultures and the fluidity of gender, and all those sorts of things we take for granted as part of contemporary society. They were really absent from the 1980s.
"Those seminars took place twice a week for three hours, with 12 young minds being led by Alberto. They are some of the most meaningful times in my life and laid the foundation of my ability to really be a teacher."
Perez-Gomez has been a prolific writer with articles published in journals such as Architectural Design and the Journal of Architectural Education.
Among his books, Perez-Gomez is the author of Polyphilo or The Dark Forest Revisited (1992), described by MIT Press as "an erotic narrative/theory of architecture that retells the love story of the famous 15th century novel/treatise Hypnerotomachia Poliphili"; Built Upon Love: Architectural Longing after Ethics and Aesthetics (2006); and Attunement, Architectural Meaning after the Crisis of Modern Science (2016).
"It's basically an argument against easy formalism," the professor said, describing an overarching theme.
"It started with modernity, and the idea that (architects shouldn't) create the world from scratch, from the top down. And now with computers it's increasingly easier, and I think it's frightening because very often what emerges, the built world has nothing to do with the values of the people that inhabit the building."
Henriquez said one of his firm's milestone achievements, the redevelopment of the Woodward's building in Vancouver, can be linked to the influences of his mentor.
"He's played a big role in terms of shaping the philosophical foundation of our practice," said Henriquez.
In the spirit of Perez-Gomez, Henriquez said the Woodward project, completed 10 years ago, was a grassroots effort involving wide consultation with the local community.
It wasn't about proposing an outcome to the community, he said, but was about finding common ground and creating a space where everyone felt welcome.
Perez-Gomez said the Woodward block "was an example of how an architect can work with multiple elements of society and bring about a very enlightened reactivation of the urban fabric.
"I'm very proud that of one of my former students was responsible for something like that."
Follow the author on Twitter @DonWall_DCN.