Green street construction — or low impact development — in Toronto has come a long way from 2008 when the city first experimented with the use of bioretention areas, silva cells, and other green infrastructure to address the disturbance to tree roots when removing sidewalks for utility cuts.
In mid-March the technical guidelines for the City of Toronto's Green Streets program was named as one of the recipients of this year's Canadian Society of Landscape Architects' Awards of Excellence. In a news release, the society described the guidelines as a "precedent setting document."
Co-ordinated by a steering committee comprised of representatives from five different city departments, Green Streets is a relatively new approach to help manage storm water and, in the process, improve air quality, increase biodiversity and beautify the streetscape.
When stormwater flows along streets and other hard surfaces it picks up dirt, oil, grease and other pollutants, ultimately flowing into watercourses. Green Streets provide a place for stormwater to soak into the ground providing water for plants and trees to grow and eventually act as natural filters, says Kristina Hausmanis, project manager for the Green Streets program.
"We're treating stormwater at the source and turning it into a resource."
The beginning of the program might be traced back to the 2008 Queensway Sustainable Sidewalk Pilot Project. Named after the community it is located in, it involved the installation of two underground bioretention areas with soil cells supporting four trees in a parking lay-by.
Consisting of frames which protect the soil while still supporting vehicle weight, it was the first installation of the silva cell system in the world where stormwater was routed into the cells for the purpose of filtering water and quality control, she says.
In that project stormwater management performance along with the street tree survival was monitored on a long-term basis and the Queensway experiment was followed by a number of similar "one-off projects."
In the city's east end, for example, the Fairford Parkette was created by eliminating a right turn lane and transforming the newly created space into a "welcoming public parkette" which collects and treats stormwater from the road through a trench drain system. Its features include plants, eight bicycle parking spaces and seating for 22 people.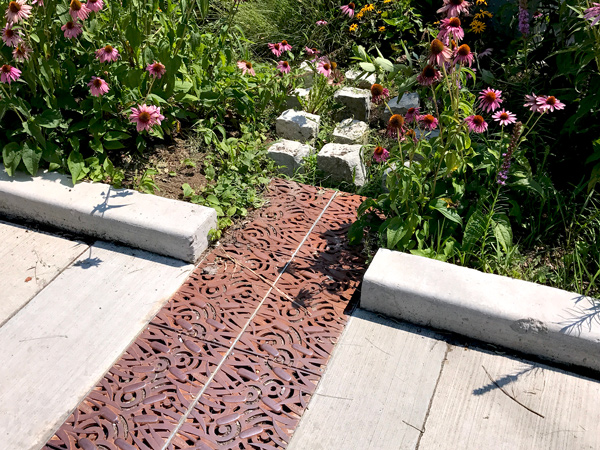 "That project was interesting in that it was identified by the community."
In 2013, however, the city felt there was a need for a more-broad based co-ordinated approach in response to massive flash flooding in July of that year which caused major damage and forced stormwater right on to the city's Don Valley Parkway. News reports at the time described it as Ontario's most expensive natural disaster.
Four years later the technical guidelines for the planning, design, integration, and maintenance of Green Street projects were adopted, says Hausmanis.
Even before those guidelines were officially approved, the city made the decision to incorporate green infrastructure features in the planning for the now-under-construction $70-million Six Points Interchange Reconfiguration which consists of the intersection realignment of three streets. Approximately 100 trees will have been planted in boulevards by the time the reconfiguration is completed, she says.
"This is the first time the principles of the Green Streets Initiative have been applied to a major redevelopment project."
And in 2017 Toronto conducted its first-ever prequalification process for a low impact development project. As part of a 260-metre (853-foot) long reconstruction of Byng Avenue three bioretention areas were built by subcontractor CRCE Construction Ltd. The general contractor was Sanscon Construction Ltd.
Later this year that street will also have the distinction of being the site of the city's first permeable sidewalk. The 60-metre-long (196-foot) piece will be placed in sections where currently there is a missing gap.
Determining the timing and priority of Green Streets projects is achieved through a combination of Geographic Information System (GIS) technology and the city's capital works program.
Last summer a GIS study was conducted and potential areas identified according to five parameters: water quality, air quality, tree canopy, social wellness — such as areas with limited green space, and urban resilience. This last factor was determined by basement flooding data and an extreme heat vulnerability map produced by Toronto Public Health, she says.
Each year the city's capital works program is integrated into the GIS system and areas ranked with a "tool tracker." Potential locations have to be identified two years ahead of the actual construction schedules, she says.
Seven Greet Street projects will be conducted this year and eight are planned for 2020, says Hausmanis.