A long-awaited bridge project due to kick off this summer tops the list of major transportation projects that Ontario's Halton Region will be undertaking in the next two years.
Halton's director of engineering and construction Marek Braczek highlighted billions' worth of capital projects with a focus on roads and bridges during a presentation held on day two of the Hamilton-Halton Construction Association's virtual Construction Forecast.
The transportation and water needs of the region are urgent given the explosive population growth it will experience in the next 20 years, Braczek explained.
"As part of the Places to Grow Act, our province has mandated that the Region of Halton plan and prepare for infrastructure that can support growth from our current state, which has a population of about 600,000 people, to 820,000 by 2030," he said. "That number is actually increasing to over a million by 2041. So if you think about it, that's nearly doubling the population in 20 years.
"The region is responsible for planning out, building and maintaining infrastructure that supports our population."
For this year, regional council has approved capital expenditures of $454 million. Of that, 43 per cent is for transportation. Over the next 10 years, Braczek said, total capital spending will amount to $5.25 billion. Transportation will consume $2.64 billion of that and water and wastewater projects will add up to $2.61 billion.
Braczek then focused on five major transportation projects valued at $428 million in total that are due to be launched before or in 2024, with the Wyecroft Road and Bridge Extension and Construction his favourite.
"This is probably for me the coolest project," he said. "It does have some challenges, but it creates a needed east-west link within Halton, very much needed south of the QEW, and it connects Oakville and Burlington."
Onsite fieldwork was completed last year, including environmental investigations, design will wrap up this year and contractor prequalification is scheduled for Q2 of this year. The start of construction is set for the third quarter with wrap up expected at the end of 2025.
The essence of the project is a four-lane roadway from 830 metres east of Burloak Drive to Bronte Road, crossing the West Tributary valley of Bronte Creek on twin bridges. There will be multi-use paths, on-road bike lanes and a new signalized intersection at McPherson Road.
Additionally, the scope calls for a new 600-millimetre watermain between Burloak Drive and the South Service Road West, new storm sewers and storm water management ponds, and full roadway illumination.
"The project is not insignificant in terms of scope and value," said Braczek.
Construction is also scheduled to kick off this year on the $56-million first phase of the Dundas Street Improvements project. The build will see Dundas widened from four lanes to six between Tremaine Road to Bronte Road and Appleby Line to Guelph Line, new multi-use paths, sidewalks and bike lanes, new sanitary and watermain infrastructure and a new advanced traffic management system.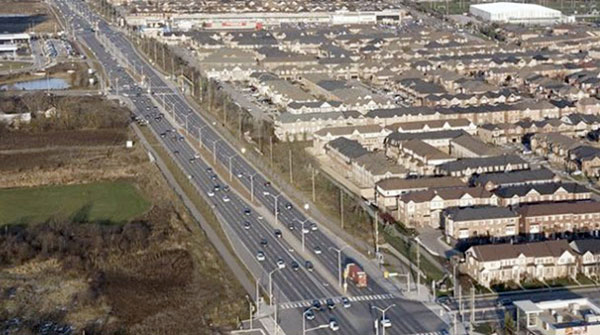 The tender will be issued shortly. Construction is due to start in the second quarter and the project should conclude at the end of 2024.
Prequalification for phase two of the Dundas job, valued at $72 million, is scheduled for this year with construction to start in Q2 2023.
"There's challenges with every project and this one will not be unscathed as well," said Braczek, noting Species at Risk concerns.
"There's a large 1,200-millimetre trunk watermain sewer that runs along Dundas and so accordingly with different pressure districts it will be a lot more challenging."
Next, contractor prequalification for the $40-million phase two widening of Trafalgar Road between William Halton Parkway and Hayes Boulevard is scheduled for this year with a start of construction set for the fourth quarter of 2023. There is also a 600-millimetre trunk wastewater main to be installed as part of the job.
The fifth major transportation project on Halton's radar is still at least two years away from the first shovels in the ground. The Trafalgar Road widening job in the north part of the region from 10 Side Road to Highway 7 has a budget of $140 million. Construction will start in 2024 or 2025.
The build also includes a replacement bridge over Black Creek and two grade separation structures at CN and Metrolinx crossings.
Follow the author on Twitter @DonWall_DCN.