TORONTO — Ground has officially been broken on the Ontario Line Exhibition Station and the initial renderings of 14 stations for the Greater Toronto Area's (GTA) newest transit line have been released.
The province made the announcement marking the start of construction March 27. The 15.6 kilometre Ontario Line will provide rapid transit between Exhibition/Ontario Place and the Ontario Science Centre.
The initial renderings of the stations show early planning and design concepts for the Ontario Line stations, which will connect to more than 40 other transit routes, including GO train lines, existing TTC subway and streetcar lines and the Eglinton Crosstown Light Rail Transit line, indicates a release.
Upgrades at Exhibition Station, which include opening a new station entrance and exit from Atlantic Avenue, shifting the existing GO rail track and creating a new train platform, will allow GO customers to continue to use the station during major construction for the Ontario Line.
A temporary pedestrian bridge will also be constructed over the existing GO tracks to provide customers with additional access to trains between Liberty Village and Exhibition Place, adds the release.
The province's transit plan for the GTA includes a commitment of nearly $17 billion for construction.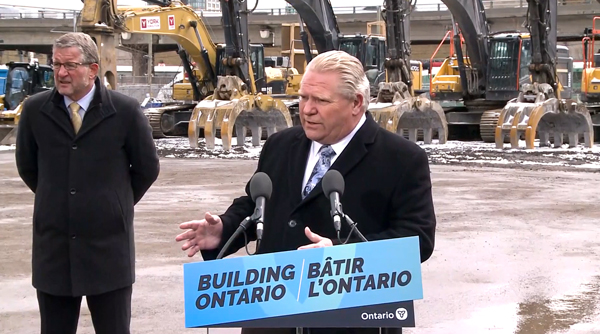 Last May, the federal government announced over $10 billion in funding for Ontario's four priority subway projects in the GTA: the Ontario Line, the three-stop Scarborough Subway Extension, the Yonge North Subway Extension and the Eglinton Crosstown West Extension.
"With all three levels of government at the table, we have worked at an unprecedented pace to move each of Premier Ford's four priority subway projects forward," said Caroline Mulroney, minister of transportation, in a statement. "With shovels now in the ground on three of Ontario's four priority projects, we are closer to providing better travel options, alleviating gridlock on our roads, and creating thousands of good local jobs."