For Matt Bolen, principal of Edge Architects, every mass timber project, even the ones that don't come to fruition, are an opportunity to build knowledge and expertise.
Bolen was one of the speakers at the Ontario General Contractors Association webinar entitled Mass Timber: Issues and Opportunity, held late last month.
During the discussion, Bolen talked about his Kitchener, Ont.-based firm's experience, including successes and failures, on mass timber projects.
"In order to execute on this type of innovation in the market it is very challenging, but one of the things about being here today is reinforcing the importance of collaboration amongst not just design or consultants or constructors but around everyone that is ultimately responsible for the execution of the project right up to the approval authorities," said Bolen. "It's so important. For us, that's what we're really trying to push and promote in our industry right now."
He discussed three different projects in his firm's history when they attempted to incorporate mass timber.
On one particular project, the WOODin commercial office space, mass timber manufacturer Element5, which also took part in the webinar, was brought on as a design-assist partner.
"We actually got funding through NRCAN (Natural Resources Canada) through one of their programs for green construction to do all sorts of testing that could help fill in a lot of gaps and missing information in the marketplace around acoustic and vibration and strength and optimizing structure," recalled Bolen. "This one we thought this is going to be a slam dunk.
"We were scheduled to submit and make our permit applications in the spring of 2020. As some of us may remember that also coincided with the time when a lot of us started to move to a work-from-home model."
When the COVID-19 pandemic hit, the market demand for office space dried up, he noted.
"Bringing that type of a spec office building to market didn't quite happen," Bolen said.
"I don't want to focus here today completely on how not to execute mass timber. There is a good news story here in that we were able to achieve it. I bring up these projects, where it didn't happen, because that actually informed us not just on an education and a knowledge base but actually on a network (of expertise) that was essential in ultimately realizing our first mass timber project."
That first project was the YW Kitchener-Waterloo (KW), a four-storey transitional housing complex for women battling homelessness, operated by the local branch of the YWCA. The project received funding through the CMHC's Rapid Housing Initiative.
"A lot of that work and collaboration that we did, studies…our work in modular and the work I discussed on the wood office building project, that ultimately led us to the YWCA local branch YWKW transitional housing," said Bolen.
The team was given a tight 12-month window for completion. They brought all trades and consultants into the fold early in the process.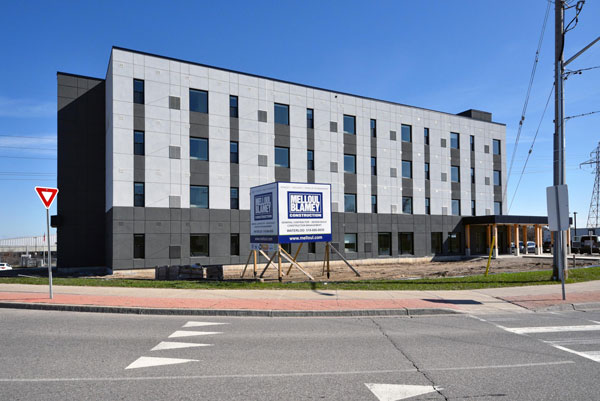 "We were also ready for it a little bit early because we knew of the program and some of the objectives of it and so we were able to do this successfully on phase one," said Bolen. "We've actually been able to use that same approach, that same team and mass timber as our primary structural resource on rounds two and round three of the funding.
"The degree of collaboration and communication required through the project was extensive and ultimately led to a lot of our success," he added.
While a lot of CLT and mass timber projects they have seen over the last few decades have been high end and high-profile institutional projects, one of the things that was important to Edge was addressing the housing crisis, said Bolen.
Edge and Element5 wanted to come up with a solution that would be suitable to the needs of not-for-profits, supportive and affordable housing providers.
"We realized we had this opportunity and if we could execute it here, the ability to transition that back out to either market rate housing or office or institutional was going to be, we thought, a much easier process," Bolen said. "I think what we are seeing now in the marketplace two years after the occupancy of this project is that is really starting to be the case.
"It just goes to show the versatility and the adaptability and the efficiency of being able to repeat the model," Bolen added.
Follow the author on Twitter @DCN_Angela