Construction projects are exciting — it just takes the right kind of cinematic talent to bring the emotion across on video.
Enter Concrete Pictures, a boutique video production company that's making a name for itself by artfully documenting construction projects in high resolution alongside a stereophonic soundtrack. The team covers anything from the demolition of Toronto's Don Jail to the redevelopment of Women's College Hospital.
The Toronto company is co-owned by Paul Cormack and Jonathon Stewart. Both have television backgrounds. Cormack also runs a side business, Pclix, which manufactures and sells camera triggers for time lapse photography. Stewart once worked for B.C.'s Southwest Contracting Ltd. to put himself through school.
"While I was working as producer and editor on the TV series Mantracker, I was asked by Priestly Demolition to document the renovation of Maple Leaf Gardens," says Stewart. "I bought a bunch of Pclix from Paul to help with that project."
While filming, Stewart developed a rapport with Maple Leaf Gardens' general contractor Buttcon who asked him to document the revitalization of St. Michael's Cathedral Basilica in Toronto. He and Cormack founded Concrete Pictures shortly after beginning the project.
Initially, the company shot some test footage on spec, winning over clients with sample reels. Work became easier to generate as the company's video portfolio grew.
Over the last five years, Concrete Pictures has produced almost 300 videos documenting projects for companies including EllisDon, Bondfield Construction, The Miller Group, Walsh Canada, Dufferin Construction, Bird Construction, Metrolinx and many others.
Cormack says the video projects are inspired as much by a company's pride in its work as a need for material required to keep digital platforms fresh.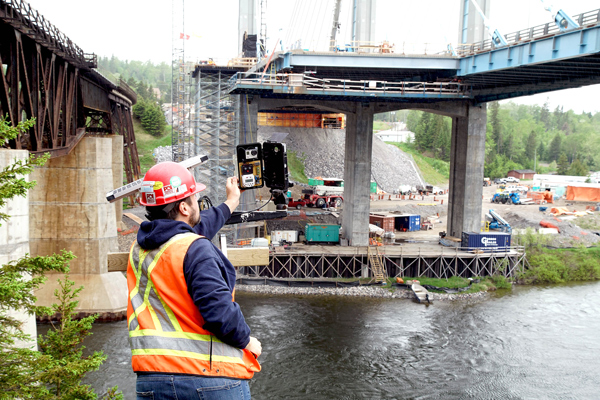 "They're building buildings and infrastructure and we're building content for websites, Facebook, Twitter, other social media and trade shows," he says. "We're using time lapse, video, drones and still photography to document projects and allow them to show others what they're capable of."
Along the way, the partners have developed a healthy appreciation for the construction industry.
"We love the technology and the engineering and seeing how stuff gets done," says Stewart. "We've developed such respect for the ingenuity of construction companies and the people who work for them."
Concrete Pictures has travelled as far as British Columbia on behalf of client Kidco Construction. The filmmakers documented the journey of its fleet of scrapers traversing the Rocky Mountains by flatbed and water by barge to arrive at a project outside of Victoria.
They also covered the removal of the old Nipigon Bridge north of Lake Superior for both Priestly and Western Mechanical Electrical Millwright Services on a 10-day shoot.
St. Michael's Cathedral remains the company's longest project, documenting the restoration over five years, including two live-stream events.
Personal relations are important when documenting a construction project. The company generally keeps crew sizes to three or four to remain unobtrusive.
"Initially a film crew might intimidate some of the workers," says Cormack. "They don't really want to be on camera to begin with. It takes a while to build rapport with the workers until they develop the confidence that we're there to show them in a good light."
The filmmakers often let clients point them to the most interesting parts of the job, taking cues from supervisors and foremen. It's not simply knowing that a concrete pour is being scheduled, but knowing why that pour is important to the project.
"You only have one chance to document a project in real time, so it's got to be done right," says Stewart. "But it isn't simply about stitching time lapse video and drone footage together. Each project has its own rhythm. We need to find the arc in the project story to tell it right."