When Sudbury, Ont. college student Kate Keaney conducted a social media survey to weigh interest in the idea of a construction start-up company solely operated and employed by women, the positive responses were overwhelming.
"Everybody loved the idea and how it could promote equality and a lot of them wanted to see it franchised," says Keaney, a 22-year-old second-year business administration student at Cambrian College.
The survey was part of her pitch for a business idea in a competition at Cambrian called the RBC Future Launch. Keaney took the $3,000 top prize over 14 other entrants for her proposal, a company she named Rosie Construction and Renovations.
To win the competition, Keaney had to present a business platform that showed startup costs, annual revenue projections and break-even points. She built a case for why the business was needed and what her reasons were for choosing it.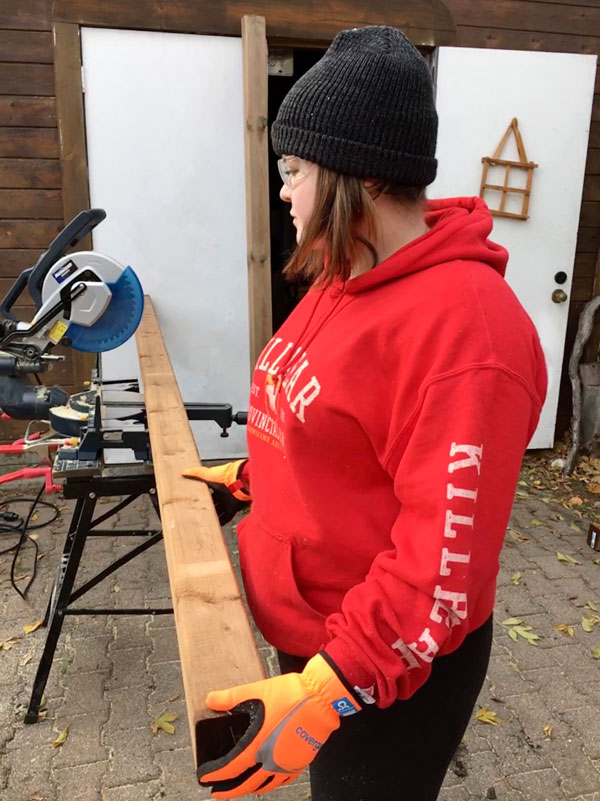 While that venture might be years away from reality, Keaney plans to use her winnings for market research to develop a business plan.
With plenty of ideas on where to take the venture, she says it is important to her that it addresses a community need. In this case it helps give women a leg up to gainful employment while addressing the growing shortage of skilled trades.
Keaney's initiative looks at recruitment of women in different scenarios, single mothers, for example, who often face big obstacles to pursuing a career. She identified partnering arrangements with daycare centres as a possible means of support to open doors for single mothers to work in the field.
"The trade is such a great industry to work in and is quite a nice paycheque that could really help mothers."
The business student is no stranger to construction. She has worked as a labourer and has built residential decks and framed buildings.
"Being on jobsites, it has been disheartening to see the lack of women. That is something I want to change."
After completing the three-year business administration program at Cambrian College, Keaney plans on taking a commerce degree at university before forming a company focusing possibly on renovations, property management and single family residential.
Kim Donaldson, who as faculty coach helped Keaney prepare her submission for the competition, says she saw few holes in the student's business proposal from the outset.
"She had thought through the concept quite well."
A full-time professor at Cambrian College's school of business, Donaldson helped the student prepare market research and solidify the business's purpose to meet a community need.
The 22-year-old's research put numbers to the growing skilled labour shortage while addressing how women could help fill that growing void, not only through her own business but others like it, possibly through franchise arrangements.
"It is a bona-fide idea and it definitely fills a gap in the marketplace right now," says Donaldson.
Keaney chose business administration to round out her education, after taking a program at Cambrian College in entertainment technical production, learning skillsets in a number of trades on film productions, including set construction.
"I wanted to learn it first…be a 'Jill-of-all trades'…before going into business so I would know both sides to the jobsite."
Keaney comes by her passion for construction and entrepreneurship naturally. Her parents are in business for themselves and both are adept at fixing things around the house.
At 10, Keaney got her first construction toolkit and as a teen in high school she was part of a winning team in a Sudbury-wide skills carpentry competition which led to a placement in a national trades contest in Toronto.
Not your typical teenaged girl, Keaney was inspired at 15 by the real-life person behind the Rosie the Riveter campaign to recruit women workers for the U.S. defense industry during the Second World War.
"I loved what she represented and found it so important, but because she is from the Second World War there are so many young generations that are missing out on her message."