The challenges involved in matching workers with the available jobs in Ontario's construction workforce were made abundantly clear during an Ontario Construction Secretariat (OCS) panel session held recently.
Three panellists representing diverse points of view — one an iron works employer, another a regional workforce agency executive, the third a stakeholder relations worker with the ironworkers union — were prompted by moderator Adam Melnick, workforce development program director at the Provincial Building and Construction Trades Council of Ontario, to identify synergies in Ontario's complicated construction workforce development system.
Marc Arsenault of the Ontario Ironworkers District Council brought the problem of co-ordinating resources and planning between multiple stakeholders into sharp focus with an example of a planning failure.
The ironworkers had recruited more reinforcing rod apprentices to work on the Highway 407 bridge projects than had been ever attempted in decades, he said, exhausting the province to find young rod workers.
"When the first phase of the Highway 407 bridges started, it all started at once. So it all ended at once," Arsenault said.
"They were two, two-and-a-half years deep into a four-year apprenticeship and then the retention completion rate (faltered) when those bridges stopped. There was nothing else happening. And we lost them."
What is needed is to take a long view to ensure apprentices can be supported to completion, co-ordinating with the funders of training delivery agencies and sharing information with large consumers of construction services like Infrastructure Ontario, said Arsenault.
It can be done, he said, pointing to early discussions with Bruce Power and Ontario Power Generation to ensure an adequate workforce for their current multi-year projects. To bring those projects in on time and on budget, agreements had to be reached to start increasing the capacity of training centres.
"Looking forward, if we can have that commitment, there's going to be a comfort level and in fact, these will be the breeding grounds for the next generations," Arsenault said.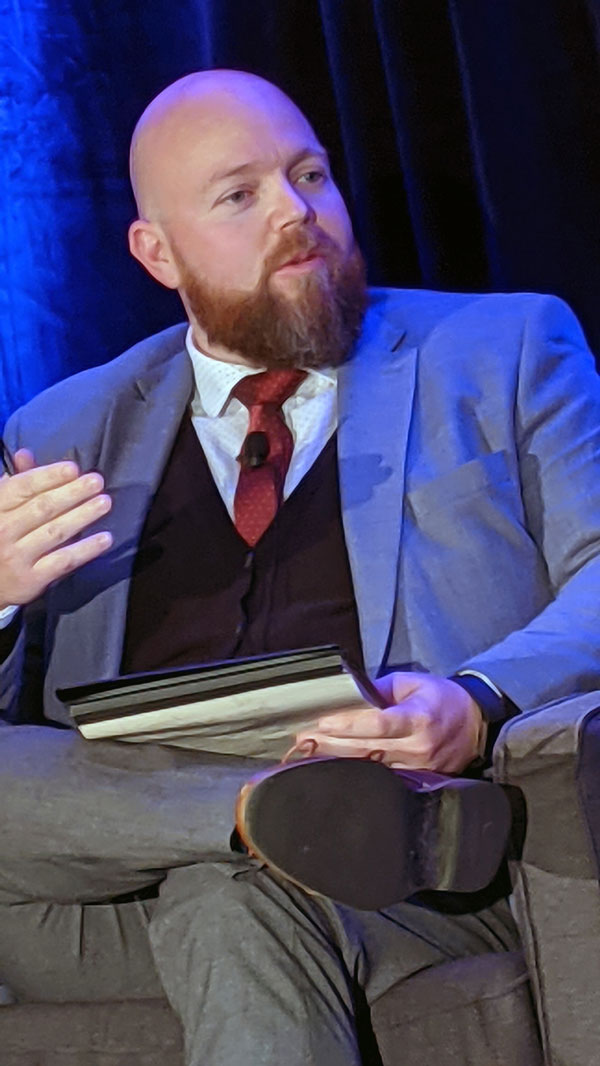 Explaining the composition of the panel, which included Workforce Windsor Essex CEO Justin Falconer, OCS CEO Bob Bronk noted that a missing ingredient in many discussions of workforce development is the involvement of workforce agencies like Falconer's, non-profits and community groups such as the YMCA. Those groups and many others often undertake pre-apprenticeship and life skills training for their clients.
But the problem that arises is that the hodge-podge of life skills training might leave clients a long way from being job-ready.
"We've got to start being creative," said Bronk. "That means going to groups that maybe we haven't. But then those organizations don't always understand what job-ready means. There's an information gap."
Falconer suggested in his experience a major problem in working with community agencies is communicating needs. Community groups are motivated to provide quality candidates that employers can work with and his agency is motivated to helping employers find candidates that will work out, but, Falconer said, "Community groups get hurt when they're not giving you great candidates."
Social service agencies get a black mark when they are unsuccessful in preparing clients, Falconer continued, when they are evaluated by a government supplying their funding. So a solution is better communication, "opening up the door to these community groups, working with them, going to their meeting spaces, sometimes inviting them to yours, getting to know what I realized, every community is a little bit different."
Paul Ditta, CEO at Cult Iron Works, also identified pre-apprenticeship training and similar programs as a gap he sees. Years ago, Ditta said, his firms would bring in young people in co-op programs and they would work with his tradespeople to see if they liked the trade.
"That's not happening any longer. The education system needs to be altered so that a lot of the young individuals are exposed to this," he said.
Melnick agreed: "There's a large gap in terms of preparing them for what it's like to walk into the foreign world of construction. There's really a lot happening there to get the people ready. So, we think about the concept of tool-ready."
Arsenault said there is another massive co-ordination effort currently taking place to ensure Metrolinx has the skilled workers required to build the four subway projects planned for the Toronto region, with a price tag of $28 billion and a targeted completion before the end of this decade. It is a matter of all-hands-on-deck to ensure there is an adequate workforce, he said, noting a request for proposals had gone out to develop a training academy for the Ontario Line.
Said Arsenault, there is "a kind of a broader view all of the trades that are associated with the project, the Ministry of Transportation and Infrastructure Ontario are talking with the Ministry of Labour, Training and Skills Development, where the funding flows into the capacity expansion for our training centres. That information-sharing is important and being transparent with sharing the construction schedule."
The ministries are working closely with the contractor community and union training centres "to identify the bottlenecks and pinch points as far advanced as possible. This is a key way to have success to mitigate project labour supply risks."
Follow the author on Twitter @DonWall_DCN.