More building trades trainers realize that preparing young workers for fulfilling careers in their fields goes beyond teaching them just the hard skills — things like how to operate equipment and tools plus critical health and safety practices on construction sites.
"We don't swing a hammer any different than we did five years ago but we are better preparing them for the construction culture they will face on site," explains Adam Bridgman, the provincial carpentry training co-ordinator of the Carpenters' District Council of Ontario (CDCO).
He says at both the pre-apprenticeship and even early-level apprenticeship course levels, training emphasis is placed on soft skills that will help prepare students for their first job.
Those soft skills include anything from work ethic to the importance of being on time and ready to start work, Bridgman points out, adding today's Carpenters' pre-apprentices are more apt to be successful in the field than students five years ago because of this training.
He says soft skills development is increasingly being incorporated into curriculums at Carpenters' locals around the province and the number of pre-apprenticeship courses planned in 2022 is on the rise from previous years.
One pre-apprenticeship initiative emphasizing soft skills is Tomorrow's Trades, a program developed through the Building and Construction Trades Council of Ontario. Tailored to underrepresented groups, the program's recent pilot provided basic construction training but focused on "job ready" skills, says Adam Melnick, Tomorrow's Trades program director.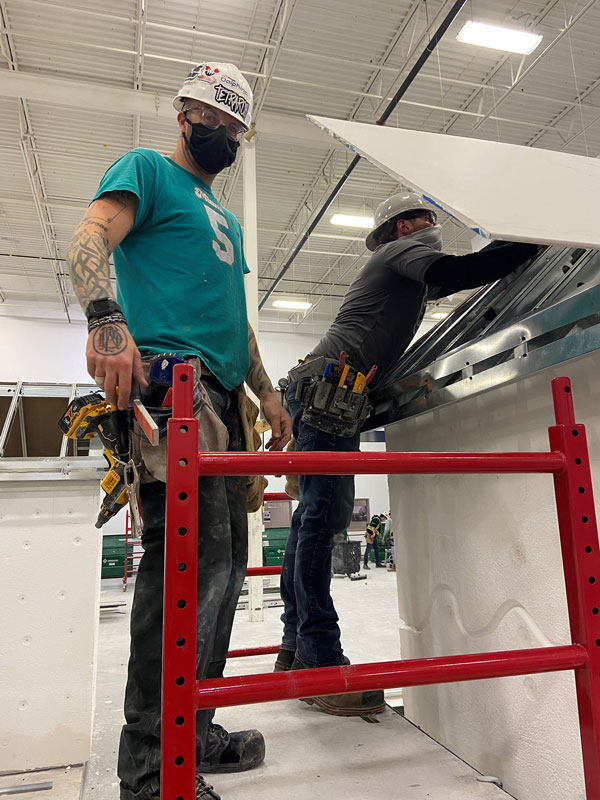 Communication, organizational skills and accountability in a construction culture are a sampling of the curriculums each building trade offers the students.
In the pilot there were 10 to 14 building trades involved in four cities: London, Sudbury, Hamilton and Ottawa, Melnick says. Students spent anywhere from a few days to a few weeks at each trade's training facility over the 12-week period. The training framework was set by each trade through its partnerships with employers.
The idea was to expose participants to a variety of trades, giving them a better idea which, if any, are fields they want to pursue, says Melnick, adding each trade gave participants a perspective on job opportunities.
The long-term objective is to increase retention in the industry by providing each student a clear picture of what the trades are like and how they need to prepare for the industry culture, he says.
The program director is optimistic that Tomorrow's Trades will receive additional provincial funding for more courses because of the pilot's success where, despite the challenges of the pandemic, 68 graduating participants entered careers and apprenticeships in various trades.
Bridgman is a booster of Tomorrow's Trades and programs like it — provided they are "contractor supported" so participants have a job placement in waiting.
While teaching new workers soft skills is important, many contractors need to make adjustments for today's young, diversified workforce.
"Attitudes need to change a little bit more for both apprentices and contractors. We have a different generation to work with," says Tom Smith, industry apprentice liaison for the Interior Finishing Systems Training Centre (IFSTC), established in the 1980s for wall and ceiling apprenticeship training and journeyperson upgrading in Ontario.
Many young workers might need to develop "a thicker skin" and contractors may need to approach younger apprentices with alternative methods, he says. 
To address the issue, the IFSTC is developing a retention program which will be available to apprentices and employers and will launch later this year.  
"Retention is a two-way street."
Smith says while the pandemic has delayed that program's rollout, he is optimistic it will launch later this year.
Bridgman agrees "good frontline supervision" on the job is paramount to keeping crews happy. Leadership training conducted through the Carpenters' Union International in Las Vegas teaches foremen how to get the best out of their crews.
"You have to invest in labour as opposed to treating it as a disposable pool of individuals you can pull from," Bridgman points out.
At the IFSTC, Smith says trainers try to keep an eye on workers having trouble adjusting to workplace culture.
"If someone has difficulty in their personal life, we will try to find work for them with a contractor that is more flexible."
He says while bullying and racial or gender taunts are unacceptable in the field today, he also reminds his students that sometimes "the noise in the background is something they have to let go."
While mentoring young apprentices as they move into first jobs in the field is important to trainers at various locals in the Carpenters' district council, Bridgman points out the "greatest retention tool" in any construction trade is to "always have jobs" available for those who want them.