Collective bargaining in Ontario's ICI sector this spring proceeded fitfully, leaving stakeholders on both sides of the bargaining table searching for reasons why negotiations this time around were so problematic.
ICI workers flexed their muscles by frequently voting down tentative deals recommended by their union leaders and there were five strikes in the ICI sector, adding to the labour strife experienced in the residential sector.
Union bosses were repeatedly rebuked after they confidently announced tentative deals they expected to be ratified, and bargainers on the employers' side found themselves reevaluating strategies and having to come up with more money for wages.
Three-year contracts expired for Ontario's 25 ICI trades on April 30. As of July 13, only two trades had not reached agreements on contracts, insulators and teamsters.
Andrew Pariser, vice-president of the Residential Construction Council of Ontario, stated, "This has been a very tough round" on both the residential and ICI sides.
"Traditionally, when an employer association and the union make a deal at the table, and they're going to sign a memorandum and it's recommended, it's a 95 per cent chance that it gets ratified.
"The fact that it didn't happen is very concerning. I think as labour relations professionals, we've got to figure out why."
There have been strikes before, Pariser noted, including a half dozen in 2016, but the low conversion of tentative deals is new.
"I hope it's something we never see again," he said.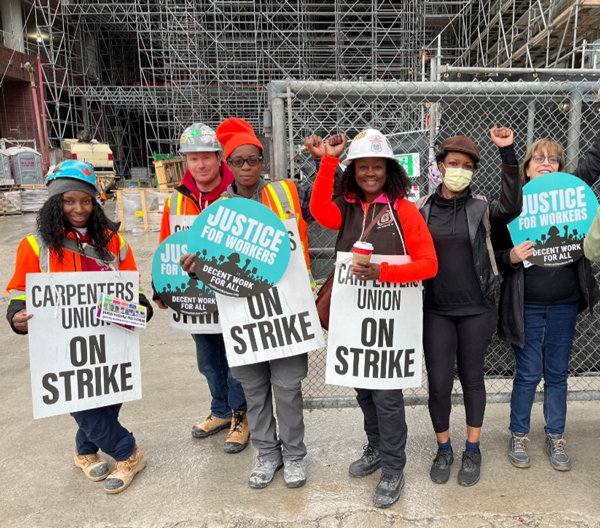 Besides the ICI labour disruptions, at one point there were nine strikes in the residential sector and early in the spring drivers in both the aggregate and dump truck sectors held work stoppages.
Union members that rejected initial proposed ICI deals included carpenters, labourers, plumbers and pipefitters, operating engineers, painters and tapers, precast erectors, sheet metal, roofers and rodworkers.
The electrical sector announced the first ratified deal in February, with workers settling for an 8.6 per cent wage increase over three years with an escalator clause based on other wage settlements, and the next month ironworkers achieved a 9.0 per cent raise across the province over three years with a 0.5 per cent premium for Toronto workers.
A high-water mark came April 30, when steeplejacks ratified a deal that contained a three-year wage hike of 14.7 per cent.
But as the months passed, inflation kept creeping higher. Statistics Canada announced a 5.1 per cent spike for January, 5.7 per cent for February, 6.7 and 6.8 for March and April respectively, and 7.7 per cent for May.
Those numbers consumed the employees, commented Patrick Dillon, former business manager of the Provincial Building and Construction Trades Council of Ontario.
"There's no doubt in my mind that this round of bargaining it was absolutely imperative that workers got raises to keep up with the cost of living," said the retired Dillon, stressing he was speaking for himself.
"I mean, you can't pull into a gas station to fill your car up without it costing you $150.
"I think the mentality of the workforce is exactly that."
Senior executives taken off guard with social media use
The June newsletter of the Construction Employers Coordinating Council of Ontario (CECCO) listed four reasons for the unpredictable bargaining results.
First was an construction wage report issued by labour economist Jim Stanford for the Building Trades in October that emboldened negotiators to ask for higher wages given what Stanford said were elevated five-year productivity rates; second was the "devastating trifecta of unprecedented labour requirements, the dramatic rise in the cost of living and rising interest rates"; third was an unwillingness of workers to accept the advice of senior negotiators on both sides, "who know and understand the complexities of the industry and the market"; and fourth was the heightened activity of workers on social media.
"It appears that a cohort of the union membership became social media influencers, taking both senior labour officials and management representatives off guard," the newsletter stated.
CECCO executive director Wayne Peterson and Building Trades business manager Marc Arsenault published a joint statement July 13 indicating their organizations would be working with the Ontario Construction Secretariat (OCS) to develop a post-bargaining exit survey soliciting feedback from both sides.
"The purpose of the survey will be to identify issue-areas where there was success, as well as to look at areas that require improvement with respect to the bargaining process and the unique challenges that appeared during this particular round of bargaining," the statement indicated.
Mike Yorke, president of the Carpenters' District Council of Ontario, agreed the level of activity on social media not only between members of the same union but also between different trades had not been seen before. Frequently, posts would discuss the cost of living and urge solidarity during strike and ratification votes.
"The issues of the affordability crisis, as prices are going through the roof, on housing, on groceries, on gasoline, on rent, it just added up to be really pivotal in terms of how the members saw their opportunity to address these issues," said Yorke.
"They really did not believe that the first set of numbers that we came back with, or other unions came back with, were sufficient to meet what their needs were."
Generation change takes effect
There is generational change taking place in unions, Yorke said, with young workers recognizing that unions can be powerful and that working jointly with other workers can result in higher wages and better deals.
Meanwhile older members became mentors to young workers and saw the ratification votes and strikes as opportunities to strengthen the union movement, Yorke said.
"A common theme there was, 'let's make sure that we make this industry a viable career path for the next generation,'" he said.
Yorke said union negotiators entered bargaining sessions thinking they should work with employers to reinforce the momentum gained as both sides collaborated during the pandemic. But the members were not in sync with their leaders.
"I can tell you that communications between labour leaders and the membership is crucial to a successful bargaining session. In candour, we may have not achieved that kind of high benchmark the first go-round," he said.
"I think we did our homework the second time around…I'd say you can never take the membership for granted, that is for sure. They need to be a key part of the discussion and a key part of the negotiating process."
Both OCS CEO Bob Bronk and Patrick McManus, executive director of the Ontario Sewer and Watermain Construction Association, referred to diverse distractions and complications that created challenges for negotiators, including the war in Ukraine, the end of the pandemic and supply chain issues.
"I think all the various groups were in a new space so things were unpredictable due to uncertainty, nationally and internationally," said Bronk.
"It's a much different time this time around and that's really being reflected in the bargaining process," added McManus.
Follow the author on Twitter @DonWall_DCN.
Bargaining Season Coverage Highlights
Wages key issue as ICI trades hunker down for April bargaining
Carpenters, demolition workers ratify, ICI strikes lifted – for now
Stanford defends productivity data in construction trades report