Canada's construction sector is poised for a pause in 2023 and 2024, new statistics from BuildForce Canada reveal, with a modest contraction in investment enabling the industry to gird itself and take steps to gather the workforce necessary to push through the next eight years of continuous growth.
The scenario, with extremely tight workforce markets in many regions continuing to cause concern, is presented in BuildForce's 2023–2032 Construction and Maintenance Looking Forward national forecast released April 28. BuildForce also released regional forecasts every day this week.
BuildForce executive director Bill Ferreira explained the report's data, broken down by region and trade with forecasts of shortages in the trades highlighted by degrees of urgency, is an important planning tool for all stakeholders.
"We want to make sure that we are identifying the currently known demands as best as we can to provide the industry with a document that enables it to undertake informed labour force development activities," he said.
Owners and contractors tend to say they always find a way to manage large workloads, Ferreira said, so workforce shortages tend to cause delays rather than cancellations of projects.
"You're hard-pressed to find an industry that's more innovative than construction," he said.
"Certainly, tightness in some markets has caused contractors and workers to have to be very innovative and show they could actually achieve the delivery timeframes that had been promised."
The report found by 2032, overall residential employment is forecast to contract by 5,300 workers, down one per cent.
Construction in the non-residential sector will continue to benefit from stronger levels of public-sector investment in multiple projects, including major transit, utility, road, highway and bridge projects in Ontario, British Columbia, Quebec, Nova Scotia and P.E.I., and strong demand for projects in the ICI sector in every province.
Labour market conditions are currently challenging in P.E.I., Ontario, British Columbia, New Brunswick, Nova Scotia and Saskatchewan. Those provinces have experienced investment increases in both residential and non-residential construction segments.
For years discussions of demographics have focused on the retirement of boomers but that cycle has almost ended, Ferreira said, with newer concerns emerging such as Gen Xers now starting to leave the workforce and other changing demographics.
"Over the next 15 years we will have more people exiting the labour force than available to come in to backfill, so that's going to put some strain on all industries."
Construction demands will require the industry's workforce to expand by 54,100 workers over the forecast period, BuildForce said. When this demand growth is added to the 245,100 individuals expected to retire during this period, the overall industry recruitment requirement rises to 299,200 workers by 2032.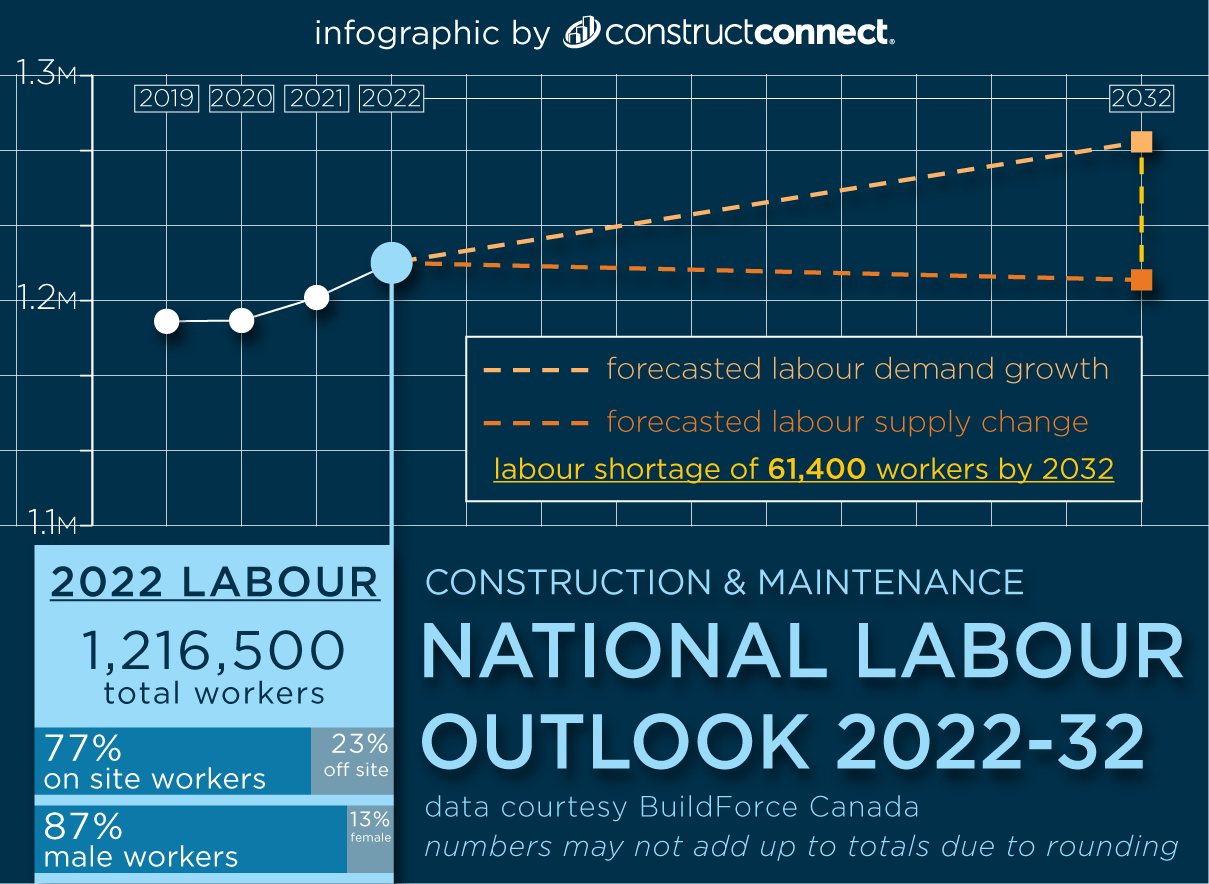 Although the industry is expected to recruit approximately 237,800 new workers under the age of 30 during this period, even at these heightened levels of recruitment, the industry is likely to be short 61,400 workers by 2032.
BuildForce said an ongoing commitment to apprenticeship development in both compulsory and non-compulsory trades will be necessary to ensure there are sufficient numbers of qualified tradespeople to sustain a skilled labour force over the long term.
Construction Association of Nova Scotia (CANS) CEO Duncan Williams said stakeholders in his province are well aware attracting new workers is the key to ensuring a healthy industry. He listed a dozen major projects including a new college campus in Cape Breton, large redevelopments in Halifax and the EverWind green hydrogen project that will require significant workers.
"There's a lot of moving parts to say the least," said Williams. "We're looking at things from a very creative, collaborative lens with the unions, with the open shops, with contractors, with the province, with the project proponents.
"We are getting people interested in the industry and then through the training quickly, at the same time adapting the training so people get quality training, but in a condensed format. So there's a lot of levers."
Among initiatives that are producing strong results, the Building Futures For Youth program was developed years back as a partnership between CANS and others.
"We put roughly 80 to 100 young people in Grades 10 and 11 in active construction. They get pre-apprenticeship credit, they get co-op credits, and they get graduated credits for participating and they get real life experience," said Williams, noting 70 per cent move on to careers in the business.
Recently the province revised apprenticeship ratios, loosening requirements to enable more apprentices on jobsites.
"Nobody seems to be pushing back on it," said Williams. "Everybody seems to be in pretty lockstep on it. We want safe workplaces, we want good quality training, and we all want the same thing, we all want qualified people doing good work."