MISSISSAUGA, ONT. — Neil Hignett, health, safety and environmental manager at EllisDon, was presented with a Certificate of Recognition by Toronto Fire Services recently in honour of his heroic actions that saved a life following an incident that occurred on a jobsite.
On Nov. 25, 2016, Hignett was in his site trailer when an apprentice from a project across the street ran in looking for help, states an EllisDon release. The apprentice alerted the team that his foreman, a man in his 50s, had suddenly collapsed.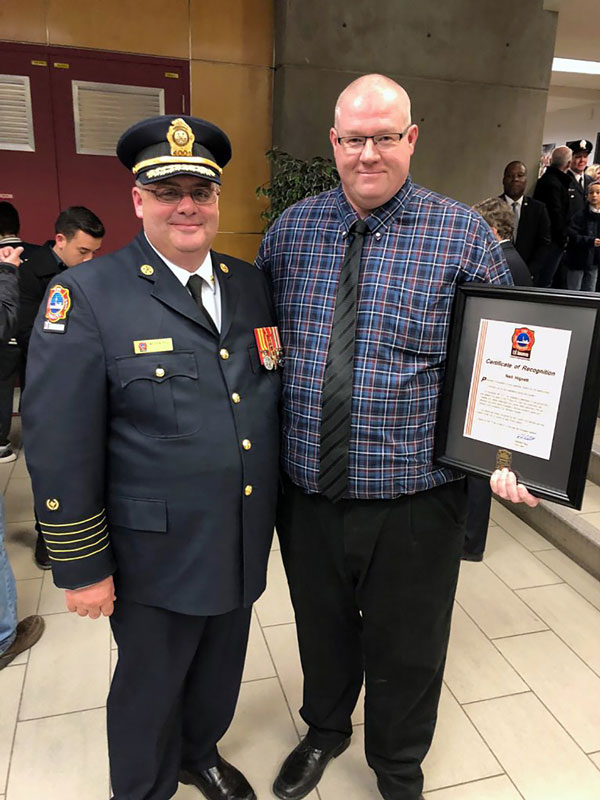 Hignett instructed another worker to call 911 and rushed over to the other site and up to the fifth floor. With no hoist in place, the only way for anything or anyone to get up and down was by stairs, which further delayed the arrival of any additional support, adds the release.
When Hignett arrived, another worker had already been performing CPR on the foreman. Quickly realizing the severity of the situation, Hignett called out to the workers in the trailer to bring a defibrillator and took over CPR when he couldn't find a pulse, the release indicates.
When the defibrillator arrived he administered a shock to regain a pulse and resumed CPR for over 10 minutes until EMS arrived at the scene. First responders were able to stabilize the man and transport him to the hospital where he later made a full recovery.
"Every day we are concerned about all of our daily activities, and within an instant, our priorities can suddenly change," Hignett said in the release. "Life is very precious, and we need to show that we care for one another. Life is too short not to."