Across the globe, many looked to 2021 as the year where there may be a reprieve from COVID-19.
Sadly, that was not the case as the pandemic continues to surge from country to country.
The construction industry, now well accustomed to new health and safety protocols brought on by COVID, once again had to pivot as new measures were put in place for rapid testing and mandatory vaccination policies.
Beyond the testing, vaccines and fluctuating case numbers, were other issues exacerbated by the pandemic that all are intrinsically tied together. See below for a breakdown of our top five newsmakers of 2021 and the common thread that links them together.
COVID-19 dominates headlines…again
Throughout 2021 the COVID-19 pandemic evolved, as did efforts to combat its spread.
There were outbreaks at several sites as the year progressed, but for the most part the industry fared well in comparison to other sectors.
For several large construction companies it meant initially introducing mandatory rapid testing in order to ensure, as best they could, site safety.
In February, the Ontario government stepped in as well, announcing the province's large construction employers would be getting up to 40,000 rapid antigen tests on jobsites each week starting in March.
While testing was the first method, vaccination requirements soon followed. As eligibility opened up for essential workers, construction eventually being deemed among them, so too did the concept of mandatory vaccination policies.
It wasn't long before several construction companies made it official. First out of the gate were EllisDon, PCL and Chandos Construction. The firms required Canadian employees working at any location on company business to be fully vaccinated against COVID-19 by Nov. 1, 2021.
"Our dedication to safety will never waver," said Geoff Smith, president and CEO of EllisDon, at the time. "Protecting and taking care of each other, and our families, speaks directly to the values we champion at EllisDon each and every day."
Housing crisis continues to escalate
Canada's recent real estate history has had its share of ups and downs when it comes to affordable housing.
While there were challenges pre-pandemic, now we are in the midst of a flat-out crisis, state industry experts.
There's no question many will be unable to purchase a home, but going hand in hand with that is a critical need to build and build fast.
In several webinars this year, the aspect of supply and demand was front and centre as well as the obstacles developers all over the country face in order to get shovels in the ground.
"Builders shouldn't have to scratch and claw to get to 11 storeys when you are a pitching wedge away from a major subway station," Paul Morassutti, vice chairman of CBRE, told attendees during a Scotiabank seminar.
His views were echoed throughout the year.
Arash Shahi, co-founder and CEO of AECO Innovation Lab, hosted an online conference entitled Leaping ahead or falling behind: How One Ontario can help solve the Housing Crisis. The One Ontario Coalition, led by AECO Innovation Lab, put forward a proposal to streamline and modernize the development approvals process and is urging the Ontario government to get on board.
"There is one thing we all agree on and that is as a province we need to move forward. We need to digitize. We need to streamline. We need to be able to communicate more effectively as far as development approvals are concerned," said Shahi.
Nationally, Parliament's budget watchdog said the government was falling short of its aim to expand Canada's affordable housing stock despite a spending ramp-up in the billions.
In a report it was forecasted the number of households in need of an affordable place to live will increase to about 1.8 million within five years unless more funding flows toward the problem.
Labour shortage impacts projects of all kinds
While Canada's housing crisis made headlines in 2021, another layer to that issue is the ongoing labour shortage in the trades.
As Mike Yorke, president of the Carpenters' District Council of Ontario, put it: "We're getting calls every day from contractors, drywallers, concrete forming, trim, scaffolding, looking for workers, so we know that's a crisis right now," he said. "One way we're looking at it is we need to go to the world market and bring in skilled people. Secondly, we can have mobility within Canada so workers that may be unemployed on the East Coast or the west, there are jobs for them here in Toronto. The issue is it's so expensive to move here for that employment and to maintain two homes. There has to be some government support for that. Thirdly, and certainly not last in importance, are the apprenticeship programs across the county."
BuildForce Canada's 2021–2030 Construction and Maintenance Looking Forward national report forecasts by the end of the decade, the respective provincial industries will have to cope with the need to replace nearly 259,100 workers, or about 22 per cent of the current labour force, due to retirement.
Federal election results in no change for Canadians
2021 also brought with it a federal election that ultimately resulted in no change.
With housing, economic recovery, COVID-19 and the actual election call itself matters political parties addressed extensively, it came down to a race between Liberal Party incumbent Justin Trudeau and Conservative Party Leader Erin O'Toole.
The end result, a virtually identical parliament. Trudeau remained prime minister of Canada with a minority government.
Throughout the election campaign the Daily Commercial News and Journal of Commerce stayed up-to-date with how the promises of party leaders would impact construction and the news team also hosted its first-ever livestream event.
Supply chain chaos nearly cripples some construction projects
The impact on the supply chain for construction continued to plague the industry in 2021.
The Ontario Construction Secretariat's 2021 Contractor Survey, which polls 500 contractors in the ICI sector once a year, found the top concern was supply chain disruption because of the lack of material availability and rising prices.
In Canada, the National Association of Manufacturers conducted a survey of its member companies on current manufacturing impacts and found that over 53 per cent of members were experiencing operational disruptions.
The price of building materials skyrocketed with steel prices increasing by 300 per cent in some instances and softwood lumber rising by 150 per cent.
The ripple effect was felt across Canada as contractors struggled to schedule projects accordingly and some even faced delays.
The Mechanical Contractors Association of Canada suggested ways to mitigate the effect and negative impact of these issues, such as timely and early communication, contractual considerations as well as modifications to procurement that can mitigate the impact of sudden price fluctuations.
While mitigation efforts can definitely be implemented, some events in 2021 could not be foreseen.
Storms wiped through B.C. in November, crippling critical infrastructure and passageways for goods.
B.C. Trucking Association president Dave Earle said hundreds of truck drivers were unable to finish their routes due to the highway closures.
In essence, no matter how you slice it, across Canada the globe supply chain disruptions were a major hurdle to overcome in 2021 and don't appear to be letting up for early 2022.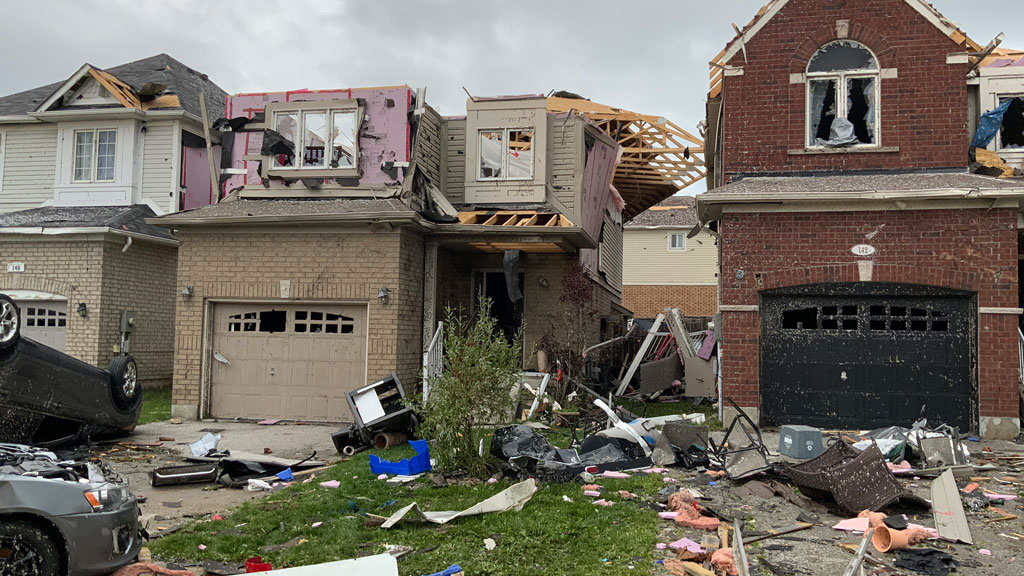 *Honorable mention: The Barrie, Ont. Tornado
Thankfully no fatalities occurred but there were at least 11 injuries reported including three in dramatic circumstances to construction workers after a tornado touched down near Huronia Road and Mapleview Drive in Barrie, Ont. around 2:30 p.m. July 15.
Fire Chief Cory Mainprize said some 25 homes suffered significant damage in the storm and were uninhabitable, with Environment Canada stating that at least 10 roofs were ripped away and that the second floors of at least two buildings were destroyed.
Three workers for developer Pace Homes were inside a construction trailer on Pace's Urban North site when the tornado hit and had no time to take shelter. The workers – two site supervisors and a construction clerk – were part of a crew of around 35 undertaking early works on the 900-home site. Thankfully they survived with Pace COO Pamela Ventresca calling it "a miracle."