Architectural and engineering students from 11 Canadian universities did something novel on a fall weekend at Ryerson University in downtown Toronto recently.
The students teamed up to design and build wood parklets — sidewalk amenity spaces that typically extend into a vehicle parking lane on a retail main street. The competition was part of the 5th annual TimberFever design-build competition presented by Moses Structural Engineers.
Civil engineering student Neha Patel, one of the event's organizing co-chairs, says it gave students in the two disciplines an opportunity to work together — something that doesn't happen often enough in the real world.
As a participant in TimberFever last year, Patel saw how architectural students approach a building project.
"They pay more attention to design, aesthetically pleasing aspects of the structure while a civil engineer wants to know that it is sturdy, that it will stay up," says Patel who chaired the event with fellow Ryerson engineering student Michael Pardassie and architectural science student Maya Higele. "We can learn from one another…develop skills, whether they are design, construction or communication."
This year about 100 students competed in 16 teams. Most were from Ontario universities, but some came from as far away as the University of Calgary in Alberta and Dalhousie University in Halifax, N.S.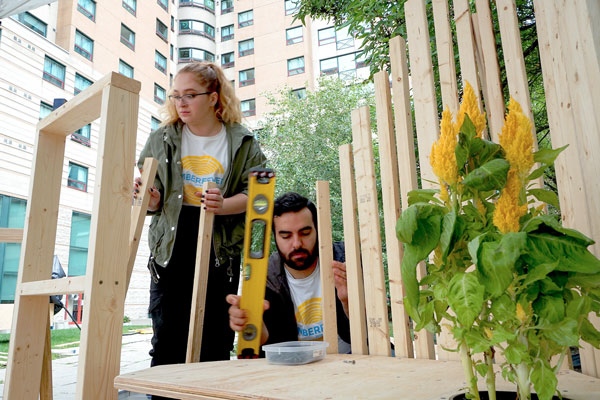 Participants worked from drawings using building materials such as two-by-twos, three-by-ones, two-by-fours and plywood. The design had to be assembled in three modules, incorporating seating for two or more people, built-ins for planters, shading elements and shelving or a tabletop. Students were judged on design development, vertical loading requirements, construction execution and the ease of assembly/disassembly to allow for portability.
As many of the participants were unfamiliar with power tools and construction, members of Carpenters Local 27 were there to help them through the build. Carpenters Sean Blake and Delio Vieira led a tools and site-safety talk on behalf of Local 27.
Blake says students gain some insight into "how the end building product goes together" through the event.
He says as the building and design industry trends toward a collaborative model, design professionals and prime trades are working together to answer design and constructability questions at early stages of a project. Events like TimberFever help engineering and architectural students understand the importance of the building team.
Patel, who recently completed her third year of civil engineering, says that students were encouraged to apply what they learn in school "and make it come to life" at the event, something that is not easy because they had to adhere to strict design rules to meet the event's objective.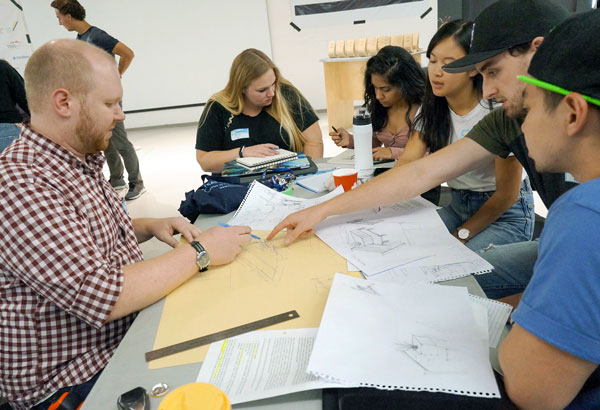 "They had to be very creative with their design."
The aim of the event was also to promote wood design.
"We should be pushing towards a sustainable future — and construction with wood supports that," says Patel, adding that wood is easy to prefabricate, "so when you are building module parts for a larger structure, it makes it more convenient."
Co-chair Pardassie says one of the takeaways from the event is that it "exposes the students to conversations and ideas they wouldn't normally have in the classroom. It really challenges the students' ideas."
Pardassie, who recently completed his third year of the four-year civil engineering program, says the competition helps students understand the importance of collaboration, not only between the two professions, but also with the builders.
"It really helped them understand how difficult the construction process can be and I believe it will make the students better engineers and architects overall. In society, the complex problems we have to solve require interdisciplinary skills. I respect how TimberFever encourages and promotes this."
The competition's top four winning teams received cash prizes, with the first-place team getting $1,500. The structures were donated to the public after the event.