Former Newfoundland and Labrador resident Rae Lynn Hawco has been breaking new ground as a Red Seal certified powerline technician, a trade with a woefully low representation by women.
She graduated from a nine-month powerline program in 2012 and since then "has been creating shockwaves" throughout her career.
In 2018 she became the first linewoman to participate in the Enmax Lineman Rodeo and Safety Exposition, a competition which attracts teams from across Canada and the United States, and then was named one of Canada's Most Powerful Top 100 Women in 2020 in its first ever skills trades category. There were four other recipients in that division.
"Someone nominated me. I was chosen for this award because I worked hard to get where I am today and to be a successful and have accomplished a lot with being in a male dominated trade."
By her self-coined "shockwave" depiction, Hawco is referring to her efforts to bring other women into the trade by mentoring, creating podcasts, writing articles, and volunteer work with the non-profit Women of Powerline Technicians.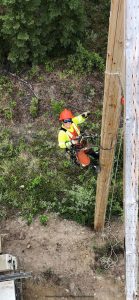 There have been "some discouraging moments," says Hawco of her experiences in the industry and that is why she is so committed to helping women enter it.
"Women are underrepresented in the skilled trades. I try to inspire others by being a positive role model in promoting women in the powerline career."
Now conducting quality assurance/quality control inspection on the assembly and erection of steel transmission towers on the Watay Power project in Northwestern Ontario, her own gateway into the field was partly by chance.
Inspired by her grandfather, a heavy equipment mechanic, she applied for admission to several construction-related programs at the College of the North Atlantic in her native province and was then accepted into its powerline technician program when another student dropped out, creating a vacancy. "The course had already started."
Following graduation she landed a short-term job building a power substation about three hours from home. Then she headed to Fort McMurray Alberta where she worked for two different construction firms erecting powerlines for a total of seven years.
Her next position was a transportation and distribution maintenance worker in the Yukon for about a year. In 2019, however, her career headed into a different direction when she began working at British Columbia's Hydro's Site C Clean Energy Project, which consists of building a third dam in a massive hydroelectric generating project in that province's Peace River district.
"I started out on a framing crew from H frame transmission structures and after three months I was offered a quality assurance position. I've been in the trade for nine years and wanted to try something new and take on a position with responsibility."
Basically, the position entailed doing final inspections after the framing crew completed their work and performing small repairs the crew might have missed. "That saved them (B.C. Hydro), the expense of calling back the crew."
In her new position with Valard Construction, she will be inspecting assembled towers and, once erected, will have to climb up to up them to complete the final inspection. The 21-day on, seven-day off job requires her to commute — via airplane — from her new home in Manitoba.
A two-part question posed to Hawco was how she has coped with the several relocations since her graduation and the physical demands of a job which requires heaving lifting and working a at heights. "I love the outdoors. I love my job and I'm good at what I do."