Two recently released educational videos intended to attract young people into the construction industry may not win any prestigious film industry awards. But that's not the point.
Rather than Hollywood-style sound and lighting effects, the five- to 10-minute-long videos capture the work of the drywall, painting, and finishing trades, explaining exactly what those trades do.
They were filmed on actual high rise construction sites in Toronto by Bill Hawryschuk, professor at the centre for Construction and Engineering at George Brown College. A construction industry veteran, he also provided the narration.
Produced by the BOLT Charitable Foundation, whose mission is to assist under-resourced youth connect to careers in construction, the videos are part of a series titled Careers in Construction profiling 10 different careers in the residential sector. Three other videos on forming, building systems, and site management trades are scheduled to be released before the end of the year.
The series is sponsored by BMO, RESCON, Tridel, and the Ontario Government, which provided financial support, access to construction sites for filming, commentary on the content, and assistance with the distribution, says BOLT executive director Raly Chakarova.
"When talking to youth about the different career opportunities available in the industry, we noticed a clear gap. There were no short, technical, engaging videos that we can share with them to tell them 'this is what a drywall installer does, or this is what a trim carpenter does'," says Chakarova, in explaining the origins of the videos.
When the pandemic was in full swing in the fall of 2020, the foundation realized it would be a good idea to create educational videos as a resource its community and employment partners, plus schools and parents could use and share with youth, she says.
Determining which trades should be profiled was a decision the BOLT executive team made in consulation with its founding sponsor Tridel and its community and government partners.
Those partners shared their frustrations over labour shortages and a general lack of awareness about some of the careers available, says Chakarova.
"Stereotypes about the industry and lack of information on the career options and how to get started are the main reasons why not enough young people are not considering these in-demand and well-compensated careers."
Creating the videos is a way to shine a light on lesser-known professions in the industry and spark an interest to learn more about them, she explains.
As for the content and format, that was also determined by BOLT in consulation with Hawryschuk and its employment partners.
"We wanted to make sure that the videos were very visual, interesting, and short in order to keep young people's attention, provide the basic information, and plant that seed to find out more about and, ideally, pursue a profiled career."
Rather than hire a professional videographer, the foundation asked Hawryschuk to film and narrate the videos based on his teaching and industry experience, in-depth knowledge of the role of each trade, and awareness of health and safety practices. Then there was the believability factor.
"We wanted the videos to feel more real and be more authentic."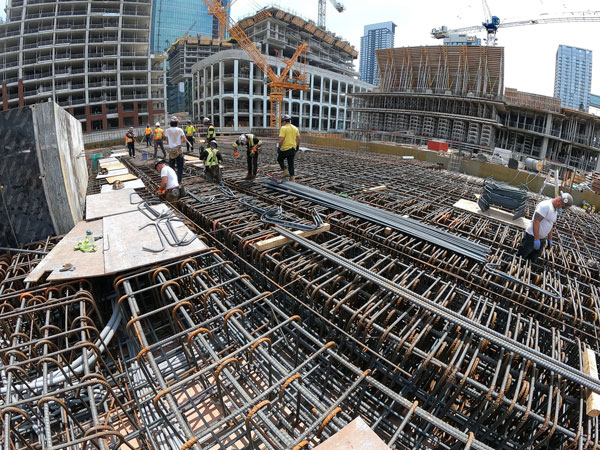 As Canada's largest condominium developer and BOLT's founding sponsor, Tridel allowed Hawryschuk access to several construction sites to ensure he could film the videos at different stages in the construction process, she points out.
Using a GoPro digital camera, Hawryschuk took what he describes as "shoulder to shoulder" images of the trade workers, while making every effort not to interfere with their work or that of the other site workers. The goal was to show what they do and illustrate the complexities in the construction process.
In an interview, he acknowledged the onsite help extended by construction members, such as George Brown graduate Deltera site coordinator Adrian Castellani, to obtain up close images. It wasn't all clear sailing, however. Some trades didn't want to be filmed and there were days he couldn't obtain the images needed and would leave sites empty-handed.
The whole process from first filming to final editing took about a year, says Hawryschuk, whose passion for photography began in high school when had a part-time job editing 16—mm film for the Toronto Public Library.
Before going 'live' with the videos, the foundation shared with them construction industry professionals to obtain their opinions on the content and accuracy, says Chakarova.
"We received unanimous rave reviews, with a popular comment of 'I definitely learned something' about the different trades than their own."
The videos are now available on BOLT's website (boltonline.org/careers) and youtube channel and the foundation intends to distribute them as widely possible, she says.
At some point the foundation will be assessing the success of all five videos and making a determination on whether further videos on other trades should be produced, says Chakarova.
"Research shows that youth with access to good career information make better career decisions. It also shows that youth exposed to construction careers are more likely to pick a career in construction," says Andrew Pariser, vice-president at RESCON, in emphasizing the importance of the videos.