Construction has commenced on a $20 million deluxe health and wellness spa on part of the former Cullen Gardens and Miniature Village site in Whitby, Ont.
It will be Quebec-based Nordik Group's first facility in Ontario and the third in Canada. The company operates Nordik Spa-Nature in Chelsea, Que. and Thermea by Nordik Spa-Nature in Winnipeg.
Cullen Gardens and Miniature Village, founded in 1980 by Len Cullen, father of well-known horticulturalist Mark Cullen, was a popular tourist attraction in Durham Region until it closed in January 2006. The land was purchased from the Cullen family by the Town of Whitby to remain in the public domain as Cullen Central Park.
In 2013, Nordik Group purchased 7.41 acres of the 85.5-acre site on Taunton Road near Brock Street from the town for approximately $2.6 million.
"We have been working closely with the town for four or five years and we still think this (the spa) is the best thing that has happened to the Cullen Gardens land and will give a second birth to that beautiful park," says Marianne Trotier, director of public relations for Nordik Group.
The spa will occupy the area where Cullen Gardens' main building, restaurant and store stood; the adjoining portion of the park owned by the Town of Whitby includes recreation areas, extensive trails and summer camps and will still be for the public's use.
"We look for natural settings to build spas," says Trotier. "We want trees. We don't need natural sources of water as we can create our own. We want to be in nature, but close to the city. We don't want to be in tourist-only destinations. We like to be in urban areas and want to be part of the community."
The post and beam Scandinavian-style building has been designed by well-known Montreal architecture-design firm LEMAYMICHAUD and is being constructed by Ontario-based Tapa Matheson Constructors Inc.
The 385,423-square-foot Phase 1, anticipated to open in early 2020, will include five outdoor pools of different temperatures (two hot, two cold and one temperate), five saunas, three restaurants, treatment rooms and indoor and outdoor resting areas. The facility will accommodate up to 900 guests a day.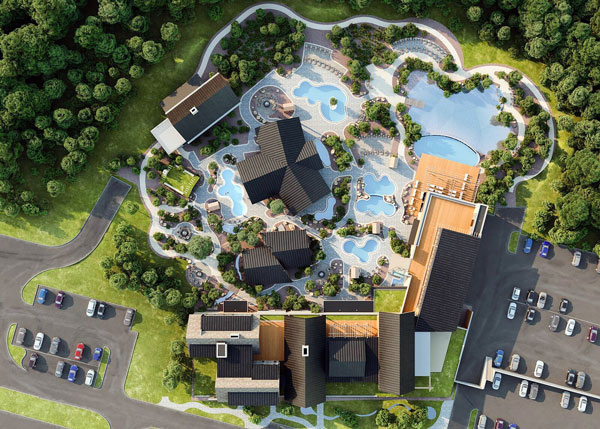 The pools offer thermotherapy in a natural setting, a wellness treatment that involves alternating between hot and cold outdoor pools, ending with a rest period. It's based on a 2,000-year-old wellness tradition that has been carried out for centuries in Europe.
Each of the five saunas will provide a different experience and the spa will also offer a range of massages and body treatments. Some areas will be designated for quiet and silence; others for socializing and conversation. There will be many relaxation areas and outdoor spaces will have firepits, gazebos and hammocks, including heated hammocks with heated blankets in winter, states Nordik.
The Whitby facility will include a floating pool offering what's known as a Kalla treatment. Nordik Group's Chelsea spa currently has the only Kalla pool in Canada and the Durham Region spa will be the second. The pool water contains Epsom salts to create 12 per cent salinity (similar to the Dead Sea) in a carved rock basin where up to 20 people can float at a time. The benefits include de-stressing, muscle relaxation and improved articulation of joints.
The restaurants will include a resto with full menu, a lounge and a beer and wine garden that features a partnership with craft brewery, Beau's Brewing Co.
Trotier says much of the two other Nordik spas' clientele are residents of the cities they are located in. She anticipates Durham Region residents will be the main users of the Whitby spa, though on weekends, it will likely draw visitors from Toronto and beyond.
The Chelsea spa receives more than 230,000 guests a year and the Winnipeg spa has welcomed more than 95,000 visitors a year since it opened in 2015.
Nordic or Scandinavian-style spas are still a relatively new industry in North America, says Trotier, and Quebec was the first province to have these type of spas. That province now has 15 and the concept is growing in Ontario and British Columbia. There is one in Moncton and Nordik Group's Winnipeg spa was the first in the prairies.
The Whitby spa will create about 300 jobs after it opens in 2020.